If it hadn't been for Section 5 of the Voting Rights Act, Victoria and Nicole Rodriguez likely would have been unable to vote last year in their first election since turning 18. And State Senator Wendy Davis would have been torn away from the black and Hispanic voters to whom she gave a voice.
Now that the Supreme Court has essentially invalidated Section 5, those dangers have re-emerged.
In a statement issued hours after the ruling was announced, Texas Attorney General Greg Abbott confirmed that thanks to the court's decision, the state's controversial voter ID law "will go into immediate effect," and added that the redistricting plan that eviscerated Wendy Davis's district "may also take effect without approval from the federal government."
The lead sponsor of a proposed voter ID law in North Carolina also said he'd move ahead with the measure as a result of the ruling.
Texas's voter ID law, passed in 2011, was so strict that Attorney General Eric Holder called it a "poll tax." The Rodriguez sisters, Mexican-American college students from San Antonio who don't drive and lack any of the other forms of ID allowed by the law, challenged the measure in court. Finding that it intentionally discriminated against the state's black and Hispanic voters, who are more likely than whites to lack an ID, a court struck down the law under Section 5—ensuring that Victoria and Nicole could vote for the first  time.
As for Davis, she and other lawmakers representing minorities were kept out of the loop by Texas's Republican leaders when they drew up new legislative maps in 2011. Under the GOP plan, many of the black and Hispanic voters in Davis's Fort Worth district—whose interests she'd fought for on issues from school funding to healthcare to economic development—were removed and put in majority white districts (see map below).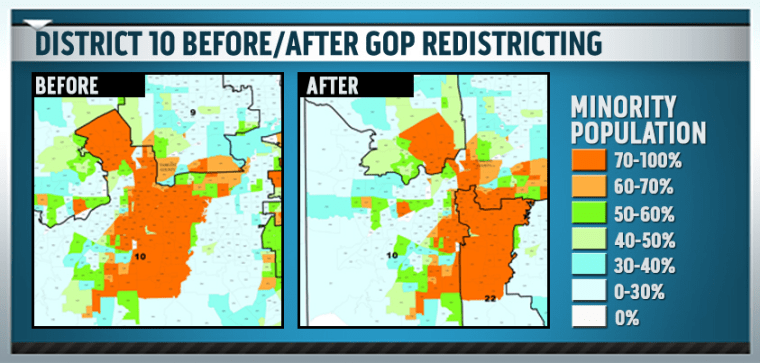 Minority voters, Davis told msnbc in April, "were being separated very purposely from each other—and therefore from the power to ever express their preference at the ballot box again."
Again thanks to Section 5, the plan was blocked by a federal court. And again, the change was found to have deliberately discriminated against minority voters, by reducing their ability to elect a candidate of their choice.
With the plan blocked, Davis narrowly won re-election under the old district lines last year. But she's up for re-election again in 2014, and if the GOP redistricting plan goes into effect as Texas hopes, she'll face a far tougher re-election fight this time.
Voting-rights advocates say Texas may be over-confident in suggesting that the ID law and the redistricting plan are now back in business. Nina Perales, the top lawyer for the Mexican-American Legal Defense and Education Fund, which fought both measures in court, told reporters Tuesday that both may run afoul of other parts of the Voting Rights Act that are still standing.
Still, those working to protect voting rights concede that, in general, recent measures blocked by Section 5 now stand far more chance of going into effect. The court's ruling, they fear, could apply retroactively to some changes already stopped.
"I think jurisdictions can certainly make the argument that since the coverage formula was unconstitutional, those objections were unconstitutional," Laughlin McDonald of the ACLU acknowledged to reporters Tuesday, referring to the process by which the Justice Department and the courts blocked election changes.
McDonald said that's also true of voting changes that are currently waiting for approval from the courts or the Justice Department. "There'd be a very strong argument that they could go into effect, because Section 5 no longer applies," McDonald said.
South Carolina, whose strict voter ID law was softened thanks to concerns over its ability to pass muster under Section 5, cheered the Supreme Court's ruling. "Today's decision means the voting rights of all citizens will continue to be protected under the Voting Rights Act without requiring a different formula for states wishing to implement reasonable election reforms, such as voter ID laws similar to South Carolina's," Attorney General Alan Wilson said in a statement.
Without Section 5, the Voting Rights Act still blocks deliberate racial discrimination in voting, through Section 2, which stands. But Section 2 is a far weaker tool than Section 5, because it puts the burden of proof on the victim, requiring them to bring lengthy and costly litigation, and because it doesn't require jurisdictions to have changes "pre-cleared," automatically bringing them to the attention of the Justice Department. That means that many local election changes will likely fly under the radar of the federal government or voting rights groups who might challenge them.