At a time when the Obama administration is eager to highlight sunny economic news, Sen. Elizabeth Warren is focusing on those left in the shade.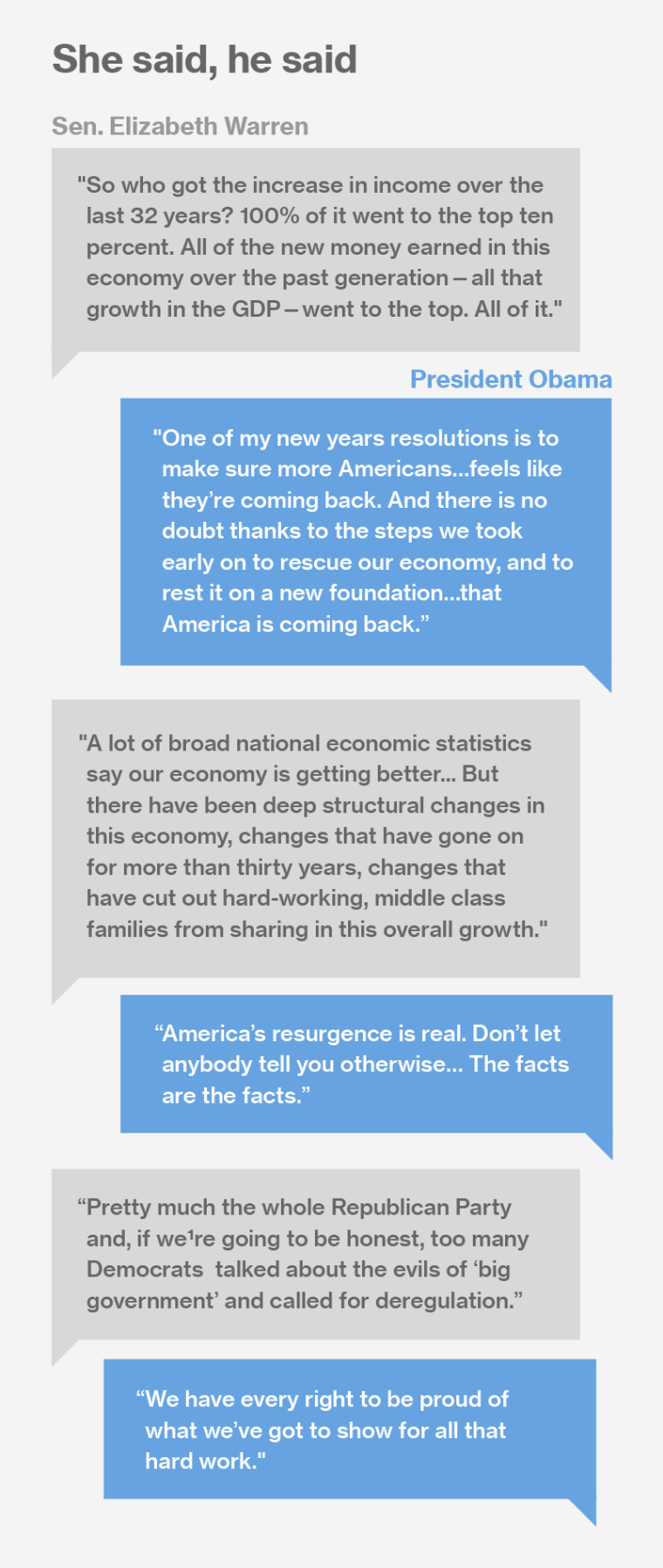 The Massachusetts Democrat, who has become a superstar on the progressive left, focused on those left behind in the ongoing economic recovery Wednesday at a Raising Wages summit in Washington organized by the AFL-CIO.
"On many different statistical measures, the economy has improved and is continuing to improve. I think the president and his team deserve credit for the steps they've taken to get us here," Warren said. But she quickly turned away from the good news: "Despite these cheery numbers, America's middle class is in deep trouble."
Speaking in Detroit Wednesday where he was touting the recovery of the auto industry, President Obama was not interested in dwelling on the negatives. "America's resurgence is real. Don't let anybody tell you otherwise," the president said at a Ford plant outside the Michigan city. "One of my new years resolutions is to make sure more Americans…feels like they're coming back. And there is no doubt…that America is coming back."
At his year-end press conference last month, the president proudly declared, "on almost every measure, we are better off economically than we were when I took office."
But one by one, Warren took each of those bright measures and showed their dark side.
"The stock market is soaring, and that's great if you have a pension or money in a mutual fund," she said. "But if you and your husband or wife ... don't have any money in stocks, how does a booming stock market help you?"
Related: How some Democrats can make the most of being in the minority
She continued by asking how growing corporate profits and GDP help a Walmart worker. Or how low inflation rates will help someone who owes thousands at congressionally-set student loan rates. And so on.
"Sure, the rich are doing great. Giant corporations are doing great. Lobbyists are doing great. But we need an economy where everyone else who works hard gets a shot at doing great," she continued.
Many Democrats remembering former New York Gov. Mario Cuomo, who died last week, will recognize the influence of Cuomo in Warren's message. During his famous 1984 Democratic National Convention speech, Cuomo cut down Ronald Reagan's glowing economic optimism by focusing on those left behind. Warren was taking a similar tact, but this time it's a Democrat in the White House.
And while Warren praised Obama when she mentioned him by name, she took veiled shots at her own party, including Bill Clinton and Hillary Clinton, who is considering a presidential run in 2016.
"If we're going to be honest, too many Democrats [have] talked about the evils of 'big government' and called for deregulation," she said. In 1996, Bill Clinton famously declared that "era of big government is over," and signed legislation that deregulated Wall Street.
She also called out free multilateral free trade deals, which were signed by Clinton and are currently being pushed by Obama, which she said "left America's middle class in a deep hole."
And when she laid out her view of the recent economic history of the country, the bad times started under Reagan, but continued under Clinton and Obama. "Since the 1980s, too many of the people running this country have followed one form or another of supply side [economics," she said. "Who got the increase in income over the last 32 years? 100% of it went to the top ten percent."
Progressives are trying to draft Warren into the 2016 presidential race, but she insists she's not running.
The labor movement has mixed relationship with Democrats in charge, trying to help them win election on one hand while also trying to hold their feet to the fire and be a bulwark of progressive economic policy on the other hand. 
Warren praised her "labor friends," and said she was happy to be at AFL-CIO's first-ever National Summit on Wages.
The labor group announced Wednesday that it will hold several similar summits in the first four presidential primary states, Iowa, Nevada, New Hampshire and South Carolina.