The end of the 2014 midterm election means that the next presidential race is just around the corner. The NBC News national exit poll of voters suggests they are divided on which party should occupy the White House after President Obama leaves office. And they are not particularly enthusiastic about the presidential qualifications of the potential contenders.
PHOTO ESSAY: The coming contenders
Former Secretary of State Hillary Clinton is considered the prohibitive favorite for the Democratic nomination, while the Republican field is wide open. In a hypothetical matchup between Clinton and an unnamed Republican, the GOP candidate has the support of 40% of voters, while Clinton takes 34%. Twenty-three percent of voters said it would depend. Of course, the race is contingent on who will eventually be the Republican candidate to face Clinton, if she should decide to run and is able to secure the Democratic nomination.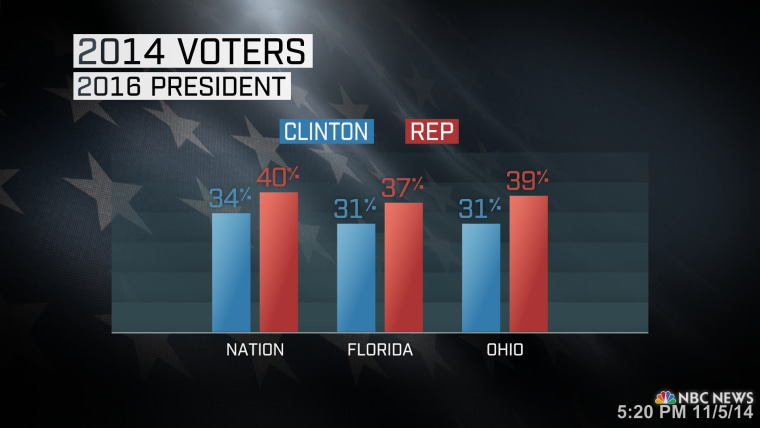 Clinton also trailed the hypothetical GOP candidate in two key presidential swing states – by 37% to 31% in Florida, and by 39% to 31% in Ohio.
Just 42% of midterm voters said Clinton would make a good president. She can take solace in the fact that this percentage is higher than for any of four potential 2016 Republican candidates also asked about in the NBC News national exit poll. Among those GOP possibilities, former Florida Gov. Jeb Bush did slightly better than others, with 29% of voters saying he would make a good president. Bush is followed by Kentucky Sen. Rand Paul at 26%, New Jersey Gov. Chris Christie at 24% and Texas Gov. Rick Perry at 24%.
RELATED: GOPers already showing signs of 2016 run?
The eventual Republican nominee will first need to run the gauntlet of early caucus and primary states, where GOP base voters carry more weight than independents. Among tea party-aligned Republicans, 56% said Perry would make a good president. Fifty-one percent feel the same about Bush, and 51% say the same about Paul. However, only 38% of tea party Republicans see Christie as White House material.
About half of white evangelical Republicans see Bush – 51% -- and Perry – 49% -- as making good presidents. Forty-two percent say the same about Paul, but only 32% of this GOP base group feel the same about Christie.
NBC News also asked voters in seven different states to give their thoughts on the presidential potential of 10 home-grown possibilities in the Republican field. Of these contenders, former Arkansas Gov. Mike Huckabee gets the biggest vote of confidence from his home state, with 50% of voters there saying he would make a good president. At the other end of the spectrum, former Pennsylvania Sen. Rick Santorum, who ran unsuccessfully for the GOP presidential nomination in 2012, is least likely – at 23% -- to be seen as White House material by voters in his home state.
Just under half of Wisconsin voters give a thumbs up to Rep. Paul Ryan of Wisconsin – 46% -- who was the party's nominee for vice president in 2012 and to their current governor Scott Walker – 42% -- who just won re-election Tuesday.
RELATED: Hillary gets humble in Iowa
In Florida, 40% of voters said that former Gov. Bush would make a good president, and 36% said the same about current Sen. Marco Rubio. In Texas, outgoing Gov. Perry got a positive presidential report from 35% of voters there, while Sen. Ted Cruz is also seen as making a good president by a similar 35%. In Kentucky, 34% of voters said Sen. Paul would make a good president. NBC News state exit polls also found that 28% of Louisiana voters feel Gov. Bobby Jindal would make a good president.
Visit NBC News Decision 2014 for more exit poll results and election returns.