You could be forgiven for not knowing, but Tuesday is National Voter Registration Day—a chance for eligible Americans of all stripes to register to vote.
Registration is always a worthwhile goal, but this year, it's more salient and politically charged than usual. That's because it comes at a time when, despite record low turnout last fall, the voter registration process has been drawn into the center of a fierce partisan battle over access to the ballot.
The more people who vote, the better Democrats do. As a result, with very few exceptions, one party is following a strategy of expanding the electorate, and the other is working to limit it.'
Officially, National Voter Registration Day has no agenda beyond signing up as many Americans as possible. But the reality is that voter registration, like so much else in today's charged political climate, has become a subject of intense partisan conflict. That's because these days, the more people who vote, the better Democrats do. As a result, with very few exceptions, one party is following a strategy of expanding the electorate, and the other is working to limit it.
More than 70 million eligible Americans aren't registered to vote -- a key reason why turnout fell to just 36% in last fall's midterms. The unregistered are more likely than the registered to be non-white, young, and poor -- all groups that lean Democratic. Nearly half of all eligible Latinos, and over half of all eligible millennials, aren't registered.
In response, Democrats have put forward an array of proposals to make registering easy.
Earlier this year, Oregon passed a law that will provide for anyone who has contact with the DMV to be automatically registered to vote, unless they opt out. It's expected to bring onto the rolls nearly half of the 800,000 Oregonians who are eligible to vote but not registered. A similar bill passed this month by California lawmakers is on the desk of Gov. Jerry Brown. Democrats in the U.S. House and Senate have introduced automatic voter registration measures. And several other blue states are also considering the idea, which got a big boost when Hillary Clinton came out for it in May, part of a sweeping and expansive voting rights vision laid out by the Democratic front-runner for 2016.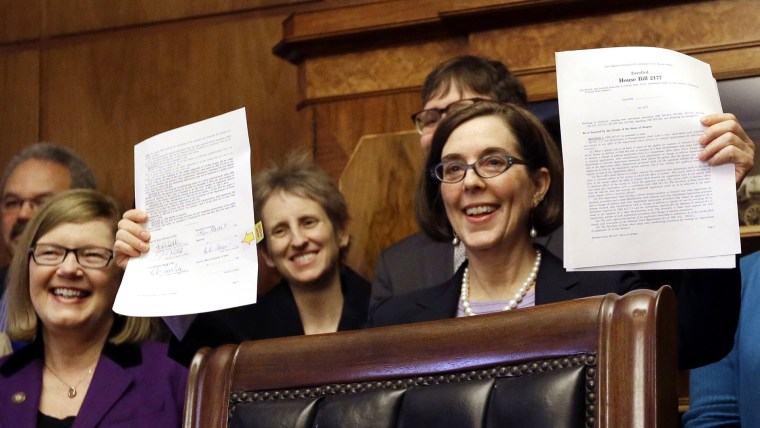 But Republicans have been notably cool to the idea. In California, not a single Senate Republican supported the bill, with one worrying that it would "further undermine the integrity of our election system." New Jersey Gov. Chris Christie has so far declined to sign an automatic voter registration bill passed by the state's Democratic legislature. "I don't think that people ought to be automatically registered to vote," Christie, a Republican who is running for president, said on a radio show in June. "Is it really too much to ask to ask someone to fill out a form?"
And some conservative pundits have even argued that making registration too easy would dumb down the electorate.
When it comes to allowing voters to register online, as a growing number of states are doing, the partisan split has been a bit less sharp, but it's there. It's virtually impossible to find Democrats opposed to the idea, while Republicans are divided. Texas's GOP-controlled legislature recently blocked an effort to establish online voter registration (OVR), citing concerns about fraud. And earlier this summer, one Republican official in Ohio -- where GOP Secretary of State Jon Husted supports OVR, went further. Medina County Commissioner Adam Friedrick explained that he opposes the idea because "voting is a privilege," and so "we should make it hard for people to vote, not easy."
RELATED: Aging voting machines could cause election meltdown
A few Republican-led states have even tried to make it harder to register to vote. In 2011, Texas passed the strictest voter registration rules in the country, including barring non-Texans from registering voters, and requiring registrars to be certified with the county where they're volunteering. Earlier this year, the state was accused by a Democratic activist group of chronic failures in its registration system. Meanwhile, in advance of the 2012 election, Florida severely curtailed the ability of outside groups like the League of Women Voters to run registration drives, likely depriving tens of thousands of Floridians of a chance to register. And both North Carolina and Ohio have in recent years eliminated same-day voter registration, when voters could register and vote all in one trip.
In other words, encouraging people to register to vote may be a civic virtue. But these days, it's also a political act—and one that's more important ever.