Voters in this year's election registered a level of dissatisfaction with government that hasn't been seen in nearly 25 years. Discontent with Washington has been building for a while, and Congress in particular has been the object of public ire. And yet very few House seats are likely to change hands today.
PHOTO ESSAY: America votes on the future of the Senate
The NBC News national exit poll found that 78% of voters disapprove of the job Congress is doing. Before today, the highest level of disapproval of Congress ever recorded in the exit polls was in 1990, at 80%. That was just about matched again four years later in 1994 at 79% when Newt Gingrich and the Republicans took control of the House.
Views of Congress rebounded slightly in the next midterm but never reached higher than the 43% approval rating seen in 2002. Since then Congressional approval has been on a steady decline, to 37% in 2006, 23% in 2010 and now the low of 20% in today's exit poll.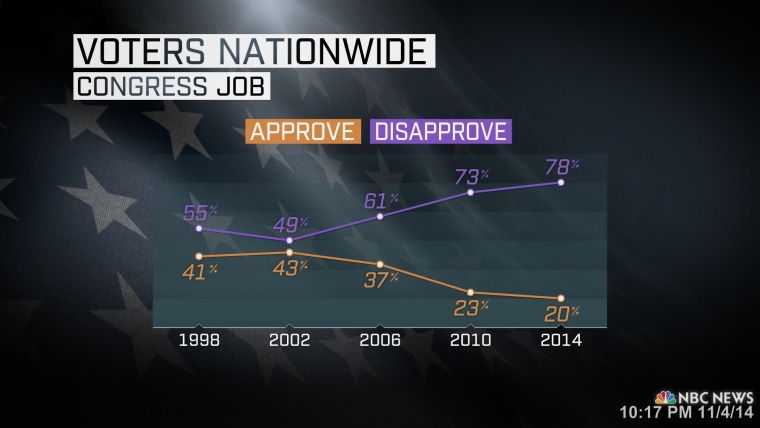 The NBC News national exit poll also found that voters don't just disapprove of Congress; they do so with intensity. In 2006, just 29% strongly disapproved of the job Congress was doing. That climbed to 48% in 2010 and was matched in today's exit poll.
In an age of huge partisan divides in the electorate, contempt for Congress is one thing that Democrats and Republicans agree on. Majorities of voters who identify with either party disapprove of how Congress is doing its job – 75% of Democrats and 80% of Republicans.
RELATED: An Election Day tilt toward Republicans
This harsh judgment has put a number of Senate incumbent seats on the chopping block, but it will have little impact on the House of Representatives. Congressional districts – and specifically the voters who live in those districts – have become significantly more partisan over the past few decades. According to the Cook Political Report, just 90 out of 435 House seats are characterized as "swing" districts with a partisan voting index that favors either party by 5 points or less. Back in 1998, 164 districts fell into this more competitive grouping.
 David Wasserman, the political analyst who handicaps U.S. House races for the Cook website, says this change is due to a combination of factors, with partisan redistricting playing a secondary role to fundamental demographic shifts. According to Wasserman, the prime driver is "geographic polarization of the electorate thanks to the cultural drift of the parties and self-sorting of voters into different communities. We've witnessed a rapid urbanization of the Democratic base and a consolidation of Republican support in rural America."
These demographic shifts combined with more partisan Congressional redistricting means that attention this Election Day is focused much more on the Senate than the House.
Visit NBC News Decision 2014 for more exit poll results and election returns.