Republicans spent the 2014 election cycle proclaiming -- largely successfully -- that there was no war on women, a term that encompassed attacks on contraception and abortion access, among other things. 
Now the numbers are in. In the four years since Republicans swept state legislatures, lawmakers have ushered in a record number (231) of new restrictions on abortion, according to new data from the Guttmacher Institute. These restrictions include laws designed to shut down safe clinics, laws that make it harder for minors to access abortions, and bans on insurance coverage for the procedure. 
The high-water mark for such laws was 2011, with a slight diminishment in 2014, during which only 26 new abortion restrictions were passed. The cumulative effect, Guttmacher notes, is that "the proportion of women living in hostile states has surged as well. In 2000, 31% of women of reproductive age lived in a state hostile to abortion rights, with no women living in a state with enough restrictions to be considered extremely hostile. By 2014, 57% of women lived in a state that is either hostile or extremely hostile to abortion rights."
With Republicans winning or solidifying control of even more statehouses in 2014, that number seems primed to increase.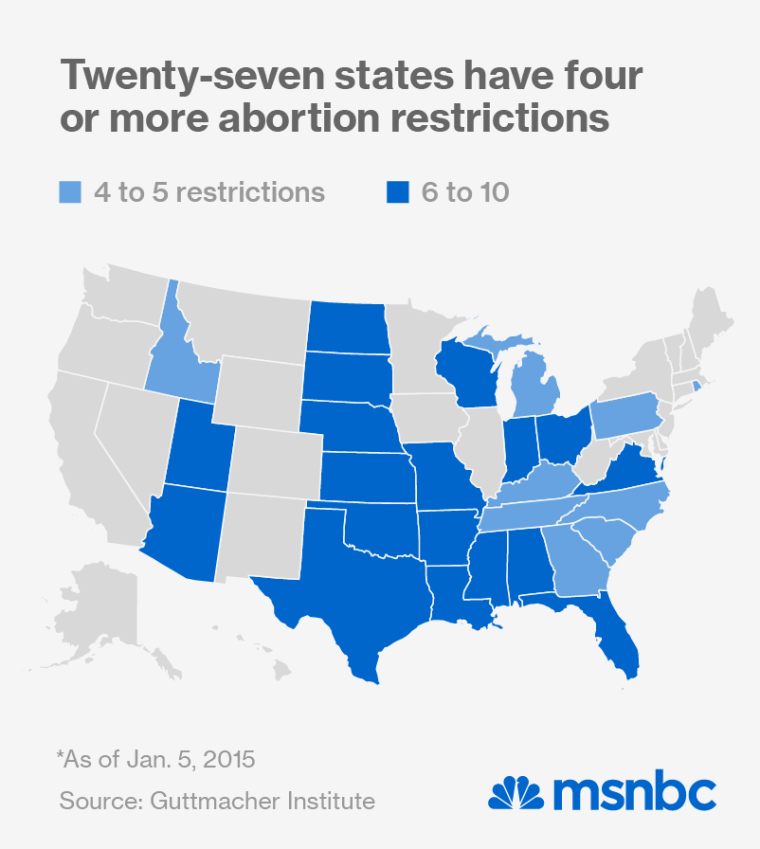 Some of the laws passed last year aren't in effect pending litigation, including requirements in Louisiana and Oklahoma that abortion providers have local hospital admitting privileges. The Supreme Court has yet to weigh in on the legality of any of these laws, though it has put one of them, in Texas, on hold. 
At the same time, 2014 saw more proactive laws introduced to expand access to reproductive health services, which Guttmacher said was "more positive measures than in any year since 1990."  But of 95 introduced in 17 states, only four of those actually became law, and all were either incremental or defensive. Two were buffer zones meant to protect patients and doctors from aggressive protesters, one of which was a scaled-back version in Massachusetts after the Supreme Court struck down a more sweeping law in June. Another law, in Vermont, was a mostly symbolic repeal of a pre-Roe abortion ban (which will ensure that abortion is legal there if the Supreme Court overturns Roe v. Wade.)
RELATED: The best and worst for women in 2014
The fourth "eased counseling requirements for women seeking an abortion because of a fetal impairment in Utah," according to Guttmacher. That law still requires all other women seeking an abortion to wait 72 hours before their procedure and be subject to biased counseling. 
"This report shows that the right to safe and legal abortion exists in name only for far too many women in America today, particularly low-income women who are hurt most by these restrictions that require people to drive hundreds of miles and make multiple trips for no medical reason," said Cecile Richards, president of Planned Parenthood Action Fund, in a statement. "As we look ahead to what will surely be another tough year for women's health, our focus is on making sure women have access to the care they need and are able to make their own health care decisions."