The United States on Tuesday voted against a U.N. resolution condemning its embargo on Cuba, despite President Barack Obama's calls on Congress to lift the trade restrictions.
The vote was the first since the U.S. and Cuban leaders agreed to restore diplomatic ties last year. The General Assembly overwhelmingly voted 191-2 to condemn the commercial, economic and financial embargo against Cuba. Only Israel joined the United States in voting against the resolution.
RELATED: Castro to Obama: Return Guantanamo, lift embargo
The U.S. had considered taking the unprecedented step of abstaining from the vote, which has become a yearly exercise, in the hopes of pressuring Congress to end the embargo, The Associated Press reported last month.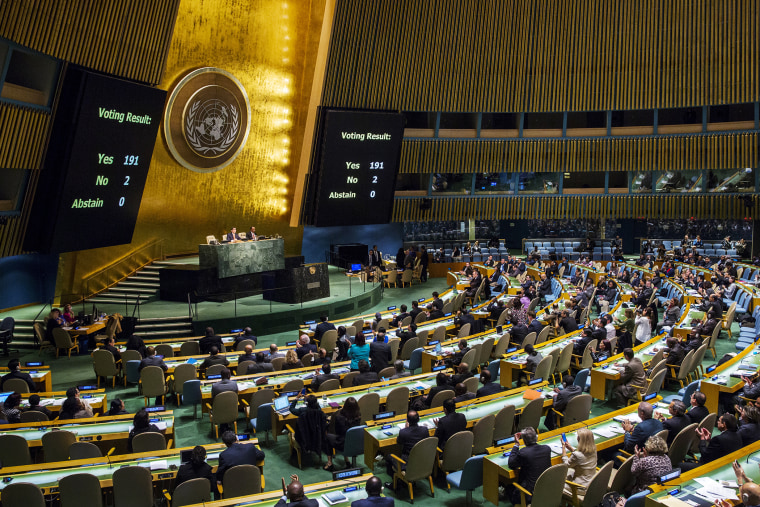 Instead, the U.S. decided to vote against the resolution as it has for past 24 years, saying the measure didn't reflect "the spirit of engagement" between U.S. President Barack Obama and Cuban President Raul Castro.
U.S. deputy ambassador Ronald Godard told the assembly before the vote that the Cuban government is "mistaken" if it thinks the measure will improve efforts to normalize relations.
General Assembly resolutions are unenforceable but the annual exercise has given Cuba a global stage to demonstrate America's isolation on the embargo and its Cuba policy.
Godard said it was "unfortunate" that Cuba decided to introduce a resolution whose text "falls short of reflecting the significant steps that have been taken and the spirit of engagement President Obama has championed."
Nonetheless, he said the United States "will not be bound by a history of mistrust" and remains committed to working toward normalizing relations with Cuba, a process he said will require "years of persistence and dedication on both sides."
RELATED: Obama calls for 'cooperation over conflict' at UN General Assembly
Obama and Cuban President Raul Castro announced last Dec. 17 that they were restoring diplomatic ties, which were broken in 1961 after Fidel Castro took power and installed a communist government.
On July 20, diplomatic relations were restored and embassies of the two countries were reopened, but serious issues remain, especially the U.S. call for human rights on the Caribbean island and claims for expropriated property.
When the final vote lit up on the screen in the General Assembly chamber, diplomats applauded and jumped to their feet in a standing ovation.
Cuba's Foreign Minister Bruno Rodriguez told the assembly that the United States must lift the embargo to make progress toward normalizing relations.
"The lifting of the blockade will be the essential element to give some meaning to the progress achieved over the past few months in the relations between both countries and shall set the pace towards normalization," he said.