First Read is a morning briefing from Meet the Press and the NBC Political Unit on the day's most important political stories and why they matter.
Trump on the cusp of putting away GOP race
If Sunday's NBC/WSJ/Marist poll showing Donald Trump ahead by 15 points in Indiana is correct, then Trump's path to the Republican presidential race would turn into a cakewalk. And this kind of result in Indiana, which holds its primary on Tuesday, would knock out Ted Cruz and the "Stop Trump" movement. The NBC/WSJ/Marist poll found Trump getting support of 49% of likely GOP primary voters in Indiana -- followed by Cruz at 34% and John Kasich at 13%.
Given that Indiana awards its 57 delegates by a combination of winner-take-all in the state, as well as winner-take-all in each congressional district, a 15-point spread would mean Trump would get all of the delegates. That would put the real-estate mogul on easy street to get the 1,237 delegates needed to win a majority on a first ballot: Trump would need to win just 40% of remaining delegates after Indiana -- down from the 46% he needs right now. Maybe more importantly, a defeat in Indiana by any size would cripple Cruz and #NeverTrump. After all, if you can't beat Trump in Indiana, where else can you beat him? Of course, there's the possibility our poll isn't right; another recent poll showed Cruz ahead in the Hoosier State. But every other Indiana poll has Trump ahead. And if that holds on Tuesday, then this Trump line seems true: "If we win Indiana, it's over." Here's the current GOP delegate math: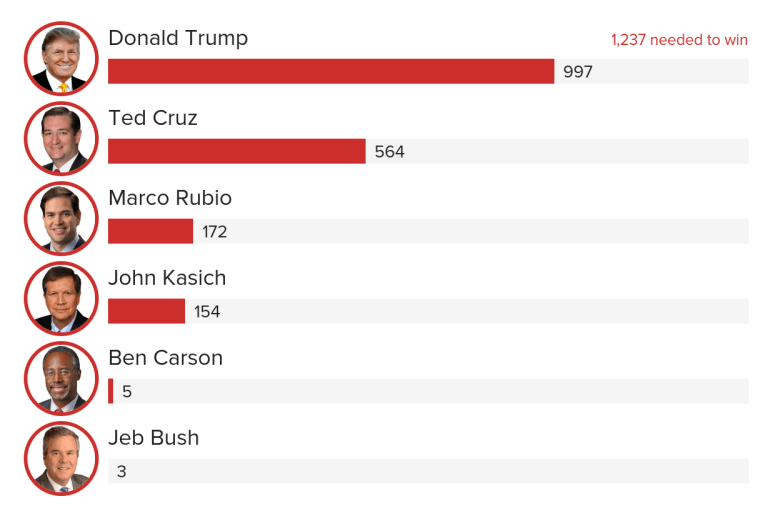 Trump needs to win 46% of remaining delegates to reach 1,237 magic number
Cruz needs to win 130% of remaining delegates to reach 1,237 magic number
Kasich needs to win 209% of remaining delegates to reach 1,237 magic number
Yes, it looks like that Cruz-Kasich alliance backfired
Here's another finding from our NBC/WSJ/Marist poll: 58% of likely Republican primary voters in Indiana say they disapprove of Cruz and Kasich teaming up to beat Trump in the Hoosier State, while 34% say they approve of the move. What's more, only 22% consider the Cruz-Kasich alliance a major factor in deciding their vote, 15% say it's a minor factor and 63% say it would play no factor at all. And if you remove Kasich from the race and reallocate his second-choice support in the NBC/WSJ/Marist poll, Trump still leads Cruz by double digits, 53%-42%. So, yes, it appears that Cruz-Kasich alliance -- whereby Kasich promised not to campaign in Indiana to help Cruz, while Cruz promised to return the favor in Oregon and New Mexico -- backfired. Big time.
Cruz refuses to say he won't support Trump
Meanwhile, on "Meet the Press" yesterday, "Cruz was asked multiple times if his opposition to Trump meant he could not support him in a general election, yet each time, he declined to answer. 'What I'm going to do is beat him,' Cruz asserted," per NBC's Sally Bronston. "According to the Texas senator, the stakes of this election couldn't be higher. 'If we lose this, we lose our country. We lose the Supreme Court for a generation, religious liberty is taken away, our kids are bankrupted,' he said. Yet in spite of these high stakes, Cruz would not commit to coming out against Trump, who he believes will lose to Hillary Clinton in the general election if he ends up with the GOP nomination."
Even pro-Cruz delegates are warming up to Trump
One final point to make about the Republican race: Remember all of our reporting on how well Cruz was doing in the delegate-selection process -- especially at those state conventions? Well, National Review is reporting that many of those pro-Cruz delegates are now warming up to Trump as the New Yorker looks stronger and stronger. "'I think [last Tuesday's vote] spooked a lot of people,' says Jim Poolman, a North Dakota delegate who had previously committed to a first-ballot convention vote for Cruz. 'But I want to be clear, I think the will of the people does mean something, as well,' he says. 'Donald Trump has gotten a lot of support across the country, and just [last Tuesday], winning five [states] is one heckuva showing.' Poolman now says he will opt to see how the remaining primaries play out, and is 'not necessarily' a first-ballot vote for Cruz. He's not alone. Of the ten North Dakota delegates on the Cruz slate reached by National Review, five express serious reservations about backing the Texas senator on that crucial first ballot."
Message to Bernie Sanders: The Democratic race isn't as close as you think it is
In the Democratic race, Bernie Sanders on Sunday vowed that there would be a contested convention in Philadelphia, NBC's Danny Freeman writes. "It is virtually impossible for Secretary Clinton to reach a majority of convention delegates by June 14 with pledged delegates alone," Sanders said at a news conference at the National Press Club. "In other words, the convention will be a contested contest." But here are some important facts to consider:
The Democratic nomination isn't determined by just pledged delegates; a candidate becomes the presumptive nominee when he or she crosses the 2,383 magic number consisting of both pledged delegates and superdelegates.
In 2008, Barack Obama crossed the magic number with considerable help from superdelegates. And with superdelegates representing 20% of all delegates back then (it's now 15%), Obama certainly didn't have a majority with just pledged delegates alone in that very tight '08 race.
But if you want to reduce the Dem race to *just* pledged delegates, Clinton's current delegate lead is THREE TIMES the size of Obama's in 2008 (when it hovered around 100).
And in terms of overall delegates, Clinton holds a 22-point lead over Sanders -- with Clinton at 61% of all delegates and with Sanders at 39%. Sanders has scored some impressive victories this election season. And his performance has been one of 2016's best stories. But folks, the Democratic race isn't close, especially when you consider the party's proportional delegate-allocation system. Here's the current Democratic delegate math:
In pledged delegates, Clinton currently holds a lead of 321 delegates with Washington delegates to still be allocated
Clinton 1,641 (55%)
Sanders 1,320 (45%)
Clinton must win 35% of remaining pledged delegates to get a majority in pledged delegates
Sanders must win 65% of remaining pledged delegates to get a majority in pledged delegates
In overall delegates (pledged + super), Clinton holds an overall lead of 790 delegates

Clinton must win 19% of remaining delegates to reach 2,383 magic number
Sanders must win 81% of remaining delegates to reach 2,383 magic number
Yet the Dem race IS closer in Indiana
But while the overall Democratic race isn't close, tomorrow's Indiana primary is. Per our NBC/WSJ/Marist poll, Clinton leads Sanders by just four points, 50%-46%.
Both Sanders and Clinton raise $26 million in April
Finally, for the first time in months, Bernie Sanders didn't outraise Hillary Clinton. Over the weekend, the Sanders campaign reported raising $25.8 million in April, while the Clinton camp says that it raised $26.4 million -- and that it raked in in an additional $10 million for the DNC and state parties, per NBC's Monica Alba. The Clinton campaign says it has about $30 million in the bank, but Team Sanders didn't disclose its cash-on-hand number.
On the trail
Hillary Clinton campaigns in Kentucky and West Virginia… Bernie Sanders makes three stops in Indiana… Donald Trump holds rallies in Carmel, IN and South Bend, IN… And Ted Cruz rallies in Indianapolis.