SIMI VALLEY, California -- All eyes are on the three non-politicians in the Republican presidential race as the nation readies itself for the second major GOP primary debate Wednesday in California, where 15 candidates will take two stages to duke it out again.
GOP front-runner Donald Trump will be at the center of the prime time debate, but there are signs voters may be souring on the bombastic billionaire businessman. In a Washington Post/ABC News poll out this week, a strong majority of voters said Trump isn't qualified, isn't honest, and doesn't have the personality or temperament to serve effectively as president.
Still, Americans seem keen on candidates like Trump that are viewed as outsiders: in the same survey, 72% of voters said "most people in politics" cannot be trusted, and 64% said the current political system is "dysfunctional."
Cue Dr. Ben Carson. The mild-mannered retired neurosurgeon has surged in the polls just behind Trump, making him the chief alternative to watch. While he's run a campaign that's largely flown under the radar so far, the latest debate will be his biggest moment yet on the national stage, where he'll need a standout performance to compete with Trump.
RELATED: Dr. Ben Carson is 2016's 'stealth candidate'
In the August forum, Carson faded into the background for long stretches of the event -- prompting him to joke with moderator Megyn Kelly that he thought he was done for the night -- so he'll have to hold his own in the spotlight Wednesday to maintain his newfound momentum.
He'll have to do it while deflecting possible attacks from Trump, too. Though the GOP front-runner spent the summer lashing out at the political establishment -- a move that helped cement his image as a citizen crusader hell-bent on shaking up D.C. -- Trump has recently taken aim at the soft-spoken Carson, who has promised a positive campaign free of feuds.
Perhaps this is why Trump said Wednesday that he'll "try to tone it down." Still, Trump has struggled in the past not to respond to criticism. And he should expect to face plenty from the third outsider candidate in the race -- former Hewlett Packard CEO Carly Fiorina, who will have more to prove than most on the debate stage Wednesday night.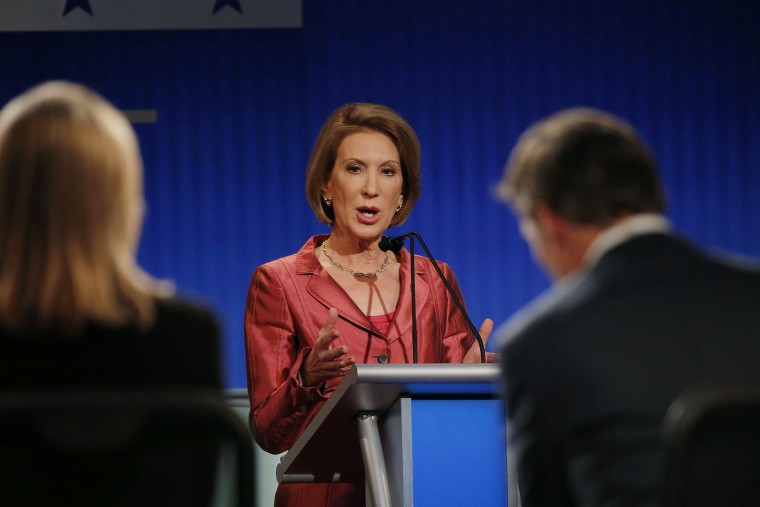 "She's got to come out and perform at the same very high level and show that she deserves her place at the table," Republican strategist Rick Wilson told msnbc earlier this month, following Fiorina's standout performance during the first "undercard" debate on Fox News. "People expect a lot from her now so she needs to go in there ready to play, ready to be noticed." 
She's likely to bring the fight to Trump, who criticized her appearance in a Rolling Stone interview published last week, saying she didn't have the kind of "face" voters wanted to elect. He later said he meant her "persona," not her appearance, and went on to criticize her business record. 
"Mr. Trump's going to be hearing quite a lot from me," Fiorina told CNBC in a pre-debate interview. "Donald Trump has said many things about other candidates, but he has not talked about their appearance."
"You're going to know how successful she is by the degree Donald Trump is attacking her time at Hewlett Packard," Wilson added. "That'll be a good tell of how well she's doing, is how crazy Donald Trump goes." 
RELATED: Fiorina's fight: What the 'happy hour' champ faces in primetime
Fiorina's last jab at Trump on the debate stage -- "I didn't get a phone call from Bill Clinton before I jumped in the race. Did any of you get a call? I didn't." -- was one of the most memorable moments of the early debate. She was referring to a story, new that week, that Trump and the former president had conferred by phone before Trump entered the race.
Effective as it was, it's going to be a lot harder for Fiorina to land such a zinger with Trump just a few podiums away.
Whatever happens between the three outsiders, you can be sure to expect a fight all around. Trump, Carson and Fiorina were the top searched-for candidates ahead of the debate, according to Google. And on Wednesday night, they'll be within spitting distance of each other on a stage where the podiums have been purposefully placed just 20 inches apart. 
"What the team and I have been doing is trying to craft questions that, in most cases, pit candidates against the other, specific candidates on the stage, on issues where they disagree, whether it's policy or politics or leadership," CNN host and debate moderator Jake Tapper said on that network last weekend. "They're going to want to talk to the camera and they're going to get out their talking points, but I am going to attempt to get them to address each other and actually debate."