The "potty problem" is back.
Not since the death of the Equal Rights Amendment nearly four decades ago has there been so much public concern with where people take care of their private business: the bathroom. This time, however, it's the rise of transgender rights that's sparking Phyllis Schlafly-inspired warnings against allowing any kind of gender-mixing in the john.
Just how much do we care about bathroom use? Enough so that one of the biggest moments in history for transgender visibility -- Caitlyn Jenner's debut on the cover of Vanity Fair this week -- coincided with several bathroom-related events.
RELATED: Planet Fitness controversy could lead to another anti-trans bill
First, on Monday, the same day that the magazine introduced Jenner to the world, the Department of Labor's Occupational Safety and Health Administration (OSHA) released guidance stipulating that transgender employees should have access to the restrooms that correspond to their gender identities. The 4-page guide marked the Obama administration's latest entry in its record of promoting LGBT equality -- a long list of achievements that includes, as of last month, the addition of gender-neutral bathrooms in the White House.
"They portray us as potential predators in the bathroom because they don't know us."'
A Republican hoping to be the next resident at 1600 Pennsylvania Avenue, meanwhile, made headlines this week for his very different views on the bathroom matter. In a video from February, unearthed this week by the website World Net Daily and later circulated by Buzzfeed, former Arkansas Gov. Mike Huckabee can be heard mocking the daily struggles transgender students encounter when trying to navigate gendered bathroom facilities at school.
"I wish that someone told me that when I was in high school that I could have felt like a woman when it came time to take showers in PE," Huckabee says in the video. "I'm pretty sure that I would have found my feminine side and said, 'Coach, I think I'd rather shower with the girls today.'"
RELATED: Pataki slams Huckabee for 'mocking' transgender community
The joke, while lighthearted in its delivery, essentially reflected the same belief at the heart of Michelle Duggar's dark warning last year that transgender people were really child predators in disguise. What both Huckabee and the "19 Kids and Counting" star clearly have in common is a shared skepticism that someone's gender identity could ever be in conflict with the gender assigned to that person at birth. To them, transgender people are basically frauds, and potentially dangerous ones at that.
Even Jenner, who likely has little experience with public restrooms thanks to her wealth and fame, could not escape some bathroom scrutiny this week. On Tuesday, TMZ published a report raising questions about whether Jenner would still be able to access the same facilities at the exclusive Sherwood Country Club, where she has been a member for 15 years. Men and women rich enough to pay the six-figure initiation fee at the club have their own eating areas in the locker rooms, according to TMZ, and the women's locker room is "way more scaled down."
In a statement, the Sherwood Country Club refuted TMZ's report and said it was "very proud of the wonderful facilities it offers to both is male and female member and their guests."
"Caitlyn Jenner will continue to be a valued member of Sherwood Country Club, enjoying all that it has to offer its members," the statement read, adding that the TMZ story was "almost entirely false."
True or not, TMZ's report marked yet another example of how conversations about transgender rights tend to turn into conversations about the bathroom. The question, though, is why?
In today's political sphere, so-called "bathroom bills" are fast becoming the next front in the battle for transgender rights.'
As transgender activist Autumn Sandeen sees it, bathrooms are "an easy 'it.'"
"Because not many people know transgender people, people who are against us are very comfortable saying 'We are like this, and they are like that,'" Sandeen told msnbc. "They portray us as potential predators in the bathroom because they don't know us. They don't know how we're going to behave."
The argument is far from novel -- virtually every major fight for equality over the last six decades has had some sort of bathroom battleground.
In the 1950s, the civil rights movement fought to end the practice of prohibiting African Americans from using so-called "white" bathrooms. In the 1970s, the women's rights movement demanded more bathrooms in the workplace to accommodate the growing number of female employees. Fear of unisex bathrooms, perpetuated by conservative activists like Phyllis Schlafly, also helped sink the Equal Rights Amendment, which would have stipulated in the Constitution that the neither the U.S. government, nor any state could deny equal rights under the law on the basis of sex. And in the 1980s, the disability rights movement focused on expanding disabled-access toilet facilities to private buildings.
"In every civil rights movement in the U.S. over the last 60 or 70 years, bathrooms and locker rooms are where a significant portion of civil rights movements for ordinary equality have been fought," Sandeen said. "It's where we are at our most vulnerable."
The main line of opposition to blurring the gender binary in the bathroom hasn't really changed since Schlafly's days. Critics of laws that allow people to use gender-neutral bathrooms or sex-segregated bathrooms in line with their gender identities caution that such proposals would take away certain privileges non-transgender women currently enjoy, safety being chief among them. LGBT advocates, however, argue that the introduction of non-discrimination laws in over 200 cities hasn't led to any spike in cases where sexual predators sneak into bathrooms to prey on women. Furthermore, LGBT advocates point out that it's in fact transgender people who now face significant levels of abuse while in the bathroom.
RELATED: Jacob's journey: Life as a transgender 5-year-old
"The fact is that for transgender people, particularly trans women of color, our communities are facing an epidemic of violence in this country," Kris Hayashi, executive director of the Transgender Law Center, told msnbc. "It's transgender people, transgender women in particular, who are all too aware of the danger we face in the world and are really not focused on harassing other people in the bathroom."
In today's political sphere, so-called "bathroom bills" are fast becoming the next front in the battle for transgender rights. Five states -- Florida, Kentucky, Minnesota, Nevada, and Texas -- introduced various measures this year designed to bar the use of sex-segregated facilities, like bathrooms and locker rooms, in conjunction with a person's gender identity. In each case, the bills were written to punish transgender people with fines or jail time for using a facility that did not match the gender they were assigned at birth.
No "bathroom bill" became law this session. But in California, an effort is still underway to collect enough signatures for a ballot initiative that would reward citizens $4,000 if they can catch a person using government building facilities that don't align with his or her "biological sex."
"I'm very aware of the safety issues every time I go to the bathroom," said the Transgender Law Center's Hayashi, who is a transgender man. "If suddenly one of these laws popping up around bathrooms were to pass, it would mean that I'd be forced to use the women's bathroom, or that I would continue to use the men's bathroom and be in greater fear because it'd be illegal."
For Republicans, the bathroom issue could turn into yet another litmus test among presidential hopefuls -- akin to the "would you attend a gay wedding" question that swept the emerging field a few weeks ago. For Democrats, meanwhile, it could be a chance to strengthen ties with the LGBT community.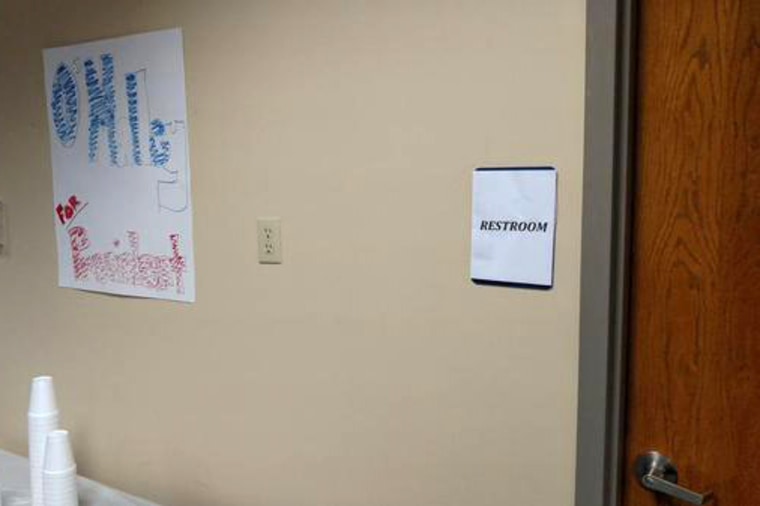 In a press email this week highlighting former Maryland Gov. Martin O'Malley's record on LGBT equality for Pride Month, which began June 1, the Democratic presidential candidate's communications team included a photo of the "gender inclusive" restroom in the campaign's Des Moines office. The photo isn't much to look at; but the fact that they thought to send it along with O'Malley's other achievements for LGBT equality -- which include signing a bill as governor that legalized same-sex marriage in Maryland, and signing the state's first anti-transgender discrimination bill as mayor of Baltimore -- speaks to the growing importance of the bathroom issue.
No top-tier Republican candidate has said anything yet about Jenner's transformation. But Gregory T. Angelo, executive director of the pro-LGBT Log Cabin Republicans, sees an opportunity for the former Olympian and reality TV star to change minds -- especially since Jenner has said she considers herself a member of the GOP.
"I think Caitlyn Jenner has a tremendous amount of potential to educate both Republicans who might not have a deep awareness or understanding of issues impacting the transgender community, as well as Democrats who feel in the same way that all LGBT people must be supporters of the Democratic party," Angelo told msnbc. "If the communications directors of any of these GOP presidential hopefuls are worth their weight in salt, they have already prepared their bosses to answer [Jenner] questions."
As for the "potty problem," Angelo believes any bathroom panic has largely been confined to the far-right wing of his party.
"It's only the fringe names in the GOP right now who seem to be taking the discussion down to lowest common denominator with all this talk of bathrooms and showers," Angelo said. "There are more voices I've heard in the GOP that are expressing respect and empathy with Caitlyn Jenner and transgender America."