The public lovefest between New England Patriots quarterback Tom Brady and Republican presidential candidate Donald Trump continued on Wednesday when the NFL star sang the GOP front-runner's praises ahead of his second major primary debate.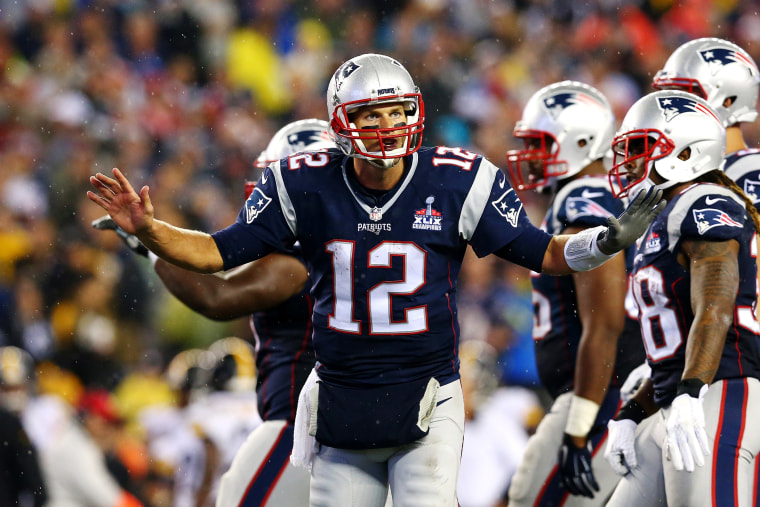 Brady, who entered this NFL season under a cloud of cheating accusations, has never officially aligned himself with a particular political party, although some speculated that his decision to skip a White House ceremony honoring the Patriots' Super Bowl win earlier this year may have been politically motivated.
When Brady was asked Wednesday about a potential Trump presidency he said: "It would be great. There would be a putting green on the White House lawn, I can tell you that." The four-time Super Bowl champion had reportedly golfed with Trump in the past. Brady also acknowledged that he has a red "Make America Great Again" hat in his locker, which was a gift from Trump.
"It was a nice keepsake," Brady told reporters. "It could be ... a nice piece of memorabilia he sent me."
Earlier this month, Brady told a Boston radio show he didn't know if he would vote for Trump but that he'd known him since 2002 after serving as a judge in one of his Miss USA competitions and said he's received calls from the real estate mogul offering him "motivational speeches."
When Brady's four-game suspension for his alleged involvement in "Deflate-gate" was overturned on Sept. 3, Trump was quick to align himself with the NFL star, who he called an "honorable man."
RELATED: Terence Moore: 'The Patriots are pathological cheaters'
In August, Trump criticized NFL Commissioner Roger Goodell's decision to suspend Brady in the first place. "I think it's ridiculous the way they've treated him," Trump said during a FOX Business Channel interview. "He's a friend of mine, he's a great friend of mine, he's a great guy, and I think it's ridiculous the way they've treated him. To spend $10 million in legal fees, and now it's probably higher than that, it's crazy. He's a great star. They ought to go back to playing football. This country has bigger problems."