The new msnbc.com feature we're most excited about are the Groups, show or issue-related spaces where you can discuss stories with other people who share your interests. Not only can you join a group but you can also create a group. As long as the name and intent of the Group doesn't violate the Community Rules, we welcome you to create any Group that revolves around a particular interest or issue. Once you're a part of a Group, you can share stories and videos to kick off debates—it's like your own homepage with your fellow msnbc friends. So let's get started.

Fill out the Group's profile information. The only fields that are required are Display name and Domain name. Here's how it breaks down:
Display name: This will appear at the top of your profile andanywhere the goup appears on the site. 
Domain name: The group URL that will be createdand can be shared externally(Ex:http://asianvoices.groups.msnbc.com).
One line description: This should be the most succinct andactive description to capture people's attention. 35 charactersor less is suggested.
Group description: A few more sentences that providebackground about the group's purpose. 140 characters or less is suggested.
Add an email: This is the email address you can include if you want people to reach out to you.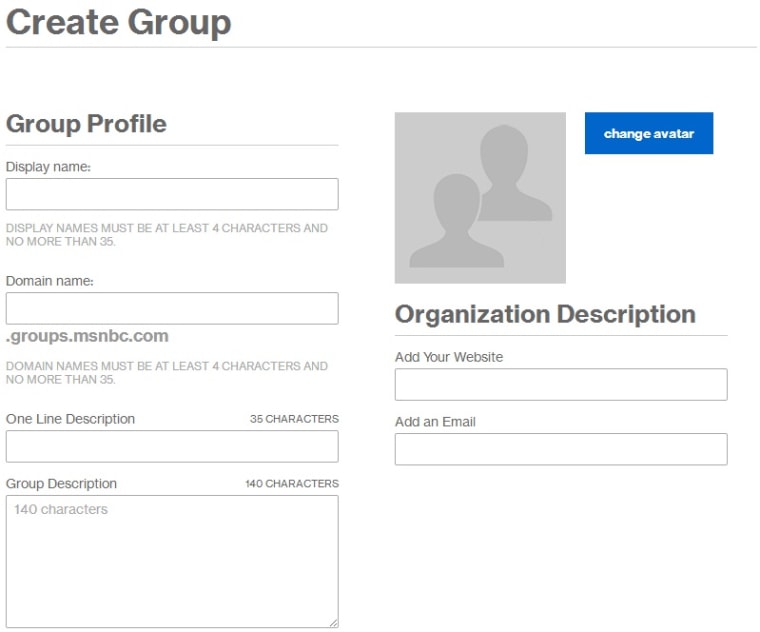 Issues/Sub-issues: These are the issues that will be associatedwith the group. This comes into play when auser goes to the JOIN IN section and asks to be connectedto member groups and can select the specific issues/sub-issues. You're not locked into these three issues/subissuesand can change them as often as you'd like.
Shows/Show: An optional field that displays the group'smsnbc interests but has no additional impact on yoursite experience.
People: An optional field that displays the group'smsnbc host and contributor interests.
Open/Gated: We recommend you keep your group open,but it's your choice if you want to approve each member whoasks to be a follower. The site will be heavily monitored fortrolls and violations of the code of conduct.As an admin of your group, you can make updates to theactivist group page at any time.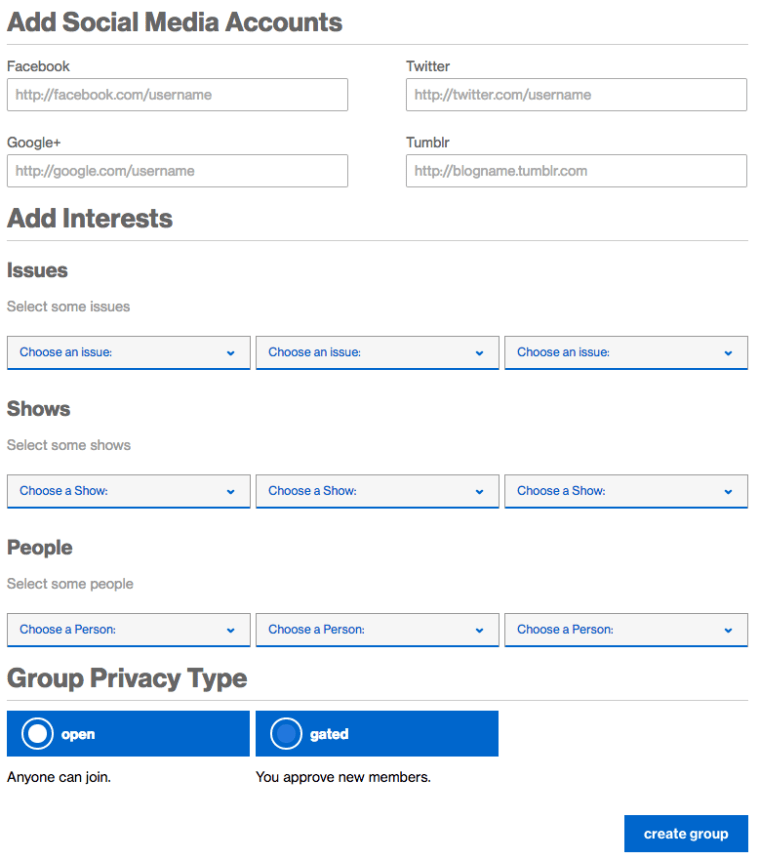 Once you've filled in the information, hit create group and get started!