Explore is the first tab in the navigation (AKA the top of the website). There are two importat features to note in this tab: the section labeled "Latest" and the ten issues categories (Democrats to Society). These categories are how we tag all of our articles, videos, groups, polls, and user profiles. 

LATEST
These are topic pages the editorial team creates to tag the most relevant/major news series. In the example above, the topics are Debt Ceiling, Government Shutdowns, Ted Cruz, Obamacare, and the new msnbc.com. By clicking on one of these topics, you'll get a page with all the content that been tagged to that topic. 
EXPLORE ALL
Click "All" under explore to get a quick look at the latest articles or videos tagged under each issue. Click the blue arrows to scroll through each category.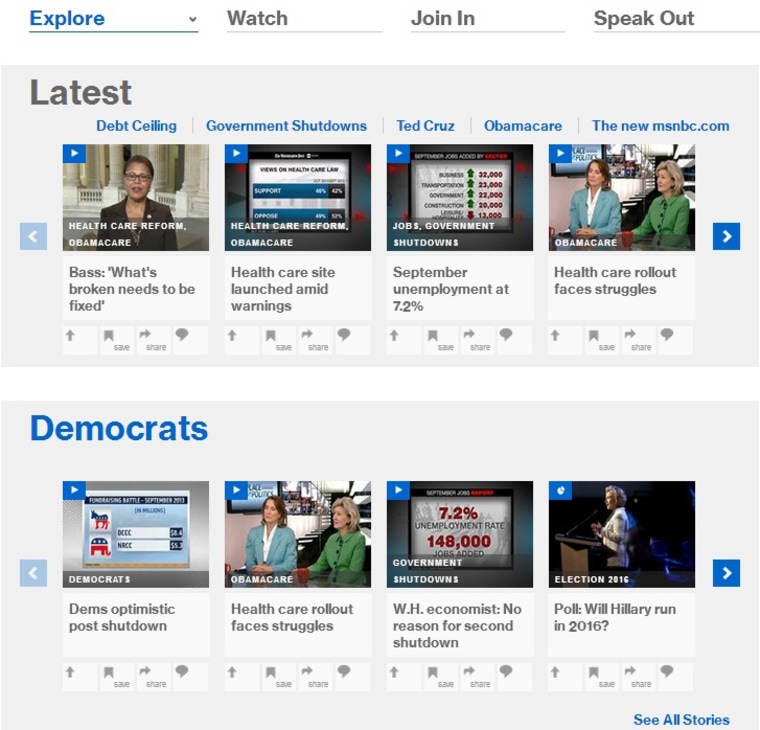 EXPLORE
By clicking on an issue category under explore, you open a landing page for that specific issue and its sub issue categories that you can dig deaper into. These issue pages have all the articles, videos, photo essays, that have been tagged as each respective issue. On these pages, you'll also find a Join in section with suggested experts to follow, a Resource Center, and the Most Active Groups in that issue area.