A huge backlog and slow processing times are putting troubled homeowners in limbo for months while mortgage companies review their applications for federal housing assistance, according to a new report from the bank bailout's watchdog. 
As of May, more than 220,000 homeowners applying to Treasury's Home Affordable Modification Program (HAMP) were still waiting for a decision from their servicer, according to Special Inspector General for the Troubled Asset Relief Program (SIGTARP). That's nearly double the number of applicants who were stuck in limbo in November 2013, and the slowest mortgage companies are taking 10 to 12 months to give them an answer.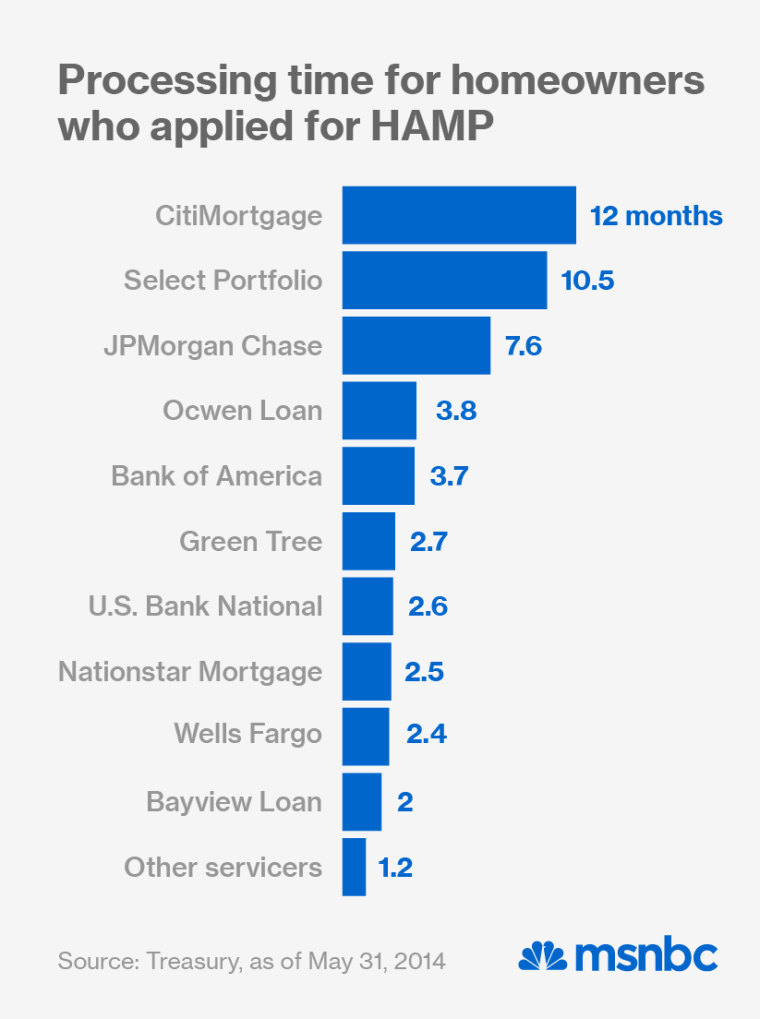 "Clients are very stressed through this time — everything is on hold for them, they don't know whether to invest their money on this or that," says Carmen Castro-Conroy, a Maryland-based housing counselor. "The not knowing is probably the most difficult for them."
Homeowners who are applying for loan modifications are already having trouble making their mortgage payments, and the huge backlog makes it even more likely that they'll fall behind. If so, they could have a harder time qualifying for a HAMP modification and avoiding foreclosure. "If Treasury does not take strong action to stop this growing trend immediately, it will be homeowners who suffer the consequences," the SIGTARP report said. 
As part of the 2008-2009 bank bailout, Washington set aside billions to help troubled homeowners make their mortgage payments and avoid losing their homes to foreclosure. But HAMP is being administered through private mortgage companies, and a slew of problems have made it difficult for ordinary Americans to get assistance from the program. HAMP was originally supposed to last through December 2013, but the White House extended it for another two years. As of June 2014, Treasury has expended only 33% of the $38.5 billion in TARP funds for the program.
The report singled out two mortgage giants for poor performance over the last six months. "Chase and Select Portfolio Servicing stood out as the least effective large servicers in keeping up with demand for HAMP," the watchdog said. "During this period Chase processed an average of 35% of the applications it received each month, while SPS processed an average of 42% of the applications it received."
The slowest servicers were Citimortgage, a subsidiary of Citigroup, which took an average of 12 months to process HAMP applications; Select Portfolio Servicing, which took an average of 10.5 months; and JPMorgan Chase, which took 7.6 months on average.
Special Inspector General Christy Romero blames the Obama administration for failing to notice the problem in the first place, given that its own data made it clear. "When Treasury is holding data and not doing anything with it, and homeowners aren't being treated fairly, there's something wrong with that," said Romero, who heads SIGTARP. "Homeowners don't have the luxury of time, of waiting for seven months or 10 months."
That characterization is disputed by the Treasury Department's Tim Bowler, acting assistant secretary for financial stability. "We have been working with servicers and other stakeholders over the last several months to get a better understanding of underlying causes of trends noted in our monthly program data," Bowler told msnbc. "Treasury remains committed to maintaining the standards HAMP has set while the industry implements new servicing regulations so that those households facing a hardship receive the best and most timely outcome."
Castro-Conroy, the housing counselor, says that homeowners with full-time jobs tend to go through the process more quickly. If homeowners have more than one source of income, the process tends to take longer because there is more paperwork, and customers don't always understand the process. But, Castro-Conroy adds, mortgage servicers can be at fault as well: Long delays force applicants to resubmit income documentation, for instance, and staffing turnovers can further prolong the process. 
"It's not ever an acceptable excuse to blame it on the homeowners and say they didn't have their package complete," said Romero.
The watchdog previously criticized the administration for failing to ensure that HAMP money was dispersed quickly, as participating mortgage servicers failed to communicate clearly with homeowners, lost their paperwork, and otherwise prolonged the process. SIGTARP, which is also a law enforcement agency, reached a $320 million settlement with Suntrust after alleging that the company misled HAMP borrowers, falsely reported them as delinquent, and was slow to process HAMP applications.  
"So significant was SunTrust's failure in this regard, that the floor of the room in which the bank dumped the voluminous unopened HAMP applications actually buckled under the packages' sheer weight," SIGTARP said. 
The watchdog also said that Treasury should be doing more to ensure that those who do ultimately qualify for HAMP are able to stay afloat. About 30% of the homeowners in the program have already defaulted again, costing taxpayers about $1.3 billion, the report says, and that number could increase as HAMP mortgage rates automatically rise after five years. SIGTARP suggests that Treasury use other bailout-funded housing programs to help HARP participants remain current. 
While the housing market and broader economy have shown signs of healing, the redefault rates and the steady demand for foreclosure-prevention assistance indicate that many homeowners are still struggling. 
When lawmakers originally passed TARP, "it was all about getting money out to banks immediately. The same level of effort and immediacy have not applied to TARP housing programs," says Romero. "Will they eventually get all the money out? Maybe. The question is, when did the homeowners need it? It's always yesterday."