BATON ROUGE, La. — On a recent afternoon, a wave of laughter filled the House chamber here as several lawmakers marched down to the floor and stood back-to-back to see who was the tallest among them. A pudgy, balding man, standing about 5-feet-5-inches, puffed out his chest and sized up his taller peers. "I think I'M the tallest!" he boasted, as the gallery erupted in cheers.
It could have been a scene from an old-South narrative on the casual, sometimes absurd goings on in statehouses if not for the two important gun bills that were up for votes that day.
For Louisiana, the stakes could not be higher: it has the worst gun murder rate in the nation, and the highest rate of children killed with guns. Overall, guns have been used to kill more people in Louisiana in recent years than in any other state, according to a new analysis.
Between 2001 and 2010, 4,519 people were killed by guns here, more than a thousand more losses than U.S. combat troops suffered during the Iraq War. More than 75% of those victims were African-American. Haunted by the losses, members of the Black Caucus try again and again to introduce some measure of gun control legislation.
But their efforts are always thwarted while a far more powerful group of Republicans and white Democrats stokes Louisiana's love affair with guns.
As federal gun control efforts have largely failed in Washington, DC., states have stepped in. Colorado, Connecticut, Delaware, Maryland and New York, all with relatively low levels of gun violence, have recently passed some of the strictest new gun laws in the country.
But in Louisiana, where gun laws are weak and gun violence severe, the Republican-led Legislature can't loosen firearms restrictions fast enough.
Of the 15 gun bills introduced in the state House this year, 12 would expand gun rights or block federal gun control efforts. Only two bills were aimed at curtailing Louisiana's extremely lax gun laws. Neither made it out of committee.
Instead, legislators are poised to bolster the state's standing as the most gun-friendly state in the country. In late April, pro-gun lawmakers in the House rather easily passed a block of controversial gun bills—including one which would usurp the United States Constitution.
"It's disheartening," state Rep. Wesley Bishop, a Democrat who represents New Orleans' 9th Ward, told msnbc. "They see gun violence as something that happens in the larger cities, the black cities, and it doesn't really concern many of them. Sadly, it's going to take an incident when gun violence hits their neighbor or their front door for them to really understand."
They Love Their Guns
On key measures Louisiana is hit harder by gun violence than nearly every other state. It ranks No. 1 in gun deaths of women and of children. In 2010, according to a recent report by the Center for American Progress, 67 Louisiana children were killed with guns.
On average, someone is killed in Louisiana every 10 hours by a gun. As of 2010, the state had a gun-murder rate of 9.5 murders per 100,000 people, more than two and a half times higher than the national average.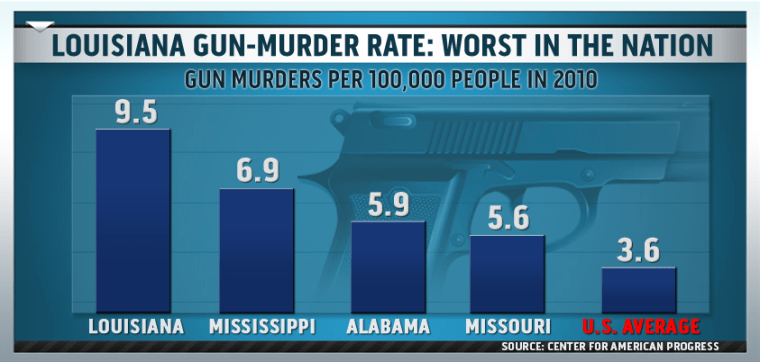 Guns are everywhere. On Mother's Day, a shooting broke out at a New Orleans parade and two children were among 20 people wounded by gunfire. People were injured during a shooting after the Martin Luther King Day parade, and at another just before Mardi Gras festivities.
Yet the pro-gun beat is only getting louder.
"In Louisiana, as we've seen for a few years now, they are introducing legislation to allow more people to carry more guns in more places," said Brian Malte, director of policy and advocacy for the Brady Campaign to Prevent Gun Violence.
"If more guns mean a safer society, Louisiana would be the state with the lowest rates of gun violence. In fact, it has one of the highest because of a lack of gun violence prevention laws."
Democratic Rep. Barbara Norton, who is African-American, introduced a bill this session that would require all firearms to be secured in a locked container or rendered inoperable by a trigger lock. The bill, which would penalize law-breakers with a $500 fine and up to six months in prison, was defeated in committee.
She and other members of the Black Caucus then argued against House Bill 5, which would prohibit enforcing any federal law restricting semiautomatic weapons.
Supporters argued the bill was needed to counter political overreaction to the Sandy Hook killings, in which 20 children and six teachers were killed with a high-powered assault rifle.
"I have $100,000 in student loans that says this is probably unconstitutional," said Rep. Joseph Lopinto, a Republican supporter of the bill. "But I like the bill."
Lopinto and 66 others voted in favor of House Bill 5. Only 25 voted against it.
"They say you've got to love something," said Norton, a gun-owner who represents Shreveport. "Some people here love their guns more than they love anything else."
DEFEND LOUISIANA
In the House chamber one afternoon in late April, legislators seemed preoccupied with more than just the myriad bills before them.
They sung Happy Birthday to one member. They wished another colleague a sweet farewell into retirement.  There was a heavy dose of guffawing and wise cracking.
But between the chatter and collegial banter, a familiar trench had been drawn dividing those who support the expansion of gun rights and the minority who oppose it.
Of the many firearms bills introduced this session, only two would have provided some measure of gun control.
The remaining bills greatly expand gun rights. Among them are efforts to criminalize the enforcement of federal weapons bans; exempt firearms and ammunition manufactured in Louisiana from federal firearms regulation; allow a lifetime concealed weapons permit; and make it illegal to publish the names of people with concealed carry permits.
(Page 2 of 2)
The NRA's Institute for Legislative Action sent out a call to support the legislature's gun rights bills and oppose the few gun control measures. Louisiana has always been welcoming to the gun lobby and that relationship seems unaffected by a firm national sentiment toward gun control.
Republican Gov. Bobby Jindal has been a speaker at NRA national conventions. At the gun lobby's recent convention, an official told attendees that "when it comes to the Second Amendment, no governor in the last four years has done more to protect our freedoms than Bobby Jindal."
During the 2011 election cycle, the NRA gave to six Republican candidates for the Legislature, all of whom won their respective races. One of them is Lopinto, who introduced House Bill 45, which would exempt Louisiana-made guns and ammunition from federal commerce laws. The bill passed the House last week with a large majority.
The recent successes have been championed by "Defend Louisiana," a pro-gun campaign started by Republican state Rep. Jeff Thompson.
Political analysts, gun groups and lawmakers believe the efforts by Defend Louisiana could set a new standard for other states eager to roll back gun-related restrictions.
The recent legislative push has placed Louisiana at the vanguard of a Southern backlash taking shape in Georgia, Arkansas and elsewhere against the Obama administration's efforts to pass federal gun control legislation. Last year in Baton Rouge, a bill backed by the National Rifle Association, sailed through the legislature. It amended the state's constitution to make gun ownership a fundamental protected right on par with the freedoms of religion and speech.
The issue landed on the November ballot and Louisiana voters passed it into law with nearly 75% of the vote. The result was a huge victory for champions of the Second Amendment. A New Orleans judge then cited the new law in ruling that even violent felons cannot be barred from possessing weapons.
Guns in Black and White:
Louisiana bills itself as Sportsman's Paradise where hunting is a rite of passage and sport shooting transcends racial and economic lines. For many, guns and gun culture is more about picking off deer and game birds in rural Concordia, Catahoula and Tensas parishes, than the bloody human toll exacted in major cities like New Orleans and Baton Rouge.
But the issue of gun control and gun rights is more complicated than that. Each of the pro-gun bills introduced this session were introduced by white men. The two gun control bills were introduced by blacks.
Many rural folks, particularly whites, far removed from major cities see gun violence as a black urban problem.
One of Louisiana's hard-truths is that its bad reputation and high rankings for gun violence are almost squarely born of black on black violence in Baton Rouge, New Orleans and to a lesser degree, in Shreveport.  Deep, stubborn segregation and poverty have done much to exacerbate the violence.
Black representatives of urban districts are among those most vocally pushing for gun control. And while they are used to push-back from white colleagues, they sometimes find themselves divided from other black leaders.
"My folks are law abiding people who work hard, like to go hunting on the weekend and want to be left alone," said state Sen. Richard Gallot, an African-American Democrat with a "C" rating from the NRA who represents a rural part of the state.
"This is not D.C., Chicago or Brooklyn where black folks don't go hunting," said Kwame Asante, a past president of the National Association for the Advancement of Colored People's Baton Rouge chapter. "This is Louisiana where black folks legally own two or three handguns and a rifle."
Some blacks believe that any infringement on the broader right to bear arms is an infringement on the rights of blacks to defend themselves and their families. State gun laws had once forbade blacks from being armed and kept black populations impotent and unshielded from white violence.
"Average, regular black folks, people who live in the worst communities, they think guns protect them. In a very instable place you want to secure your person. And having a gun is the easiest, cheapest way to protect yourself," Asante said.
Still, most of Louisiana's black lawmakers seek out traditional gun control measures as they see the toll that gun violence has had on black communities. They believe that tightening gun laws could keep illegal guns out of the hands of criminals.
The numbers in the legislature don't align in their favor.
Rep. Terry Landry, a black Democrat and former commander of the Louisiana State Police, sat along the periphery of the chamber, somewhat resigned.
"We fought the Civil War 150 years ago, but it's as if we're still fighting it. These laws separate us from the rest of the country," he said. "Meanwhile our teenagers continue to die from gun violence. Our young men continue to go to jail, lag behind in education, and everything this state should be last in, we're first in."
Frustrated, Landry glanced up at the electronic voting board hoisted high on the chamber wall. It was glowing with green Yea votes for a bill that would make it illegal to publish the names of people with concealed carry permits.