Laura Grieneisen and Liz Miller have a lot in common. Both are graduate students in biology at the University of Notre Dame, where they share an office, a lab, and a research focus. Their work on bacteria in baboons takes them to Kenya for months on end.
Each wants to prevent pregnancy. Each was told by her doctor that her long stretches in the field would make her an excellent candidate for an intrauterine device, or the IUD.
That's where their paths diverged.
Grieneisen was able to stay on her parents' plan under the Affordable Care Act through age 26, so she got her IUD at no extra charge, just before turning 27 in July.
But Miller is 29, and gets her health care through the university. Her on-campus doctor was barred from even prescribing the IUD, she said, because of Notre Dame's adherence to Catholic teaching against contraception. The doctor sent her off-campus for the prescription, but even then, Notre Dame's insurance wouldn't cover it. 
RELATED: Meet the Wheaton College feminists
The Obama administration has a plan in place to cover women like Miller, who want access to effective but expensive forms of contraception like the IUD but who are insured through institutions that oppose it. The so-called "accommodation" allows religiously-affiliated nonprofits like Notre Dame to sign a form certifying their objection, after which the insurer will directly cover the cost of the contraception.
But in what promises to be the next big birth control fight after Hobby Lobby, that accommodation hasn't satisfied Notre Dame -- or over 100 other nonprofit institutions suing the administration. They claim that signing the opt-out form also violates their religious liberty, because eventually, contraception is dispensed.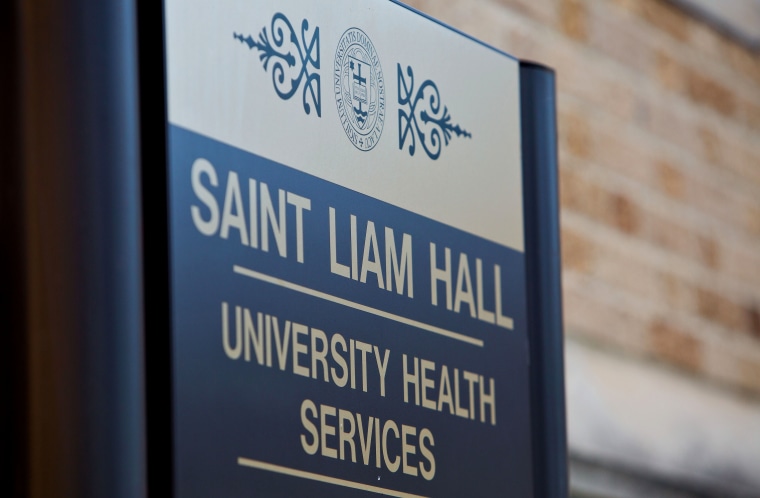 On July 3, a majority of Supreme Court justices apparently took that argument seriously, telling evangelical Wheaton College, one of the plaintiffs suing the government, that it didn't have to sign the disputed opt-out form while the lawsuit proceeded. That infuriated the female justices, who pointed out that days earlier, in the Hobby Lobby decision, the majority had called that accommodation "a system that seeks to respect the religious liberty of religious nonprofit corporations while ensuring that the employees of these entities have precisely the same access to all FDA-approved contraceptives as employees of companies whose owners have no religious objections to providing such coverage."
The Hobby Lobby decision found that closely held companies with sincere religious beliefs could refuse to comply with the ACA's contraception requirement. The majority relied on the existence of the accommodation as proof the government had other ways to provide contraception that didn't, in their view, burden the companies' religious liberty. 
The ultimate question of the opt-out form won't be settled until the Supreme Court gives it a proper hearing on the merits. For now, Miller is out of luck. The Notre Dame-affiliated insurance company refused to cover an IUD or its insertion, which together cost at least a thousand dollars.
"That's over half my monthly salary," said Miller.
Both Miller and Grieneisen chose Notre Dame to conduct advanced research with world class professors in their field. But the fight over birth control has disillusioned them, and they've begun warning prospective students about the lack of contraceptive coverage.
Miller is now struggling to get a three-month hormonal pill supply before she goes in the field next month.  To even get a prescription for the pill, Miller had to fudge the truth and say she needed it for medical reasons, not birth control.
"I think it's a really sad situation," Miller said, "when I have to lie to my doctor about what I need a medication for."

All the religious nonprofits suing over the contraceptive accommodation face the same conflict: Their fidelity to what they see as a religious mission and what they may owe their community members who don't share that mission. And then there's what the Obama administration wants: That under the ACA, every insured woman get access to effective, appropriate contraception without additional costs or hurdles.
"I think it's a really sad situation when I have to lie to my doctor about what I need a medication for."'
Notre Dame isn't just the most prominent of the litigants; it's also the one most visibly torn between those competing camps.
"I understand that Notre Dame is a Catholic institution and that birth control is not part of their Catholic beliefs, but not all the people who work for them are Catholic, and they don't share the same beliefs," said Kayla O'Connor, a rising junior at the university.  
"There's this mentality that Notre Dame students aren't having sex," added O'Connor, who is also a peer educator in the Gender Relations Center. "And that's not true. It's a total lie. I think because there isn't easy access to contraceptives, they aren't having safe sex." 
The tug-of-war at Notre Dame has gone all the way to the top, to its board of trustees and its president, The Rev. John I. Jenkins, who worked with the Obama administration on creating the accommodation but is now suing over it.
The board includes Stephen J. Brogan, a managing partner at the global law firm Jones Day, which is representing Notre Dame and the other nonprofits pro bono in the contraception lawsuits. And it includes Katie Washington, class of 2010 and Notre Dame's first black valedictorian, who co-authored an op-ed in the Baltimore Sun with fellow medical students at Johns Hopkins University supporting the contraceptive coverage in the Affordable Care Act. 
"We strongly disagree with any employer — religious or otherwise — that would refuse to provide full insurance coverage, including contraception, for its employees," the authors, including Washington, wrote. "As physicians in training, we see contraception as an essential component of effective primary care, not as a political line item in Washington or the Vatican."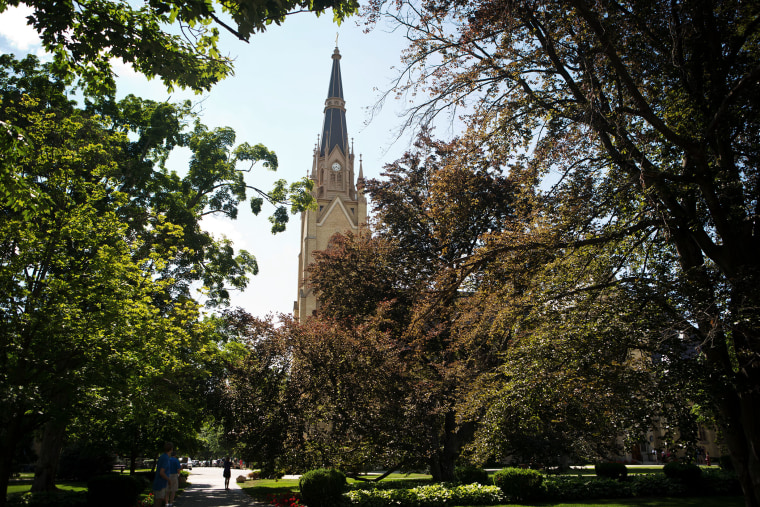 Washington's presence on the Notre Dame board and her outspoken public stand on contraception has enraged the Sycamore Trust, a conservative alumni group that has taken on the mission of "protecting Notre Dame's Catholic identity," according to its website. The Sycamore Trust has called for Washington's ouster from the board, along with over 1600 people, who identify as "alumni, spouses, parents, students, and friends of Notre Dame" who signed their petition. (There is a smaller counter-petition asking the university to "maintain diverse viewpoints.) 
Washington's board membership has "handed the government a loaded gun in its lawsuit," by undermining the university's commitment to Catholic teaching on contraception, the Sycamore Trust's chair, Bill Dempsey, said.
"Why she would be appointed is a mystery to me," Dempsey told msnbc, adding that if Notre Dame hadn't known about the op-ed, "they didn't do any vetting at all. If you just plug in 'Katie Washington and contraception' into Google, that just comes up." 
In 2011, another Notre Dame board member resigned after the Sycamore Trust drew attention to her donations to EMILY's List, a group that elects pro-choice Democratic women.
Washington declined to comment, but Paul Browne, a spokesman for Notre Dame, defended the university's decision to keep her on the board. 

"You could look up and down all over the campus and you couldn't find a box of condoms anywhere ... I know a lot of people just didn't use birth control."'
Notre Dame was present at the creation of that very opt-out form. When the birth control accommodation was first announced in the wake of an outcry from the United States Conference of Catholic Bishops, President Jenkins called the compromise a "welcome step toward recognizing the freedom of religious institutions." But when that statement ended up on the White House's website alongside Planned Parenthood's, the university asked for it to be taken down. And then Jenkins decided to file suit over it.
"It was a tough decision," Jenkins told the National Catholic Reporter. "Many people in the [Obama] administration worked with us. In the end, I wasn't comfortable with where it placed Notre Dame."
Jenkins had already enraged the more conservative members of the Notre Dame community for welcoming Obama to campus as a commencement speaker in 2009. Obama's appearance and honorary degree are listed as a grievance by the Sycamore Trust, along with "other unsettling events as The Vagina Monologues and The Queer Film Festival."
The group also points to the hiring non-Catholic faculty as a dilution of the university's identity. "It's been the ambition to improve their reputation among the academic elite, and boost their US News ranking," Dempsey told msnbc.
But there are also those on campus who believe that offering contraceptive coverage doesn't violate broader Catholic principles, and that respecting the different choices of community members is consistent with those principles.
"We should ask not just, 'what are my beliefs?'" said Cathleen Kaveny, a Catholic legal scholar at Boston College who until January taught at Notre Dame's Law School, "but also, what do I owe the sincerely-held religious beliefs of others in network with me?"


On a February morning in Chicago, two out of three federal judges on the Seventh Circuit Court of Appeals hearing Notre Dame plead its case against signing the form were fast losing their patience. 
"I don't understand you," Judge Richard Posner said testily. "You've got to claim the exemption.... So you have to notify the government. That's the minimum." 
Arguing before the panel was attorney Matthew Kairis, a former Notre Dame football player and now a partner at the Jones Day firm.
Each time Kairis attempted to explain the university's position -- that the form would trigger contraceptive coverage, in violation of the university's religious beliefs – Posner, a Reagan appointee, became more furious. He told Kairis to "stop fencing," and to "stop babbling."
Even the more even-keeled Judge David Hamilton, an Obama appointee, was perplexed.
"Until the last few weeks of this litigation propping up all over the country," said Hamilton, "I can't remember any other situation in which the accommodation itself was said to be a burden on free exercise. Can you point me to any other example in our legal history?"
Kairis could not.
Notre Dame had fared no better at the district court, where Judge Philip P. Simon had denied them their preliminary injunction, as the Seventh Circuit eventually would too.
"Notre Dame wants to eat its cake, and have it still, at the expense of Congress, administrative agencies, and the employees who will be affected," Simon wrote in his decision.
He also noted that the university had dragged its heels for months before suing -- after actually notifying its students they would be eligible for birth control through the accommodation -- and then raced to demand an emergency injunction.
"Notre Dame has in many ways created its own emergency, and I am left to wonder why," Simon wrote.
The Sycamore Trust also wondered, and it bemoaned Notre Dame's trajectory.
"At the moment we have the depressing scenario of Notre Dame's exciting vault into a leadership role in the Church's defense of religious liberty followed by a disheartening and puzzling retreat, then a brief revival, and finally an unexplained decision that the university had said would be scandalous and collide with its religious beliefs," the group wrote in a January bulletin.  
That "unexplained decision" was to sign the opt-out form, since no court would give Notre Dame an injunction.
"We're complying under protest," Jenkins told dismayed community members at the time, according to a campus paper. He added, "Our complicity is not an evil so grave that we would compromise our conscience by going along….I don't see this as a scandal because we are not giving out contraceptives."
Jenkins's decision alarmed the lawsuit's champions, including some faculty members. They wondered whether forcing an even greater confrontation with the government would cause the Obama administration to back down entirely.
"Personally," said Dempsey, "I think they should not have complied. It would have shown everybody, the courts and the Congress, how important this religious liberty issue was."

Meanwhile, Notre Dame students are navigating a campus where Catholic positions on contraception and non-procreative sex officially prevail, even if that isn't always borne out by their own realities.
"Just the availability in general of birth control on campus was atrocious, to be honest," said Suzi Spitzer, a 2013 Notre Dame graduate. "You could look up and down all over the campus and you couldn't find a box of condoms anywhere. I found that to be irresponsible, honestly, of the institution. I know a lot of people just didn't use birth control."
Even students who use birth control pills for non-contraceptive purposes say they have been stigmatized. Lindsay Marugg, then a Notre Dame senior, wrote in 2012 that she went on the pill after rupturing two ovarian cysts. "Even though I had chosen to wait until marriage to have sex, my birth control prescription earned me judgment from friends and nurses on campus," Marugg  wrote in the campus paper -- to the point that, she wrote, she stopped taking the pills.
The environment is such that the three students who intervened in the university's lawsuit on behalf of contraceptive coverage are identified only as Jane Does in court filings.
"I understand that Notre Dame is a Catholic institution ... but not all the people who work for them are Catholic, and they don't share the same beliefs."'
Gregory M. Lipper, senior litigation counsel at Americans United for Separation of Church and State, which is representing the students, said they wanted to remain anonymous partly because of "the general backlash we've seen affect all sorts of people who have spoken out," including Sandra Fluke. "Students in a university," Lipper added, "are in an especially vulnerable position."
Others have chosen to publicly oppose Notre Dame's lawsuit. "The university's policies do not treat men and women as equally capable and trustworthy moral agents, and the university is going to court to defend that disparity," Kathryn Pogin and Benjamin C. Rossi, both graduate students, wrote in a public letter to Jenkins in August 2012, objecting to the lawsuit. 
In an interview, Pogin said of the university's case, "It's very difficult for me to make sense of claims that your religion is being burdened by someone else providing services that you don't want to."
Notre Dame's interpretation of the contraception accommodation is not universal among Catholic universities. The University of St. Thomas in Minnesota, also Catholic, covers contraception and isn't alone. Others, such as Georgetown University -- where Fluke was enrolled as a law student when she publicly spoke out about harm caused by the gaps in coverage -- have signed the accommodation form that Notre Dame and others are suing over.
Nor has Notre Dame as an institution always stood strong against contraception. As Bridgette Dunlap, a lawyer who has written extensively on the Catholic institutions' lawsuits, pointed out, the university was "for it before they were against it." She noted that throughout the 1960s, Notre Dame held "Conferences on Population" that recommended government-funded family planning programs.
A group of Notre Dame scholars, including the head of the theology department, issued a statement in 1965 declaring that "in matters of public policy within a morally pluralistic society, Catholics, while rendering witness to their beliefs, need not for reasons of private morality oppose governmental programs of assistance in family limitation."
Nonetheless, Notre Dame's lawsuit appears to have the highest-placed champion of all: Pope Francis.
In January, the pope spoke to a delegation from Notre Dame, in remarks that were widely interpreted to refer to the contraceptive lawsuits. He stressed "the uncompromising witness of Catholic universities to the Church's moral teaching, and the defense of her freedom, precisely in and through her institution," and noted his "hope that the University of Notre Dame will continue to offer unambiguous testimony to this aspect of its foundational Catholic identity, especially in the face of efforts, from whatever quarter, to dilute that indispensable witness." 
In late July, the Obama administration said it would come up with an accommodation to the accommodation, presumably to cover members of those institutions that refuse to sign the opt-out form. But the outcry over the opt-out form raises the question of just what kind of compromise, short of no coverage of contraception at all, would suffice.
Said Browne, Notre Dame's spokesman, "We are steadfastly pursuing the case."