ALBUQUERQUE, NM – The woman on the phone was calling about the "Truth Truck." She supported Albuquerque's proposed citywide ban on abortion after 20 weeks, she said. But the dismembered, fully-developed fetuses papering the truck—recently updated with "Vote for the Late Term Abortion Ban, Nov. 19"—were scaring the city's children.
"I'll certainly take note of that," Tara Shaver, 29, said warmly, juggling her cell phone with get-out-the-vote maps for the coming city referendum, less than a week away.
But when Shaver hung up, she shrugged. She and her husband Bud, who brought the Operation Rescue-owned truck to Albuquerque, have two small children who are used to the truck—just like they're used to the signs outside the abortion clinic the Shavers moved here to shut down.
When the three-year-old asks about the images, Tara said: "We just tell her, 'That's what happens with abortion, when mommies kill their babies. That's why we have to save them.'"
Albuquerque is a tough place to drive around in the Truth Truck, said Jim Davis. His business card describes him as a "biblically-based" (quotation marks his) life and career coach and he has been driving the truck for over a decade.  Here, the ratio of middle fingers to thumbs up is higher than he's ever seen. "Maybe three to one," he said, in favor of middle fingers.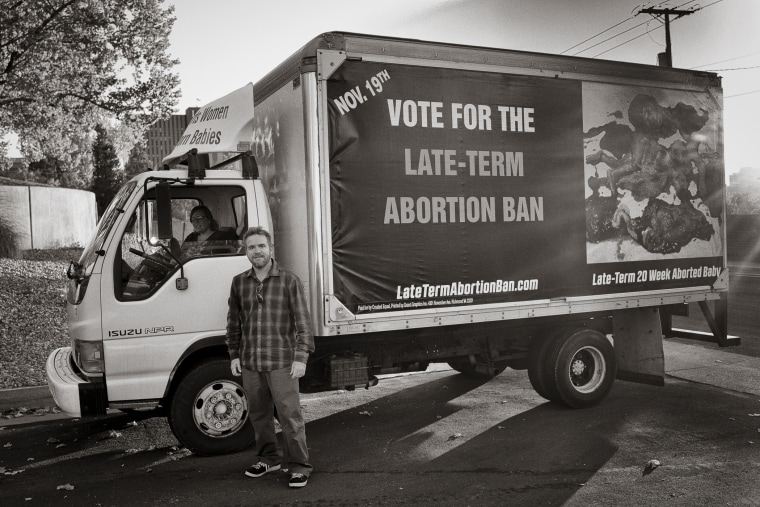 That may be because this city, and New Mexico generally, has scarcely seen anything like this—a wholesale importation of the most confrontational anti-abortion politics, in a low-key, progressive state that twice went solidly for Barack Obama. What small-bore anti-abortion bills that have been introduced statewide invariably died in committee. The Republican governor, rising star Susana Martinez, officially opposes abortion, but has evidently seen no good political reason to get involved in the referendum. 
If the ordinance passes when the polls close Tuesday, women in the city—as well as statewide and in neighboring states like Texas and Oklahoma, which have similar bans—will no longer be able to obtain abortions after 20 weeks here, except if the woman's life is in immediate danger.  
Twenty-week bans are based on highly contested notions of fetal pain and draw the line several weeks before viability. They also fly in the face of Roe v. Wade – intentionally so. Such laws target the 1.5% of abortions that happen after that point, and have been embraced by the national anti-abortion movement with the hope that the Supreme Court will eventually side with them.  The prospect of later abortions also polls poorly, but that tends to change with details about life endangerment, rape or incest, and fetal anomaly, which is usually detected after 20 weeks.  
Thirteen states have passed 20-week bans (and have been twice found unconstitutional), but this is the first-ever citywide referendum to attempt one. It is a sign that the anti-abortion movement is coming for blue states. "They're run out of bright red state legislatures where they can push this," said Patrick Davis, director of ProgressNow New Mexico. If the Albuquerque ordinance passes, abortion foes can say they have bipartisan momentum on their side.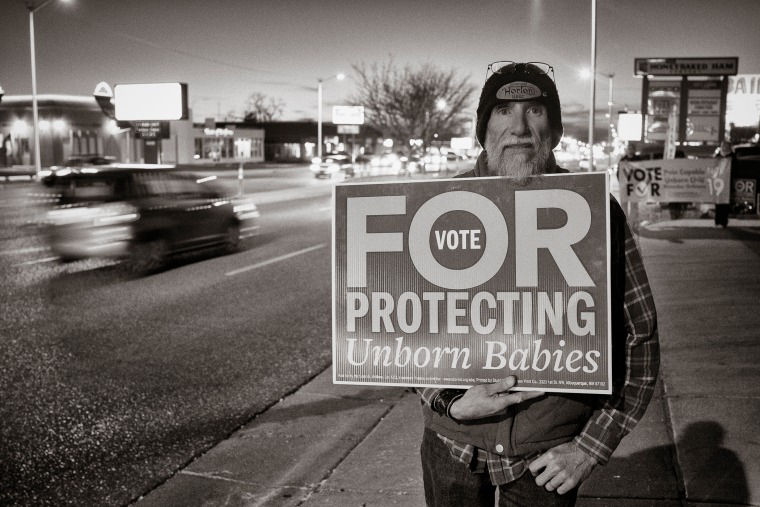 For all the middle fingers, it's not as if the Shavers are alone. They have mega-churches, small evangelical outposts in strip malls, and the local Catholic Archbishop, who proclaimed Nov. 3 "a day of prayer for the end of abortion and the passing of the Albuquerque late term abortion ban." In recent weeks, as Republican Sen. Lindsey Graham of South Carolina said he would be the lead sponsor on a similar bill in the Senate, outside anti-abortion groups have showed up and poured in money.
Early voting is already underway in Albuquerque and as of Thursday, 33,385 people had voted. (71,091 people voted in the last citywide election). "Nobody really knows what will happen," says Davis. "There's no model for this."
New Mexicans may not know it, but this all started with the murder of Dr. George Tiller four years ago. Until abortion opponent Scott Roeder gunned him down, Tiller's clinic in Wichita, Kansas, was one of the few in the country that openly provided abortions later in pregnancy. The women he saw had often been turned away everywhere else, and often were in desperate circumstances. 
That put Tiller squarely in the sights of Operation Rescue, which in 2002 set up camp outside his clinic and worked to shut it down. The group officially condemned Tiller's murder, denying any involvement. But as msnbc's Rachel Maddow reported at the time, Roeder and Operation Rescue's Cheryl Sullenger were in frequent touch about Tiller's whereabouts. 
The group had its own violent history. In 1988, Sullenger served two years in federal prison for conspiring to bomb a clinic, though she has since publicly rejected violence. Operation Rescue says it prefers using legal methods to shut down clinics. Phill Kline, the attorney general who launched those investigations against Tiller, was recently stripped of his law license for improper conduct relating to them.
In an interview, both Bud and Tara repudiated violence as counterproductive. "There will always be another person to kill babies," said Tara. "It's going to take women changing their own hearts."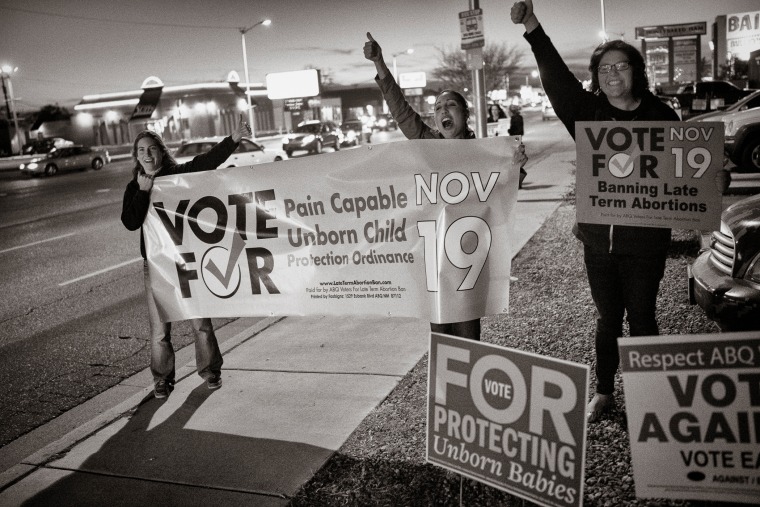 After the murder, Shelly Sella and Susan Robinson, two of Tiller's colleagues who had been trained by him, vowed to continue his work. But Kansas passed a 20-week to thwart any successors. So the doctors went to New Mexico, where Southwestern Women's Options already was providing abortions and was open to their services. As the Shavers often point out, New Mexico has no gestational limit. Roe v. Wade says states can ban abortion at viability, provided there are certain exceptions, but they aren't required to.
Tara and Bud were in the car on their way to Wichita to begin their internship at Operation Rescue the day Tiller was murdered in 2009. Still, they pressed on. They had already attended the "boot camp" put on by the group Survivors of the Abortion Holocaust. But they wanted to learn from Operation Rescue: how to "investigate" clinics, how to monitor 911 calls made by nurses and post them on YouTube, how to push authorities to launch investigations into the clinics. Then they came to Albuquerque to engage in "prayerful witness" outside the clinic here, and to push the press to cover what they claimed was a dangerous environment for women. 
New Mexico State Attorney General Gary King told msnbc that he's been monitoring the situation in Albuquerque and is alert to potential threats against the clinic or its patients. "We're concerned that the kind of violence that people have seen in Kansas doesn't flow into New Mexico," he said.
Even without outright violence, the so-called "investigations" have done their own damage. 
"Bud and Tara came out with this crazy claim that a woman had died as a result of a procedure at a university hospital," said Davis. Through his own public records request, Davis obtained emails sent by the police department to the Shavers. The emails make clear there had been no such death but the Shavers and their allies did not withdraw the claim. A report by Davis's organization found that the Shavers' "research" was deeply flawed and unsystematic. Contrary to the claim that abortion clinics were uniquely unsafe, a parallel investigation found that the rate of 911 calls on behalf of their patients was actually far lower than other health clinics.  
But the narrative was set. The anti-abortion camp got a meeting with Gov. Martinez, who directed the medical board to reopen the investigation. Nonetheless, on Veteran's Day, the governor seemed more frustrated at the anti-abortion groups' presence than anything else. Then again, a serial heckler was screaming, "babies are dying!" in her face. He was dragged out by a half dozen veterans. "It shows disrespect to the men and women who fought for his freedom because right now is not the time," Martinez said.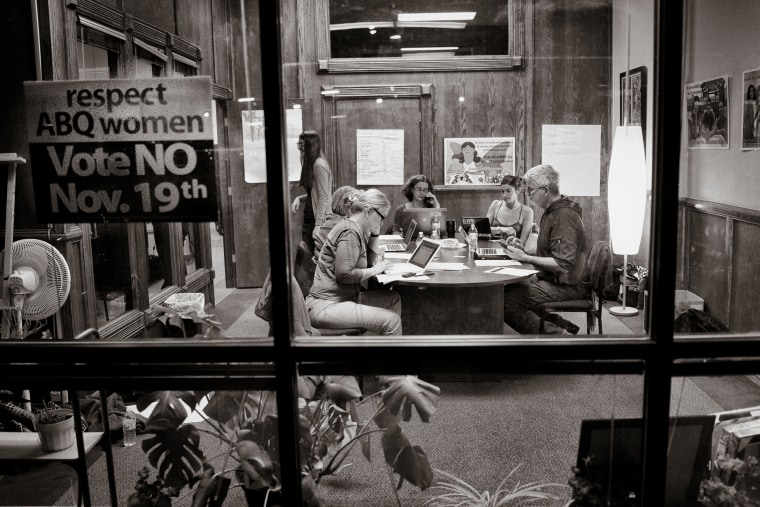 City officials also seem dumbfounded by the new arrivals. While New Mexico doesn't hold statewide ballot measures, Albuquerque's process is uniquely accessible as long as the requisite number of signatures is collected. Ironically, anti-abortion activists realized that once a living wage measure was passed city-wide. 
One city councilor, Trudy Jones, looked into whether the city could block a ballot measure that had already been found unconstitutional elsewhere. "May your sneaky ways be judged and forgiven by God," an ordinance supporter told her at a public meeting, according to the Albuquerque Journal. Jones argued that if the ordinance does pass, it will cost the city of Albuquerque hundreds of thousands of dollars in litigation – as soon as someone figures out who has the standing to challenge it. Or defend it.
The clinic where Tiller's successors work, Southwestern Women's Options, sits in state Rep. Rick Miera's district.
"I didn't have one person calling me about the clinic saying, 'We have a problem here and we need to address it,'" he said, before going to vote against the ordinance. He expressed concern that polling places had been set up in several megachurches, but not in the more liberal University of New Mexico campus. (Trolleys have been set up to ferry students to the polls).
The ballot measure itself is 1,293 words long and contains no questions. "The ballot is so misleading that we are having to tell people who are longtime advocates for women's rights to abortion to vote against," said Julianna Koob of Planned Parenthood of the Rocky Mountains and the Respect ABQ Women Campaign, a coalition of groups working to oppose the ban.
That coalition is depending on its longstanding local ties to push back at the ban. Micaela Cadena, policy director of Young Women United, a reproductive justice organizing project led by young women of color, said, "What's important for us in this election is that every pregnancy is different and we can never stand in a woman's shoes and make that decision for her," she said. "That's a New Mexican value, is to respect a woman's decision and say that every family will do what's best to keep their family strong."  
The ordinance contains no exceptions for rape and incest, which is highlighted by the opposition campaign.  Elisa Martinez, the executive director of the pro-ban Protect ABQ Women and Children (not to be confused with "respecting" them) defended the ommission. "At this point, at five months and beyond, women obviously have had time to make a decision about carrying to term," she said.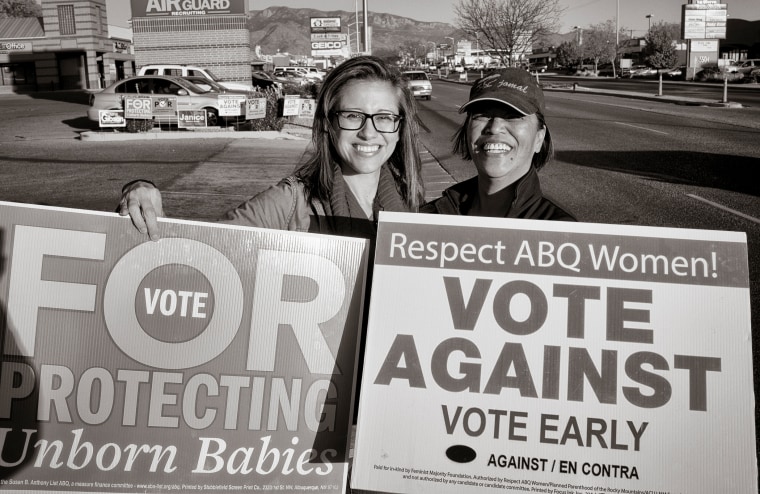 The Protect ABQ Women and Children Campaign is the professional face of the ban. In the weeks before the vote, a new player showed up to help them – the Susan B. Anthony List, which usually focuses on candidates, not ballot measures. "This is the first time we've deployed full-time staff and significant resources towards a ballot measure," the group's president, Marjorie Dannenfelser, told msnbc. They spent $100,000 on three television commercials to try and counteract the ones made by Respect ABQ Women, and sent two full-time field staff to Albuquerque.  
The Shavers are formally allies, but Martinez winces when she sees the Truth Truck. She says she is interested in "women's health," which sounds more reasonable than "stopping babykilling." She says that the ban represents a "common sense regulation for women's health and women's protection." And gory fetus photos are off message.
"Our purpose is to show the truth, but not necessarily through graphic images," she said. 
On Wednesday, it took about 15 seconds for the first middle finger to appear on the road alongside the Truth Truck. Bud, who was driving, was unperturbed. "In the context of social reform, some aspect of social tension is a good thing, especially within the confines of the law," he said. Both he and Tara were unfailingly even-tempered over the better part of two days in the presence of a reporter. Bud liked to use the word "constitutional" a lot to talk about their activities.
Usually, they stand outside of Southwestern Women's clinic but once a week he switches it up and heads to the University of New Mexico's clinic, which provides abortions until about 22 weeks. "Just my presence alone has really shaken up UNM," Bud said. "They're not concerned about the women. They're concerned about the public being made aware of their radical abortion agenda."
The Shavers also disapprove of a contraceptive services program offered by UNM. "The goal of the abortion industry is to get you first on birth control," Tara had said over pink margaritas the night before. "Then the birth control fails. We know that birth control isn't 100% effective. We know that birth control does lead to abortion for lots of women." But wouldn't the absence of birth control lead to even more unintended pregnancies and abortions?  "Not necessarily," she said, suggesting people abstain from sex during fertile periods. "It's all about our self control."
In the end, Tara and Bud were here before the ordinance, and they'll be here after it, whether it passes or not. Fetal pain, or abortion after 20 weeks, is something they can get behind, but it's not their sole mission – they want to see it all gone.
"We hope the people do rise up and vote for the ordinance," said Bud, rounding a corner. Even if they don't, "there's been awareness raised. And that can only produce some good stuff in the long term."
After all, he pointed out, "Operation Rescue was in Wichita for 10 years. Look at what we've accomplished in three."