In a campaign season that is starting to become overwhelmed with a proliferation of endorsements, Democratic front-runner Hillary Clinton has recently captured two of the most poignant -- the mothers of Travyon Martin and Jordan Davis.
The 2012 shooting deaths of both unarmed African-American teenagers in Florida helped galvanize the "Black Lives Matter" movement nationwide and made unlikely activists out of their grieving mothers, Sybrina Fulton and Lucia McBath. In two separate op-eds, the women have thrown their weight behind the 2016 candidacy of Clinton, who has made her staunch advocacy for more effective gun control legislation a centerpiece of her campaign for the Democratic nomination.
In her Jan. 11 op-ed for CNN, Fulton wrote "In spending some time with [Hillary Clinton] in person, I also found a mother and a grandmother who truly heard me, and understood the depth of my loss." She also praised Clinton's advocacy for the Brady Bill and the assault weapons ban, as well as her opposition to the controversial immunity laws, which protect gun distributors from liability.
RELATED: Clinton, Sanders spar on guns, healthcare and Wall Street
"She knew all the statistics. But like so many, I've long since grown numb to the numbers. So instead, we talked about Trayvon and other families who have lost a loved one to gun violence. We talked about all of the wishes and hopes we had for their lives. And knowing we can never get them back, we discussed how to prevent more moms from losing their sons to gun violence," wrote Fulton, who added that she believed the former secretary of state would not just uphold President Obama's recent gun control executive orders, but expand on them.
Lucia McBath has echoed some of the same sentiments in an op-ed published Tuesday on BET.com. She also cited Clinton's willingness to repeal the so-called "Charleston loophole," which has been linked to Emanuel African Methodist Episcopal Church massacre suspect Dylann Roof's legal purchase of a weapon, as a significant factor in determining her vote.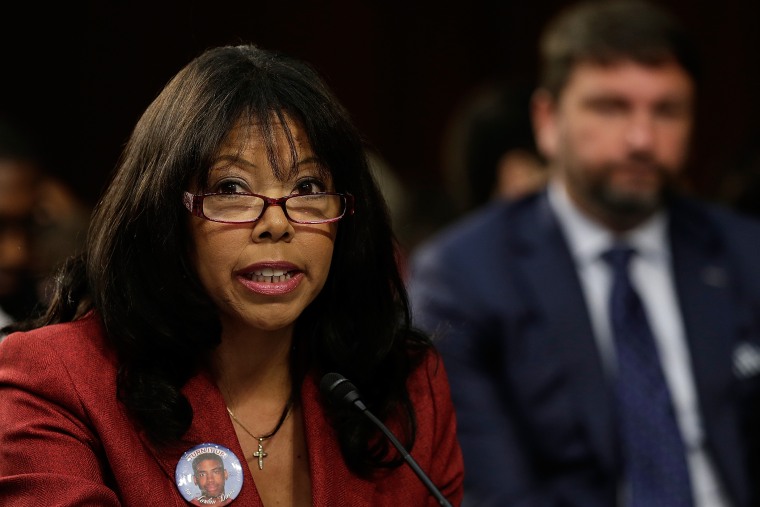 "Today a convicted felon, or someone with a dangerous mental illness can walk into a gun store, and if their background check is not completed within three days, they can still be sold a firearm," she wrote. "Thanks to this loophole, in the last five years, gun dealers have proceeded with more than 15,000 sales to prohibited people because their background check could not be completed within the three-day period."
Unlike Fulton, McBath called out Clinton's primary opponent, Vermont Sen. Bernie Sanders, for lacking the same fortitude on gun control. According to McBath, "He voted against the Brady Bill five times. He also voted for PLCCA, the law that gives gun manufacturers and dealers immunity – not once, but twice, and he continues to say that his vote wasn't a mistake; that 'it's complicated.'"
"These issues are not complicated for me or other mothers whose children have been killed or the many other Americans who demand a president who will stand up to the NRA," she wrote.
The Clinton campaign has been hammering Sanders for weeks over the Vermont senator's allegedly weak record on supporting gun control measures. In the past, Sanders has cited the fact that he hails from a rural state as part of the reason he has not been as vocal about gun violence as some other issues. But in Sunday night's Democratic presidential debate hosted by NBC News and YouTube, he boasted having a D- grade from the NRA, and called Clinton's attacks on his record "disingenuous."
"I have supported from day one and instant background check to make certain that people who should have guns do not have guns. And that includes people of criminal backgrounds, people who are mentally unstable," Sanders said Sunday. "I support what President Obama is doing in terms of trying to close the gun show loop holes and I think it should be a federal crime if people act as dormant."
Although McBath and Fulton have never made public political endorsements before, both have been largely supportive of the president's calls for better background checks and the two women have teamed up before to raise awareness over gun violence in protests held in Florida over the state's controversial "Stand Your Ground" laws, which were cited by some defenders of their son's shooters. 
In 2013, Martin's shooter George Zimmerman was acquitted of all charges in his death. Michael David Dunn, who had confronted Davis and his friends in a gas station parking lot allegedly because their music was too loud, received life in prison in 2014 for shooting and killing the black teen.