The Republican Party's last nominee for president recently rattled off a list of his "favorite" potential 2016 candidates for the White House. In less than a minute, Mitt Romney named five white men. Only when asked did he include a woman: New Mexico Gov. Susana Martinez, whom Romney said had "potential."
And therein lies the problem for the GOP, which has struggled to recruit and elect Republican women for decades. No women are polling in the top 10 for potential Republican presidential candidates two years after the party identified outreach to women as a weakness.
It was not always this way. During Ronald Reagan's second term, a record-breaking 25 women served in the 99th Congress—13 Republicans and 12 Democrats. Thirty years later, 99 women are in Congress yet just 23 are Republicans, according to the Rutgers University Center for American Women in Politics (CAWP).
Democrats have six times the number of women representing them today while Republicans haven't managed to double their female ranks in three decades. Come November, those numbers will worsen.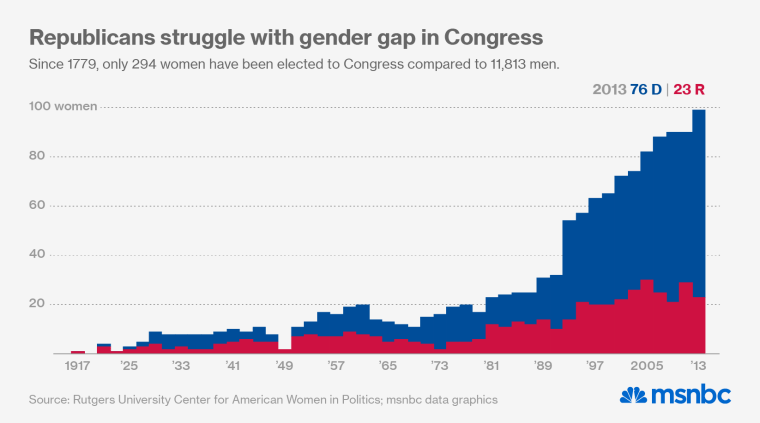 Filing deadlines are over in 34 states and 128 Democratic women and 68 Republican women have filed to run for House seats. Those numbers will drop off as candidates make their way through primary fights this spring and summer. It will be particularly rough on the Republican side: Not only are fewer Republican women running for office, they're losing more, too.
According to CAWP research, Republican women win House primaries 31% of the time, while Democratic women win their House primaries 50% of the time.
"Republican women have a hard time coming out of their primaries," CAWP executive director Debbie Walsh said. "We're not sure if it's because they have been recruited in a race they can't win or if it's because they're more moderate."
Women candidates have historically been viewed as more moderate in an election that brings out the party's most partisan voters. A limited infrastructure within the party itself designated to specifically recruit and support women is also a factor, she said. The party says they're working to change this, but their progress has been stilted.
What's clear is that Congress's gender divide isn't going to fix itself: State legislatures -- the traditional pipeline for Congress -- are failing to field Republican women officeholders as well. Since 1981, Democrats have steadily tripled their share of female representatives while Republican numbers have barely budged. There are just 3% more Republican women in state legislatures than there were in 1981, according to CAWP.
"Women make up almost a third of all state Democratic legislators, and Republican women only make up about 16% of the Republican legislators. It's a huge difference," said CAWP's Walsh.
The Republican National Committee declined several requests for interviews with officials. Instead, in an email, RNC spokeswoman Kirsten Kukowski attacked Democrats over women's issues and then described programs the party has for women, the majority of which are aimed at volunteers and voters, not candidates.
'Who can blame them?'
The gender gap may be due in part to the Republican Party's shift to the right, according to Danielle Thomsen, a post-doctoral fellow at Duke University. Thomsen researches candidate emergence—who chooses to run and why. Since 2000, she said, moderate candidates just aren't running as Republicans anymore, even in the most liberal districts where, historically, they should be running.
The trend disproportionately affects women "because of where they've historically been along the ideological spectrum," she said. Thomsen uses a data model by Stanford's Adam Bonica that crunches campaign finance numbers to assign scores to each candidate's ideology.
"Given that the party is so polarized, I think moderates are less likely to want to join that institution and really, who can blame them?" she said.
As a result, Republican women who do end up running are far more conservative than women candidates were 20 years ago. A conservative candidate, such as Rep. Marsha Blackburn of Tennessee or Rep. Michele Bachmann of Minnesota, is 13 times more likely to run than someone with positions similar to moderate Olympia Snowe, the former Senator from Maine, Thomsen said.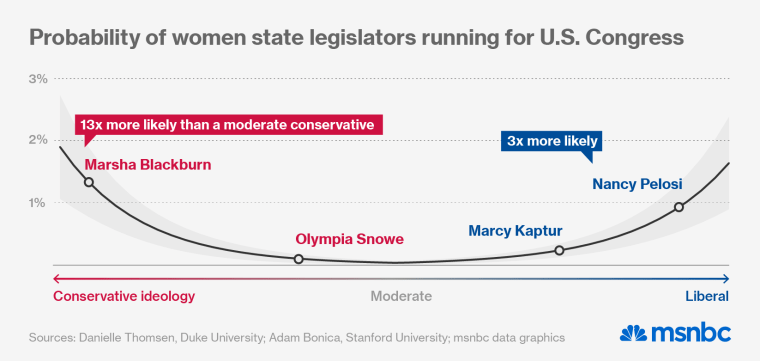 The Democratic party has polarized too, she notes, but the disparity is significantly less. A liberal candidate such as House Minority Leader Nancy Pelosi is three times more likely to run than a candidate whose views are closer to the more moderate Rep. Marcy Kaptur of Ohio, Thomsen said.
The polarizing positions on both sides will likely hamper the possibility that women can come together, as they did during the October 2013 shutdown, to forge compromise at a tense time.
"If the party didn't look like it does, you would see more moderate Republican women and yes, less gridlock," Thomsen said.
'It's not natural'
The GOP isn't quite sure how it got here, though it's clear that comments from former Rep. Todd Akin and Richard Mourdock haven't helped. But some within the party are eager to describe efforts designed to recruit and elect more women.
"Democrats have six times the number of women representing them today while Republicans haven't managed to double their female ranks in three decades. Come November, those numbers will worsen."'
"It's at the top of our mind always. Everything we do is expanding the reach of our candidates and the scope of our party," Republican State Leadership Committee spokesman Jill Bader said. Every time a seat opens, they look for women or minorities to run, Bader said. 
Recruitment is a persistent problem.
"Women do often need to be asked. We don't wake up and look in the mirror and say 'Ah! A political candidate looking back at me!' It's not natural," Wisconsin's Republican Lt. Gov. Rebecca Kleefisch said.
When someone first suggested that she run for the lieutenant governorship instead of her state legislator husband, Kleefisch said she laughed.
The party launched a national effort, dubbed "Right Women, Right Now," which they said helped elect 84 women from a pool of 191 women they supported to statewide office in 2012. This year, the party identified 300 women whose candidacies it's supporting.
Kleefisch is enthused but Republican voters don't always agree. An ABC/Fusion poll from last year found that just 23% of Republican voters thought it would be beneficial if more women were elected to Congress. By contrast, 60% of Democratic voters said the same.
Other groups, including ShePAC and Maggie's List, are hoping to mirror the success of Emily's List, which has helped 121 pro-choice Democratic women to Congress, 10 to governorships, and more than 500 to local offices over the last 30 years.
"The reality is [Emily's List has] had a tremendous impact and they've been in it for many years. Republicans need to wake up to the reality that women candidates face challenges when it comes to raising the big dollars," Maggie's List Executive Director Missy Shore said. 
Maggie's List founder Sandra Mortham said the group looks for women who are fiscally conservative, support small government, emphasize personal responsibility and back a robust national security policy. The organization has not made public a stance on abortion.
"We believe it's absolutely crucial that they have the proper backing to win," Mortham said.
There's one office where Republican women succeed and even outpace their Democratic counterparts: Lieutenant-Governor. Fourteen Republican women hold that position compared to just nine women Democrats in the job.
Former Republican National Committee chairman Michael Steele said the party needs to make significant changes to reach gender parity.
"It can't just be 'we want more women running.'" He said. "You have to go out and groom them and teach them and train them and more importantly, support them. If this is your future, you need to invest in it in a real way and not just give it lip service."