On February 27, 1967, an explosion ripped through Wharlest Jackson Sr.'s pickup truck, killing him instantly.
Jackson had just left his job at Armstrong Rubber and Tire plant in Natchez, Mississippi, where he had recently accepted a coveted promotion, and was driving the short distance home when the bomb went off, indelibly altering the lives of his wife, Exerlena, and their five young children. His son, Wharlest Jr., was eight years old when he rushed to the scene to find his father's shattered body.
For the black community in and around Natchez, which had waged an activist campaign for racial equality, employment rights and voting rights, the bombing -- widely believed to be committed by members of the Ku Klux Klan and their sympathizers -- sent a chilling message.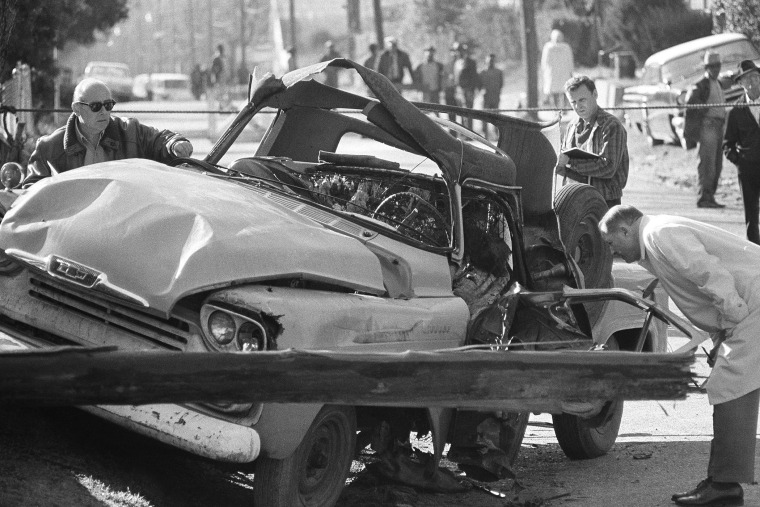 Wharlest Jackson Sr., a Korean War veteran and treasurer of the local NAACP, was 36 years old when he was murdered. He was the first African American to work in a skilled job at the tire plant -- an advanced position he had taken despite repeated threats. His daughter Denise, who was 12 years old when her father was killed, said "He sacrificed his life for a [17 cents] promotion to care for his family, and it killed him."
That bombing, 48 years ago today, highlighted the extent to which racism continued to permeate American society and the lengths to which perpetrators would go to enforce white supremacy, generally with impunity. To date, no one has been charged or convicted of killing Wharlest Jackson Sr.
The Emmett Till Unsolved Civil Rights Crimes Act, passed in 2008, was enacted precisely to bring justice and accountability in cases like Wharlest Jackson's murder. The law requires the Department of Justice and the FBI to identify victims and "thoroughly and expeditiously" investigate unsolved civil rights-era killings that occurred up to December 31, 1969.
But today, the DOJ has closed all but 11 of the 126 cases on their list (at least 2 of the open cases have multiple victims stemming from the same event), often without fully pursuing potential witnesses or family members of victims. There has been only one conviction under the Emmett Till Act, when former Alabama State Trooper Bonard Fowler pleaded guilty to misdemeanor manslaughter and served 5 months for the 1965 killing of voting rights activist Jimmie Lee Jackson.
Clearly, Congress intended more from the DOJ and the FBI under the Till Act. Congress authorized $13 million per year for this work, and called for collaboration with state and local law enforcement to resolve these cases. It is painfully apparent that much more must be done before the Till Act is scheduled to sunset in 2017.
There are many more victims of racially-motivated violence that occurred during the civil rights era than have been identified on the DOJ or FBI's list. The Cold Case Justice Initiative (CCJI) works with families and communities to identify victims, conducts research, and advocates for justice on behalf of the Jacksons and other victims' families. CCJI regularly hears from family members seeking justice for loved ones whose deaths they believe to be racially-motivated. In addition, CCJI conducts independent research and investigations to identify the victims of civil rights-era killings, including suspicious deaths committed by law enforcement.
"Today, the DOJ has closed all but 11 of the 126 cases on their list, often without fully pursuing potential witnesses or family members of victims."'
Law students at CCJI have researched over 300 suspicious killings. In 2012, CCJI submitted 196 names of victims of racially suspicious cases to the DOJ that warrant further investigation and action. None of these names have been added to the DOJ or FBI's victim list and we have received no word on whether these matters are being actively pursued. There must be a full accounting of all of the victims of the racial violence of this era -- as the Till Act requires and as family members and American society deserve. 
The racial violence that the Till Act is designed to address did not end in 1969. Racial violence continued in the 1970s, 1980s, 1990s, and continues today. "Black Lives Matter" is a rallying cry for justice for Trayvon Martin, Eric Garner, Michael Brown, and also for the countless men and women who were victims of racial violence before and after 1969. For these reasons, it is imperative to amend the Emmett Till Act to eliminate the 2017 expiration date, and also to expand the law to include victims who have not previously been identified. The DOJ and the FBI must also be held accountable to Congress and the American people about their mandate to fully implement the Emmett Till Act.
In 2007, then-Senator Barack Obama was a member of the bipartisan majority in the U.S. Senate and House of Representatives that voted for the Emmett Till Act, which was signed into law by President George W. Bush in 2008. We now urge President Obama and members of Congress to act again to strengthen the law so that it can fulfill its purpose. Justice demands it.
Paula C. Johnson is a Professor of Law and is Co-Director with Janis L. McDonald of the Cold Case Justice Initiative, at Syracuse University College of Law, in Syracuse, NY.