The already-crowded GOP presidential field expanded further on Monday when Wisconsin Gov. Scott Walker threw his hat into the race. 
"America needs new fresh leadership with big bold ideas outside of Washington to actually get things done," he said in the big announcement, which first debuted on Facebook. 
RELATED: Pop Quiz: How much do you know about Scott Walker? 
Having won three elections in the last four years in the traditionally-blue state of Wisconsin, Walker is no stranger to voters in "The Badger State." But Americans across the rest of the U.S. have questions to ask following Walker's entry into the biggest race of his political life: 
1. Who is Scott Walker?
Scott Walker is the Republican governor of Wisconsin. He is the only sitting U.S. governor to have survived a recall election. 
2. How old is Scott Walker?
Scott Walker is 47 years old; he was born on November 2, 1967. 
RELATED: 5 things we learned about Scott Walker in 2015
3. What time is Scott Walker's speech?
Scott Walker will formally announce his candidacy tonight at 6:15 p.m. ET from in Waukesha, Wisconsin, according to NBC News.
4. Where did Scott Walker go to college? 
Scott Walker attended Marquette University, a Jesuit college in Madison, WI. 
5. Is Scott Walker a college graduate? 
Scott Walker did not complete his college studies. He exited Marquette during his senior year to pursue a job from the American Red Cross.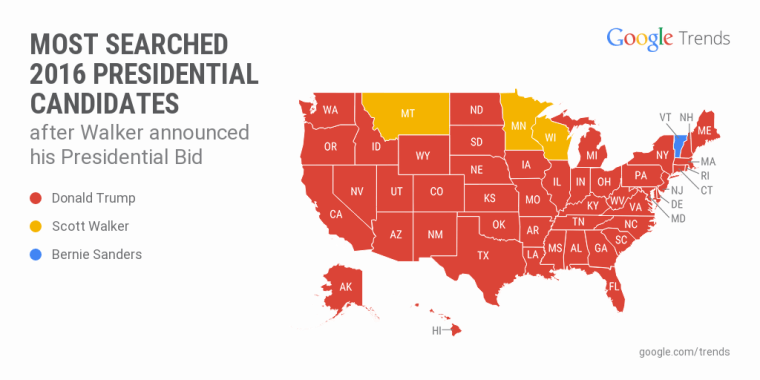 6. Is Scott Walker running for president? 
Yes, with his entry, Scott Walker became the 15th Republican to enter the 2016 field. 
7. Is Scott Walker pro-life? 
Scott Walker has a pro-life record. He is expected to sign a new state ban on abortions cleared the Wisconsin Assembly on July 9. The ban would prohibit abortions after 20 weeks and does not include any exceptions for rape or incest.