A lot has changed since last month's Republican presidential debate. Carly Fiorina made it to the main debate stage. Rick Perry called it quits. Ben Carson surged into a virtual tie with Donald Trump in a new national poll. And of course, a number of controversial issues have emerged at the fore of our ongoing national debate.
From the Iran nuclear deal to a potential government shutdown over Planned Parenthood funding, to Europe's refugee crisis, there's a slew of new subjects likely to come up at the second GOP debate on Wednesday in Simi Valley, California. And the candidates aren't exactly in lockstep with each other.
Here's a look at the issues that could be major flash points for the candidates.
Kim Davis and gay marriage
Kentucky county clerk Kim Davis grabbed the national spotlight after refusing to issue marriage licenses to gay couples in the state -- against the order of a federal judge. The controversy has split the 2016 field, with strict social conservatives rallying by Davis' side, arguing she shouldn't have to violate her religious convictions. Others have been more critical of Davis' actions, insisting she should abide by her duties as an elected county clerk.
Arkansas Gov. Mike Huckabee, for example, has been the most vocal Davis supporter, recently escorting the clerk out of a detention center and holding a rally to much fanfare in her honor. Sen. Ted Cruz of Texas showed up in support too, although he was reportedly blocked from the main stage. Former Sen. Rick Santorum and Gov. Bobby Jindal of Louisiana have also backed Davis.
Meanwhile, some GOP candidates have argued Davis should have followed federal law. Ohio Gov. John Kasich, billionaire real estate mogul Donald Trump, Sen. Lindsey Graham of South Carolina, and former Hewlett-Packard CEO Carly Fiorina fell into this camp, while others -- including Sen. Marco Rubio of Florida, former Gov. Jeb Bush of Florida and Wisconsin Gov. Scott Walker landed in the gray zone, not committing to one side or another.
A potential government shutdown over Planned Parenthood 
Congress has until Sept. 30 to pass a measure to fund the federal government, and some conservatives are threatening to shut down the government over the spending plan in an effort to defund Planned Parenthood.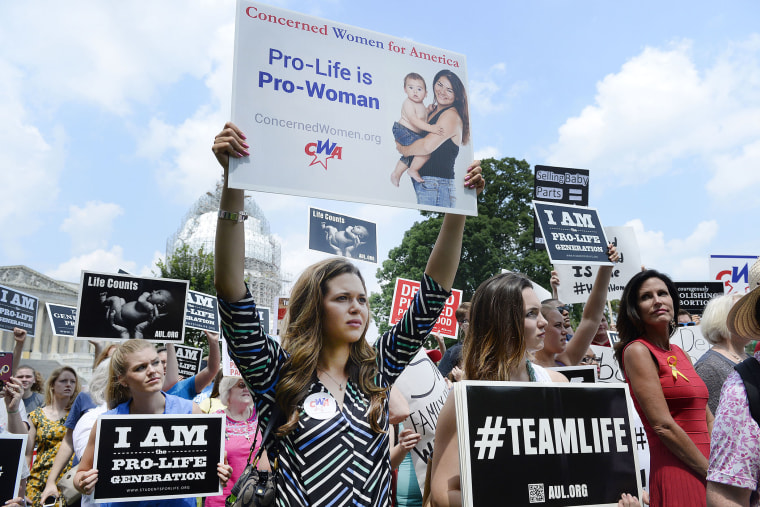 The latest budget battle was sparked after the women's health organization came under criticism following the release of controversial, secretly-recorded videos showing Planned Parenthood executives discussing fetal tissue donation. Sen. Cruz (who spearheaded the 2013 shutdown over defunding Obamacare) and Trump have said they'd be willing to shut down the government instead of continuing to fund Planned Parenthood. Sen. Rand Paul of Kentucky, who has backed legislation stripping the organization of federal funds, has argued it would be Democrats' fault if a shutdown does occur.
While other candidates have remained mum on the issue, Kasich said over the weekend that a government shutdown isn't the way to go. The governor said that while he's in favor of defunding Planned Parenthood as a whole, it simply isn't realistic because Obama has promised to veto such legislation and Republicans don't have enough votes to override it. "I think there are other ways for Congress to try and deal with this, and they need to be more creative," Kasich said on Fox News Sunday.
The Iran nuclear deal 
While all of the Republican candidates have criticized the accord, which calls on Iran to curb its nuclear program in exchange for billions of dollars in relief from economic sanctions, some are being more measured in their tone than others -- especially when it comes to the idea of rolling back the deal on day one of their desired presidencies.
Walker and Rubio have promised to tear up the deal on their first day in office, while Kasich said earlier this month that he wouldn't necessarily "rip up" the deal immediately. "To just say that we're going to walk away -- we've got to remember that we do have allies and we want to call them to work with us and a lot of them are signing up to this," the governor said of the deal, hammered out by Iran, the U.S. and other world powers. "But once we have the evidence that this has been violated, then we have the high moral ground to tell our allies 'we've got to get with the program here.'"
Similarly, Bush said in July, "One thing I won't do is just say as a candidate, 'I'm just going to tear up the agreement on the first day.' That sounds great but maybe you ought to check in with your allies first." He added, "Maybe you ought to appoint a secretary of state, maybe a secretary of defense. You might want to have your team in place before you take an act like that." Trump has said he'd try to renegotiate the agreement.
Birthright citizenship 
Trump kicked off another controversy late last month when he said he was in favor of ending "birthright citizenship," forcing other candidates to weigh in on whether children born in the U.S. should be denied citizenship if their parents are undocumented immigrants.
Those who have spoken against birthright citizenship include Carson, Jindal, Graham, Santorum, and Paul. On the flip side is Rubio, Bush, Fiorina and former New York Gov. George Pataki, who have all said they are opposed to ending birthright citizenship, which is guaranteed by the 14th Amendment. 
Cruz's position is not clear, while New Jersey Gov. Chris Christie has said the issue "needs to be re-examined." Walker has said birthright citizenship should be ended but seemed to walk back his remarks.
The migrant crisis in Europe
President Obama has said that in the next year, the U.S. will accept at least 10,000 Syrian refugees who have been displaced by civil war and are flooding into Europe and other regions. But some GOP candidates are ringing the alarm – raising concerns about security and what role America should play in the crisis -- issues that could very well come up at the debate.
Several are viewing the issue through a security lens. Carson recently told NPR that, without a thorough screening process, the move is a "splendid opportunity for the global Jihadists." Fiorina told CBS' "Face the Nation" that America needs to be careful about who is allowed to enter the country "to ensure that terrorists are not coming here," adding that the U.S. has already "done its fair share in terms of humanitarian aid."
Similar to Fiorina, Cruz has also argued for more of a hands-off approach, saying that if the goal is to return refugees to their homes, it "doesn't make sense" to bring them to the United States.
Others argue responsibility primarily lies with Europe but aren't ruling out the U.S. taking in refugees. Kasich has said, "I think we do have a responsibility in terms of taking some more folks in," but added that "this is fundamentally an issue that Europe has to come to grips with." Similarly, Paul told CNN that the U.S. has to be "selective and careful" about who is allowed in and that "we can't accept the whole world." Rubio has said he is open to taking in refugees, but that the U.S. must be cautious. And Graham said earlier this month at a speech at the National Press Club that the country should take "its fair share of Syrian refugees." Even Trump, known for his anti-immigration rhetoric, told MSNBC that the U.S. should "possibly" let some refugees in because what's going on is "so horrible on a humanitarian basis."
Some candidates, including Christie and Walker, are placing their focus on President Obama, arguing the migrant crisis is a direct result of the commander-in-chief not doing enough to curb violence in Syria.
The pope's visit to the U.S.
Pope Francis is making his first trip to the United States in September, and some of his recent, activist rhetoric could put Catholic candidates (Bush, Jindal, Rubio, Santorum and Christie) in an awkward position if the pontiff's recent comments come up during the debate.
Francis, after all, has denounced "trickle down" economics, has argued climate change is a moral issue that needs to be immediately addressed, and recently said he would allow Roman Catholic priests to absolve women who seek forgiveness for an abortion.
"I don't get economic policy from my bishops or my cardinals or my pope," Bush said of Francis' recent environmental encyclical, which calls for quick action on climate change and links inequality to environmental damage. Responding to the pope's remarks about abortion, Bush has said, "I hope we also focus on mercy of the unborn." Other candidates may be asked to weigh in on those issues as well.
Gun control
In the aftermath of last month's on-air shooting deaths of two journalists in Roanoke, Virginia, gun control measures could be a point of contention on Wednesday night. While Democratic frontrunner Hillary Clinton has pointed to the deaths as yet another example of why the country needs to change its gun laws, several Republicans have said that while the shootings were horrific, it doesn't mean the U.S. needs more legislation. Instead, they argue, the answer is better enforcement of existing laws and paying increased attention to mental health issues.
"It's not the guns, it's the people who are committing these crimes," Rubio said in New Hampshire. Christie has said the U.S. needs to be doing more about mental health but that the country doesn't need new gun laws. Similarly, Trump has called the shooting a mental health problem. Several other candidates expressed sympathy following the shooting but did not touch on gun control.