DALLAS -- Pastor Frederick Douglass Haynes marches across the stage of Friendship Baptist Church, a mega-congregation of 12,000 people here. It's Oct. 26, the penultimate Sunday before the 2014 midterm elections.
"This is Freedom Sunday!" Haynes shouts into a microphone, drawing out each word. The sound system plays "Jesus Walks," an upbeat anthem by rapper Kanye West that samples "Walk With Me," a gospel classic. The choir, about 50 teenagers clad in black t-shirts, sways. Haynes has promised a briefing on the church's new political program, but he doesn't say much about the candidates. 
RELATED: Voting surges in key midterm state
His largest applause lines are about the right to vote itself.
"There's a shameful, sinful attempt to suppress the vote," he says, criticizing Texas for "one of the most suppressive Voter ID laws in the nation." 
"I got my ID ready -- because you know they don't want us to vote."'
At one point in the service, the lights dim and Haynes appears on two giant screens at the front of the church, speaking into a camera as he drives to the polls. "I'm voting because Jimmie Lee Jackson never got to vote," Haynes says, "He tried, and he got killed!" Heads are nodding in the pews. Haynes names others who sacrificed in the civil rights struggle – black and white, Southern and Northern – and reaches his crescendo.
RELATED: Issues that matter to new voters
"The least I can do is get in my car and drive to vote," he intones, adding, "I got my ID ready – because you know they don't want us to vote."
With early voting now underway and with one of the most pivotal legal challenges to voter ID in the nation, Texas is ground zero in the voting wars.
From the court to the polls
After the Supreme Court invalidated part of the Voting Rights Act last year, Texas Republicans enacted one of the harshest Voter ID laws in the nation – a rule requiring identification that more than half a million voters, disproportionately minorities, lacked. Not all IDs are created equal, though, in the state. The law counts gun licenses as identification, but not state-issued college IDs.
This month, a federal court ruled that the voter ID law amounted to a poll tax, in response to a challenge from U.S. Attorney General Eric Holder. The Supreme Court decided to keep the law in effect, however, while that case is on appeal.
Proponents of the law have argued the Supreme Court is on their side. "We are pleased that the U.S. Supreme Court has agreed that Texas' voter ID law should remain in effect" Texas Attorney General Greg Abbott -- who is defending the law and running for governor on this year's ballot -- said in a statement after the high court's ruling. He also argued that the Supreme Court's precedent upholding a different ID requirement in Indiana shows "voter ID laws are a legal and sensible way to protect the integrity of elections."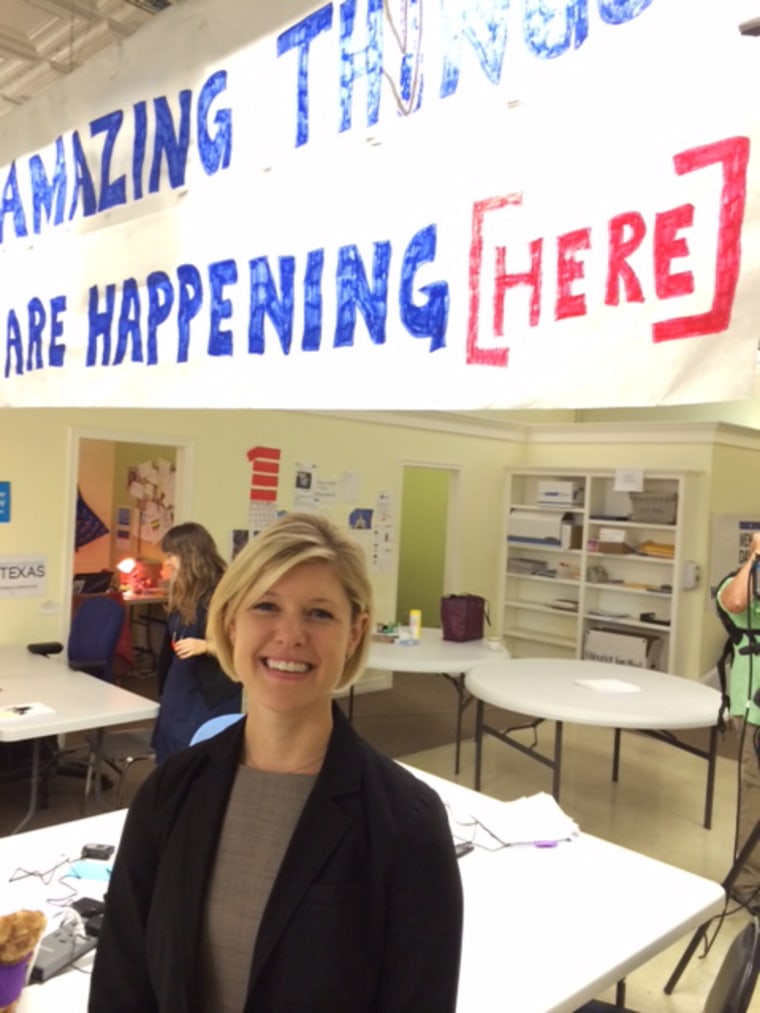 For their part, Democrats in Texas say they have prepared for the law. "The photo ID law is an attempt by Republican lawmakers to manipulate the rules to keep themselves in power," said  Mimi Marziani, the voter protection director for Battleground Texas, a Democratic group. "It should not be in place; it is in place, however, and that's why we have assembled and built this voter protection program," she continued, adding that it's "the largest, most coordinated in Texas's history."
Marzani's very presence at Battleground Texas, a field operation set up by Obama campaign veterans, speaks to the growing importance of voter protection to Democratic campaigns. She is as comfortable with the arcane flaws of local election law as she is with the mundane questions pouring in on the voter hotline – just as one might expect from a litigator on leave from Sullivan & Cromwell, a top Manhattan law firm. 
While campaigns focus on voter education and rapid response, others see the new law as an organizing opportunity. And since this is Texas, some even suggest it could amount to a blessing in disguise.
Bishop T.D. Jakes, pastor of the mega-church Potter's House and a major figure in Christian media, says that while he is "frustrated" with the Voter ID law, he thinks the backlash could ultimately be positive. "I'm very hopeful that more people will exercise their right to vote in response to being threatened," said Jakes, who leads a congregation of 30,000 in Dallas. "That generally galvanizes our base in a way that I think is very, very important," he added, "and galvanizes our community."
"There's just something about being told you can't -- that makes you want get out and do it."'
At early voting sites this week, some Texans agreed. "I don't think anything has helped get out the vote better than these voter suppression laws," said Vincent Hall, a 56-year-old who voted Sunday in Dallas. "There's just something about being told you can't -- that makes you want get out and do it," he said, "it's just that rebel in you."
Many voters are clearly energized. As of Tuesday, more than 970,000 Texans have now turned out early in this election. That's about 20% of the state's total voters in 2010, the last off-year election, and a higher early voting ratio than big states like California and Ohio. 
RELATED: Election could impact voting rights for 2016
Other voters are feeling burdened. In Texas this week, eligible voters and volunteers recounted the new hurdles to voting under the law. 
Take Olester McGriff, a black voter in Irving. He no longer drives because of a kidney condition, and his license expired in 2008. McGriff told msnbc he tried to get a voter ID twice this year. Over the summer, he brought the proper documents, but an employee at the office which issues IDs told him they had run out. McGriff said the employee told him, "We're out, you're going to have to wait till next week," and that left him feeling like the new rules are so unfair, "you show up, and you're still screwed."
Gary Gross, a 70-year-old Dallas resident who has been volunteering to drive voters to the polls, said many longtime voters don't know all the details of the new rules. "It just creates a barrier," he said. "A lot of the people I had experience with didn't realize you have to have such specific identification."
There is no holistic way to determine how many other voters are having the same problems -- and Texas isn't counting. 
This is the state's first general election with the law in place. Joaquin Castro, a U.S. congressman from San Antonio, said the federal government should audit the impact. "I asked the Government Accountability Office to do a study of exactly the impact of the Texas voter ID law, not only on turnout, but also how it has affected the cost for people who are wanting to vote," he told msnbc. And Castro wants not only an accounting of people turned away from the polls, but of those "discouraged from voting because of the new requirements."
RELATED: The state of voting in 2014
The GAO conducted a study of similar laws in Kansas and Tennessee, and found that turnout dropped 2 to 3 points.
Texas "has a long history" of discrimination, Castro said, arguing that the new rule continues a "bad tradition in Texas." Indeed, this voter ID law was originally blocked as a violation of the Voting Rights Act in 2012. More broadly, federal judges have found every redistricting map the state has proposed since 1970 has violated the Voting Rights Act.
Even if mobilization efforts do effectively counter the new law, civil rights advocates say the issue is bigger than political impact alone. Myrna Pérez, a voting rights attorney at the Brennan Center or Justice, said turnout is only "one piece" of the problems with restrictive voting laws. "The bigger piece is how many otherwise eligible Americans cannot vote because of an ID law," she said, "and what are we getting for that disenfranchisement?"
That's the question the Supreme Court may ultimately answer, but only long after the votes are tallied in Texas.