10: The number of abortion clinics that will be left in Texas if the Supreme Court approves the state's new restrictions on providers, down from 41 just before the law was passed.
5.4 million: The number of women of reproductive age who live in Texas. The abortion clinics that brought the case, being heard Wednesday, say the new laws impose an unconstitutional "undue burden" on those women. 
30: The number of times Texas' brief in defense of its law mentions Dr. Daniel Grossman.
Grossman, an obstetrician-gynecologist and professor at the University of California, San Francisco is not officially a party to Whole Woman's Health v. Hellerstedt, the most significant abortion case before the court in a generation. But as one of the clinics' key expert witnesses, part of a research consortium known as the Texas Policy Evaluation Project (TxPEP), the soft-spoken doctor has found himself at the center of the dispute over the impact of the laws.
RELATED: Which Justice Kennedy will rule on abortion?
"On a personal level, it's disheartening to see my name all over it," Grossman told MSNBC. "I could understand how someone could be scared out of this line of work." (Grossman also provides abortions in California, another line of work subject to intimidation.)
Grossman, who has published dozens of peer-reviewed journal articles on reproductive health and held senior positions at the American College of Obstetricians and Gynecologists, has been collaborating with University of Texas researchers on research there for over a decade. TxPEP has released research showing increased wait times for abortion after some clinics closed under the law, documented Texas women self-inducing abortions and chronicled the impact of Texas' efforts to cut Planned Parenthood out of its women's health program.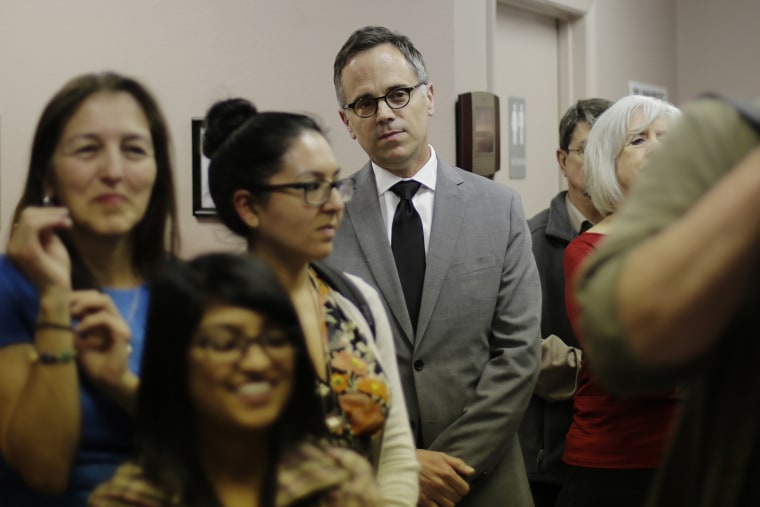 "It's a kind of shoot-the-messenger strategy," said David Brown, an attorney with the Center for Reproductive Rights and part of the clinics' legal team, of the focus on Grossman. "His ability to convincingly show that clinics would close and women would suffer or are already suffering as a result was very convincing to the trial judge."
The confluence of policies restricting contraceptive and abortion access in Texas, passed in just a couple of years, forms a research laboratory for TxPEP to measure their impact. "It's sad, but it's an opportunity," said Dr. Joseph Potter, a professor of sociology at the University of Texas and a principal investigator for TxPEP. 
TxPEP research has provided the plaintiffs with a critical rebuttal to Texas' contention that the new regulations -- which require abortion providers to obtain local hospital admitting privileges and move to new, more expensive facilities -- improve women's health. 
"We know very clearly that these kinds of regulations aren't going to improve the safety of abortion," Grossman said. "In fact, I'm very concerned that it's going to negatively affect women's health by preventing some women from getting the abortion that they want and pushing them later into pregnancy for their abortion." He added, "Abortion is incredibly safe as it's being practiced already. There hasn't been an abortion-related death in Texas since 2008." By contrast, about 100 Texas women die annually from complications relating to pregnancy and childbirth, according to state statistics.
How much courts should consider the medical evidence surrounding abortion laws is one of the controversies underlying the case. In its criticism of Grossman's data, Texas has followed the lead of judges on the 5th Circuit of Appeals, who also took issue with Grossman's conclusion that the clinics left standing under the law would be unable to meet the capacity. "Those ambulatory surgical centers can't expand," said Brown, "because they don't have physicians with admitting privileges." In other words, they couldn't necessarily start offering abortions to make up for the clinics that had closed. 
The 5th Circuit also faulted the TxPEP team for estimating in an early trial on the admitting privileges law that 22,000 women would be unable to obtain abortions if the law went into effect. That number was later revised to 9,000, Grossman said, because more doctors were able to obtain admitting privileges than researchers anticipated. "I'm the one who disproved it," he said. "I led the research team that went around to actually correct the data. This should actually further add to my credibility."
RELATED: Most Louisiana abortion clinics could close unless SCOTUS steps in
But the number of clinics that would close under the ambulatory surgical center requirement, Grossman points out, isn't subject to the same volatility as admitting privileges are, because clinic buildings either meet the expensive requirements of such a center or don't.
The contraceptive access study, unrelated to the Supreme Court case, was published in the prestigious New England Journal of Medicine but came under fire from a Republican legislator, triggering the resignation of a state health official. Grossman didn't work on that study, but he called the controversy "very concerning. This is a very basic way public health research gets done." 
At the two trials held by a federal district court, Judge Lee Yeakel, a George W. Bush appointee, also heard evidence from Texas in support of its law. But, he wrote in one ruling, he had reason to doubt their credibility, because the influence that a "non-physician consultant for the State," Vincent Rue, "had considerable editorial and discretionary control over the contents of the experts' reports and declarations." Other judges, including in recent trials in Alabama and Wisconsin, have questioned or dismissed the quality of evidence brought by Rue, an anti-abortion activist. "The level of input exerted by Rue undermines the appearance of objectivity and reliability of the experts' opinions," Yeakel wrote in his Texas ruling. "Further, the court is dismayed by the considerable efforts the state took to obscure Rue's level of involvement with the experts' contributions."
Emails between those experts and Rue, obtained by attorneys for the abortion clinics and published by the pro-choice site RH Reality Check, showed some of how their testimony played out.  "Vince – I see that 'my' report that you returned to me yesterday references my review of an expert report from a Dr. Layne-Farrar," wrote one expert witness. "I have not ever seen such a report. To what does that refer?"
Another wrote that he did not comment on one data point because it didn't work in Texas' favor: "I think that could be used against us."
Rue replied, "Perhaps you could avoid using 2012 data as it has not been uploaded yet to the DSHS [Department of State Health Services] website?" 
Generally speaking, these matters of evidence are supposed to be primarily left to trials and to district court judges. But this week, as the Supreme Court justices are asked to say just what an "undue burden" means in practice, the court may have to decide whom to believe and how much their data matters.