A 14-year-old North Texas student and his family blame fear of Islam for his arrest on charges of making a "hoax bomb."
Ahmed Mohamed, a freshman at Irving MacArthur High School, said he took an electronic clock he built over the weekend to school Monday morning to show his first period engineering teacher his skill with making things.
"I wanted to start clean with the teacher by showing him my inventions and stuff," he said.
Mohamed said problems arose when the clock rang in his back pack in class with a second teacher later in the day. He said he showed that teacher the device after other students had left the room.
"She said, 'Well it looks like a bomb. Don't show it to anyone else,'" he said. "And she decides to take it from me."
Mohamed said police handcuffed him and took him to Irving police headquarters for interrogation, fingerprints and mug shots. He said his family surname repeatedly came up in police questioning.
"I tried making a phone call to my father. They said, 'You're in the middle of an interrogation. You can't have a phone call,'" he said. "I really don't think it's fair, because I brought something to school that wasn't a threat to anyone. I didn't do anything wrong. I just showed my teachers something and I end up being arrested later that day."
His father, Mohamed Elhassan Mohamed, said he drove his son to school Monday morning and encouraged him to demonstrate his gift for technology.
"We are in the melting pot," the father said. "We are in the greatest country. We need this trouble not to hinder us, as Muslims, as Christians, as Jews, or whatever you are."
Irving police released a report Tuesday that lists three MacArthur High teachers as complainants against the teen on the charge of "hoax bomb." Irving Police Officer James McLellan said school officials simply thought the device was suspicious and acted out of caution.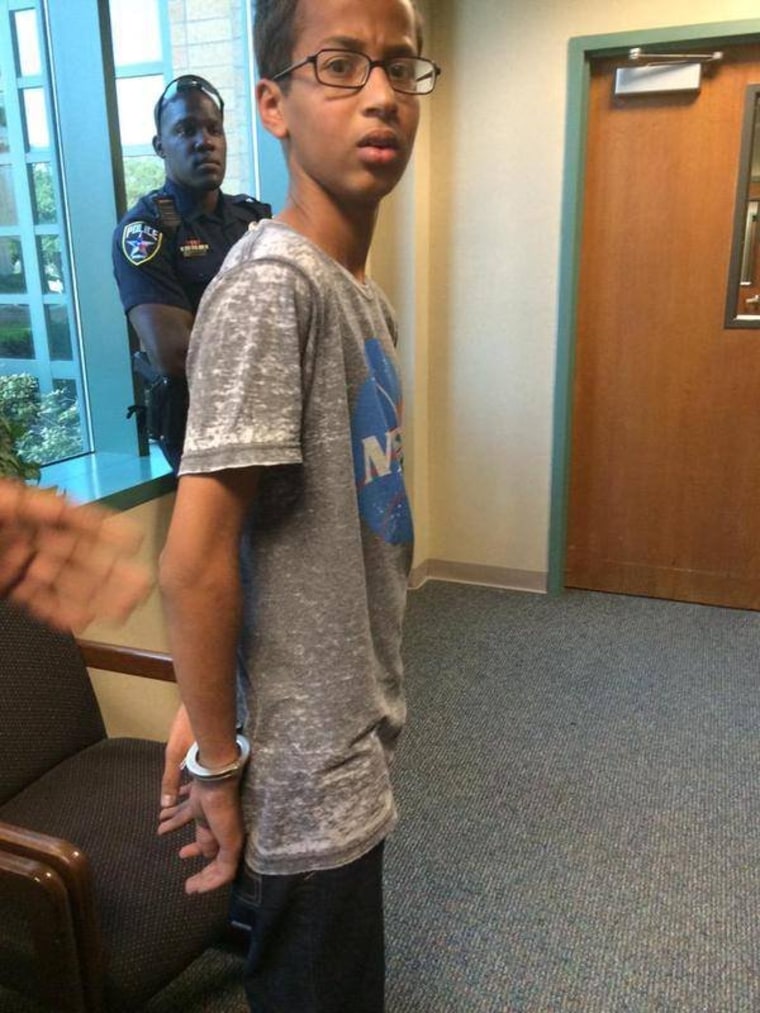 "Clearly, there were disassembled clock parts in there, but he offered no more explanation than that," McLellan said. "A lot of these details that the family and he have provided to you were not shared with us yesterday. He was very much less than forthcoming."
McLellan said the police investigation is not completed.
The teen and his father want the case closed and the "clock" device returned to them.
"I don't want to see anybody go through what I went through," Ahmed Mohamed said.
Irving Independent School District Spokesperson Lesley Weaver declined to discuss details about the case but issued the following statement: 
"Around 3 p.m. yesterday, a MacArthur High School student was arrested on campus by the Irving Police Department. School officials have been cooperating fully with the police investigation, and while privacy laws prevent us from sharing specific details about student discipline, we can assure everyone that school administrators are handling the situation in accordance with the Irving ISD Student Code of Conduct and applicable laws. We always ask our students and staff to immediately report if they observe any suspicious items and/or suspicious behavior. If something is out of the ordinary, the information should be reported immediately to a school administrator and/or the police so it can be addressed right away. We will always take necessary precautions to protect our students and keep our school community as safe as possible."
This story originally appeared on NBCDFW.com