Another religious freedom battle is brewing in Texas. But this time, Syrian refugees — not same-sex couples or women seeking birth control coverage — are at the center of it.
Numerous faith groups that settle international refugees in the Lone Star State are upset about a recent directive from Texas officials to no longer help Syrians in the wake of the deadly Paris attacks, which killed 130 people and wounded hundreds more. Essentially, the groups' concerns are divided into three parts: One is for the safety of the refugees themselves; another is for the future of their resettlement programs; and the third is for their religious freedom, which some might argue is being stifled by Texas' instructions that they withhold help from certain people in need.
RELATED: GOP presidential candidates throw down the gauntlet over refugees
It's the last item on the groups' list that threatens to expose hypocritical elements within today's "religious freedom" movement — potentially creating problems for Republican presidential candidate Ted Cruz, who for months has pledged to protect religious freedom from government interference while more recently vowing to keep non-Christian Syrian refugees out.
Now, it appears those two concepts are coming into pronounced conflict in the Texas senator's home state.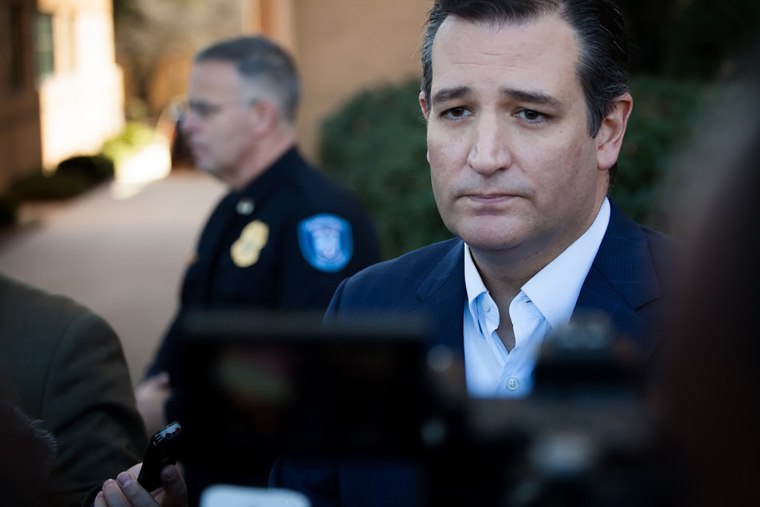 Last week, following a Nov. 17 letter from Texas' Republican Gov. Greg Abbott, the state's Health and Human Services Commission (HHSC) instructed all volunteer and community groups to discontinue "any active plans to resettle Syrian refugees." At the time, Texas was far from the only state whose governor had publicly opposed the resettlement of Syrians; 31 governors, in fact — all Republican except for one — made similar declarations in the days after the Paris attacks, with many citing concerns that terrorists could be using the current migrant crisis as a means to infiltrate Western countries.
Texas was, however, one of the few states to take actual policy steps toward its goal of blocking Syrian refugees, and the HHSC letter immediately troubled organizations that provide humanitarian services in the state.
In Texas, many of the refugee resettlement agencies are private, faith-based groups committed to helping people of all races, religions, and nationalities. That's no light undertaking: As one of those groups, Catholic Charities of Dallas, stated on its Facebook page last week, helping refugees stems directly from its members' religious beliefs, which the Texas government restricted when it issued its directive.
OPINION: America doesn't turn its back on refugees
"We are called by the Gospel to reach out to all those in need," the agency said, one day after Abbott sent his instructions to end resettlement plans for Syrians. Therefore, "Catholic Charities of Dallas will continue to serve all refugees."
Dozens of other groups share the same concern. Refugee resettlement "is absolutely a religious liberty issue," said Bee Moorhead, whose interfaith social action network, Texas Impact, hosted a conference call Wednesday with around 50 resettlement agencies and affiliated faith communities.
Refugee resettlement "is absolutely a religious liberty issue."'
"It goes to the very core of what many religious traditions — Christian, Jewish, Muslim, etc. — see as part of their existential framework in their faith," Moorhead told MSNBC following the call. "It would be very difficult for Christians to think of themselves as Christian without welcoming 'the stranger'" — an apparent reference to numerous biblical passages.
That Texas could be infringing on resettlement agencies' "religious liberty" is a surprising development to many familiar with the term. These days, the phrase usually applies to cases such as a wedding service provider who doesn't want to serve same-sex couples, or an employer who doesn't want to provide contraceptive coverage in line with the Affordable Care Act. In both scenarios, "religious liberty" arguments align nicely with the modern conservative cause.
In this case, however, "religious liberty" is at odds with Republicans' muscular rhetoric on keeping Syrian refugees off of American soil. The conflict puts self-professed "religious liberty" advocates in a difficult spot — that is, having to answer whether they really care about protecting the rights of all people to practice their faith, whatever that faith may dictate, or whether they only care about protecting religious beliefs that advance the right's political agenda.
Of all the Republican White House hopefuls, it's a question that perhaps weighs most heavily on Cruz, who last week introduced legislation to block non-Christian Syrians (a bill laden with obvious religious liberty concerns in and of itself) and challenged President Obama to a debate on the matter. Politically, the bravado seems to have paid off — Cruz surged in the the latest NBC News/SurveyMonkey poll to a new high of 18%, tying with retired neurosurgeon Ben Carson and second only to real estate mogul Donald Trump. A Quinnipiac University poll released Tuesday, meanwhile, found Cruz solidly ahead of Carson in Iowa with 23% support, just two percentage points behind Trump.
RELATED: Ben Carson, Ted Cruz to speak at Bob Jones University
Since declaring his candidacy, however, Cruz has also cast himself as the ultimate protector of religious freedom, hosting two major events in Iowa and South Carolina dedicated to the issue. Both rallies focused heavily on Christians who claimed to have been persecuted for their religious beliefs, often in cases involving LGBT rights. But if Cruz is indeed as committed to defending religious freedom as he says he is, it would seem then that the current conflict in Texas has backed him into a bit of an ideological corner, at risk of compromising one pillar of his campaign for another.
If Cruz is indeed as committed to defending religious freedom as he says he is, it would seem then that the current conflict in Texas has backed him into a bit of an ideological corner.'
Rick Tyler, Cruz's national spokesperson, doesn't see it that way. And in all likelihood, neither will his supporters. After all, nearly a third of Iowa Republicans surveyed in September by Public Policy Polling said that Islam should be illegal — and that was before the Paris attacks.
"This is a time when we have sworn enemies who have publicly declared that they want to attack us," Tyler told MSNBC. "The reason we want secure borders is so people can live in the U.S. without fear that there are terrorists in their midst."
Asked to clarify whether in the wake of Paris, national security concerns simply trumped religious freedom concerns like those seen in Texas, Tyler dismissed the characterization as well as the claims of Texas' faith-based resettlement agencies.
"It's not a question of one trumps the other," he said. "Religious liberty is the ability to worship God in the way you want. No one's preventing them from doing that."