BOSTON -- When Julie and Hillary Goodridge walked into City Hall and applied for a marriage license 10 years ago, they did it with a police escort at their side. As the plaintiffs in the landmark case -- Goodridge v. Department of Public Health -- that brought same-sex marriage to the first state in the country, the Goodridges, six other couples, and their attorney Mary Bonauto broke an historic barrier on May 17, 2004. 
A decade later, 17 other states and the District of Columbia have legalized same-sex marriage. The Supreme Court struck down the Defense of Marriage Act which had long deterred other states from following Massachusetts' lead, and gays and lesbians now serve openly in the military without fear of being discharged. President Obama and many elected leaders have come to embrace marriage equality as have a majority of Americans. Just last week, the NFL drafted its first openly gay player.
While many have championed the successful legal strategy that saved same-sex marriage in the state of California, for civil rights activists, it's hard to overstate the importance of Goodridge which set an example for the country in terms of equal rights and the freedom to marry. 
"Without Goodridge and Mary Bonauto and what was accomplished there, none of the rest of this would have ever happened," said Roberta Kaplan, who successfully argued before the Supreme Court in the United States v. Windsor, the case which brought an end to a federal ban on same-sex marriage.  
The Goodridges, now divorced, sat down for an interview with msnbc to reflect on the last 10 years for the country and for themselves. They were joined by their daughter Annie, 18. 
"It makes me look back again at how much we accomplished, and how much every plaintiff accomplished, and how much every person in Massachusetts accomplished," Julie Goodridge said. Both women recalled the emotional stakes. "We were fighting a huge uphill battle," Hillary Goodridge said. It "felt like it had been 10 minutes ago and look what happened."
More than 70,000 same-sex couples have married in the United States, according to the Pew Research Center. In states that offer some form of legal recognition, 43% of same-sex couples are currently in a legally recognized relationship, according to a 2011 study by the Williams Institute at UCLA, which based its findings on recent census data.
The Goodridges separated in 2006 and divorced in 2009. They remain friends and have worked together raising Annie, who is headed to Oberlin College this Fall. 
"We've been able to craft around holidays, birthdays, around regular events. Julie and I have really regular contact and obviously it's really amicable," said Hillary.
Still, the end of their marriage came as a shock to many friends and supporters, who questioned how it would impact national acceptance for same-sex marriage. 
"It makes me look back again at how much we accomplished, and how much every plaintiff accomplished, and how much every person in Massachusetts accomplished."'
"It's very hard to get divorced," Julie Goodridge said.  "It's very hard to break up a family, especially when you got married in front of the whole freakin' world."
"It did speak to how we were supposed to be perfect," said Hillary. "I never understood the argument that it somehow took away from the movement. Julie and I were together for 19 years."
The Williams Institute found that same-sex couples were only slightly less likely to divorce every year versus straight couples, reporting that same-sex couples ending a legal relationship ranged from 0% to 1.8% annually, or 1.1% on average, versus 2% of married straight couples divorced annually." 
For Hillary Goodridge, access to the protections provided through divorce were as important as being able to marry. 
"Having divorce means there are rules and it means there's a process you go through," she said. "At a time when you're craziest, it gives you a structure and a process and other people to help you dismantle this as fairly as possible."
Their joint battle to bring marriage equality to their own home and to their state would eventually change lives for many Americans.
The Boston-based organization Gay and Lesbian Advocates and Defenders had been actively searching for plaintiffs and wanted a mix of Massachusetts residents – male and female couples from various parts of the state who represented a mix of occupations, races, and backgrounds.
"When you see these couples on TV, maybe you don't relate to one but you do relate to the other one. We wanted that to make a difference," said Bonauto. "The plaintiffs were always the heart and soul."
The Goodridges became the face of the marriage equality movement in Massachusetts – a long-term couple, Boston residents, parents to a daughter, Annie, and the lead plaintiffs in 2001 when GLAD sued the Massachusetts Department of Public Health on behalf of seven same-sex couples. On Nov. 18, 2003, the Massachusetts Supreme Judicial Court handed down a 4-3 decision in favor of same-sex marriage.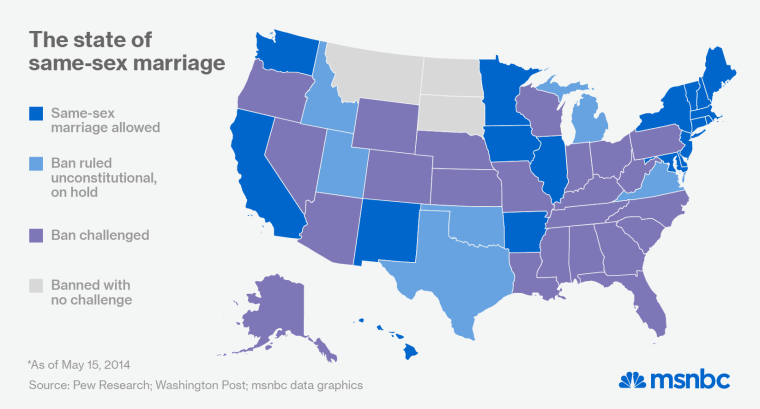 But the fight wasn't over. Then-Massachusetts Gov. Mitt Romney immediately called for an amendment to the state constitution to define a marriage as between a man and a woman. Pres. George W. Bush called for a similar amendment to the U.S. Constitution in his 2004 State of the Union address, saying, "Activist judges, however, have begun redefining marriage by court order, without regard for the will of the people and their elected representatives... If judges insist on forcing their arbitrary will upon the people, the only alternative left to the people would be the constitutional process. Our nation must defend the sanctity of marriage." 
"The political leaders in Massachusetts were ferociously opposed. The president had already weighed in," said Bonauto. "People were predicting Armageddon."
Numerous lawsuits in state court, from the Liberty Counsel and others, argued that the Goodridge decision was made without authority and that the court should stay the opinion until the matter was put up to a state-wide vote. It took six months of legal wrangling until couples were finally able to say "I do."  
"It had to start somewhere. Massachusetts broke that barrier across the threshold. These are people who wanted to stand up and make a commitment to each other," said Bonauto. 
Marty Rouse, national field director for Human Rights Campaign -- the largest advocacy organization for gay and lesbian rights -- said the Goodridge case transformed the way Americans viewed same-sex marriage. 
"The nation got to see on their TV screens gay and lesbian couples getting married in a state," he said, and it "had an impact opening hearts and minds across this country."
"Once they saw it, they thought, 'ok it could happen here.' If it happened in Massachusetts and the sky didn't turn different colors, it could happen," anywhere, he said.