TEL AVIV — Twenty years ago, Yigal Amir, an Israeli nationalist and observant Jew, shot and killed Israeli Prime Minister Yitzhak Rabin after a massive peace rally in Tel Aviv. It was a national tragedy that remains extremely raw in Israeli society today. 
Rabin's murder has come to be known as the most effectual political assassination in history, as with his murder on that hopeful night began a slow, steady death of many Israelis' hopes for peace. Six months after the assassination, Benjamin Netanyahu was elected to his first term as Israel's Prime Minister. He is now serving his fourth.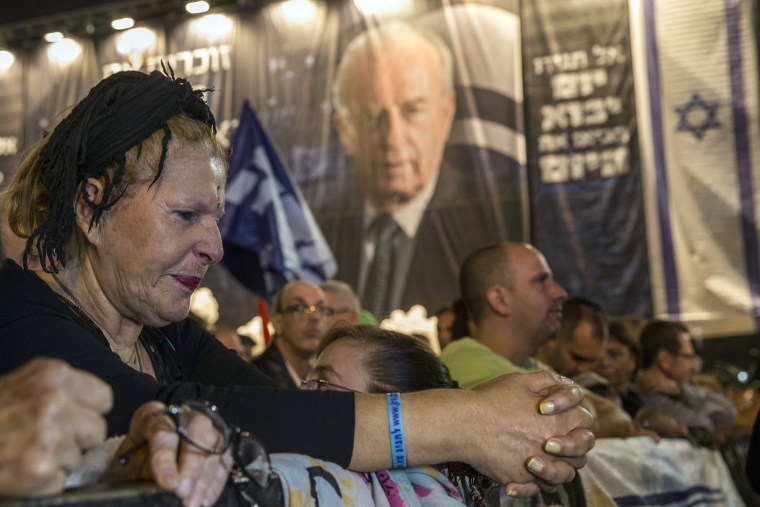 For many here, Rabin was the best and last representative of peace. Just before he was killed by a right-wing extremist who was against giving up land to the Palestinians, Rabin had signed the Oslo Accords, embarking on a historic peace process with then-Palestinian leader Yasser Arafat and former U.S. President Bill Clinton. It was the legendary handshake between Rabin and Arafat on the front lawn of the White House that encapsulated the hopes of many on the Israeli left. For the Israeli right, it symbolized a disaster and a betrayal of the Jewish people. 
Bill Clinton's infamous parting words at Rabin's funeral 20 years ago -- "Shalom Haver," (goodbye friend) -- have become the emblem of Israel's collective memory of Rabin's death and the slogan for the annual memorials which commemorate his legacy. 
Since November 4, 1995, the spot where Rabin was shot that night has served as a perpetual memorial, marked by graffiti of Clinton's parting words. Clinton's farewell has even translated into other forms of commemoration, with stickers and flyers all over Tel Aviv this week declaring in Hebrew, "Once a year, friend," as in once a year, the country remembers the night that everything changed. 
So it was fitting that Clinton, who considered Rabin a dear friend, attended and addressed the 20th memorial ceremony on Saturday night at the same city square where Rabin was murdered. According to Israeli police, more than 100,000 people filled the square, which is now named after Rabin, to hear the former U.S. president honor his fallen comrade in peace.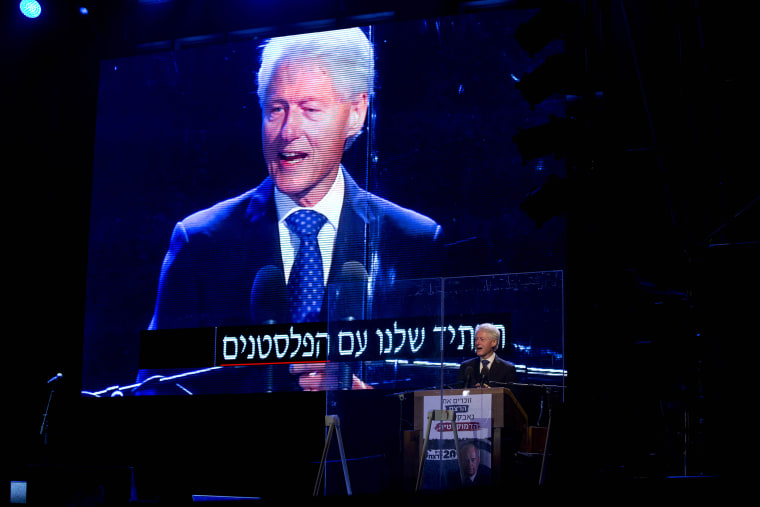 "I came to love your prime minister," said Clinton, flanked by Tel Aviv's city hall, which was lit up with lights that spelled 'Shalom Haver' in Hebrew. "The day he was killed was probably the worst day of my eight years as president."
Alluding to the rightward shift that Israel has taken, in which Prime Minister Netanyahu has been accused of putting Israel's Jewish character before its democratic values, Clinton recalled Rabin telling him, "I never wanted to see Israel come to a democratic crossroads where we'll have to decide that Israel will be a Jewish but not a democratic state, or a democratic state but not a Jewish state."
Noting that Israel is once again under a barrage of Palestinian terror attacks, just as it was throughout Rabin's stewardship of the Oslo Accords, Clinton said, "In these complex and challenging moments, he never refused to give up his dream in the face of violence." 
Between fits of applause, Clinton told the audience, "Whenever there was a terrible thing that happened here and I would call him, he'd tell me what came to be known as Rabin's Law in the White House: 'We will fight terror as if there are no negotiations, and we will negotiate as if there is no terror.'"
Former Israeli President Shimon Peres attended the memorial as well, along with current Israeli President Reuven Rivlin, who also delivered a speech reflecting the similarities between the Israel of today and the Israel in which Rabin was killed. 
"We stand here today, together, before that same murderer's goal – before the hatred and loathing of the extreme and violent fringes of society, to say: you shall not overcome us. The Jewish and democratic State of Israel, the state of the Declaration of Independence, will not become a sacrifice on your altar of violence and fear. Never."
Rivlin's words carried extra relevance, as they came just days after the arrest of Hagai Amir, the brother of Rabin's assassin Yigal Amir, who served jail time for assisting his brother but was released in 2012. Yigal is still imprisoned, and earlier this week President Rivlin declared that he would never allow his release. Hagai posted a threatening message against Rivlin on Facebook just days before Rabin's memorial. He is now under house arrest.
Even President Barack Obama addressed the crowd, in a video message that urged Israelis to continue to pursue the two state solution that Rabin sacrificed his life for.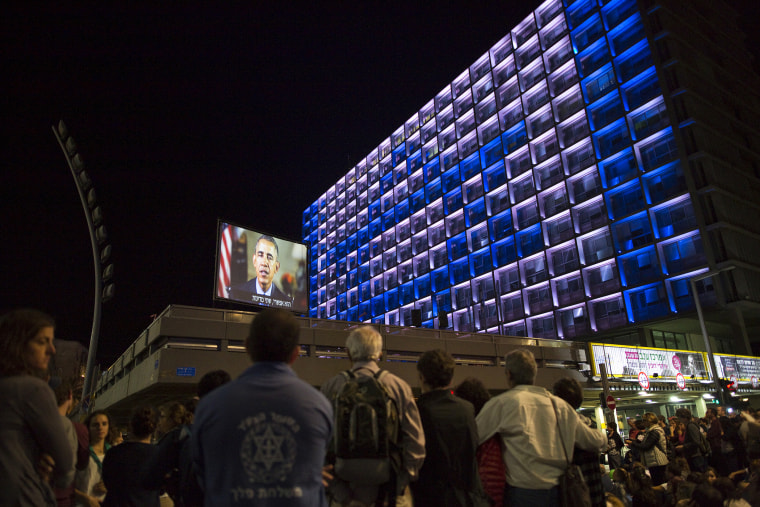 Notably missing from the ceremony was Israeli Prime Minister Benjamin Netanyahu. It may seem odd that the nation's leader chose to skip such a significant event, but considering Netanyahu's role in the collective memory of Rabin's murder, his absence was actually quite fitting. 
As the leader of the rival party during Rabin's premiership, and a vocal opponent of the Oslo Accords, Netanyahu played a leading role in the anti-Rabin sentiments pervading the Israeli right before the assassination. 
One of the most infamous examples of the incitement that preceded Rabin's murder was a protest that took place in Jerusalem just weeks before. Video from that demonstration shows Netanyahu standing on a balcony overlooking protesters, with a sign beneath him that reads, "Death to Arabs." Netanyahu addressed the rally from that balcony, as participants chanted "Rabin the Murderer," "Rabin the Traitor," and held signs depicting Rabin as a Nazi, or as Yasser Arafat. Some even burned images of the prime minister. 
In a week of national events commemorating Rabin's murder, the Israeli prime minister made his own reflections, which stood in stark contrast to those of President Clinton, Rivlin and others.
"These days, there is talk about what would happen if this or that person would have remained," Netanyahu told the Knesset last week, in a clear reference to the prime minister he replaced 20 years ago. "It's irrelevant," he said. "There are movements here of religion and Islam that have nothing to do with us…You think there is a magic wand here, but I disagree," he continued, offering a less-than-hopeful vision for Israel's future. 
"I'm asked if we will forever live by the sword — yes."