MECHANICSVILLE, Virginia – Before his speech on Friday, Sen. Ted Cruz greeted the press at the Life Church by bringing along America's favorite undocumented foreign worker for a photo-op: Santa Claus. 
The biggest gift of the day for Cruz didn't come from Santa, though, but from a senator: Marco Rubio, who awkwardly fended off a question as to why he missed a vote Friday morning on the $1.1 trillion dollar budget deal after pledging to use every tool in his arsenal to defeat it. "In essence, not voting for it, is a vote against it," Rubio told CBS, explaining his absence. 
"I'm going to let Marco defend his own voting record," Cruz told reporters after being asked about the quote. "I can tell you I flew into Washington, D.C. today to vote against this omnibus. I think this omnibus was a betrayal of the men and women who elected us."
RELATED: Ted Cruz on defensive as immigration fight engulfs campaign
Rubio's campaign shot back that Cruz had made a similar remark after missing the final vote to confirm Attorney General Loretta Lynch because "absence is the equivalent to a 'no' vote."
The event was part of a week-long swing through the March 1 primary states, which includes several southern states that Cruz sees as major opportunities for securing the delegates needed to seal his path to the nomination.
After talking to the press, Cruz addressed a packed room of several hundred supporters after being introduced by the state's former attorney general, Ken Cuccinelli, who announced his endorsement from the stage. 
"When I was a kid, my dad used to say to me over and over again, 'When we faced oppression in Cuba, I had a place to flee to,'" Cruz recounted in his speech's conclusion. "If we lose our freedom here, where do we go? That is why all of us are here today."
It was a nice relief after a rough 48 hours in which an array of conservative commentators sharply criticized Cruz for his evolving rhetoric on immigration, a topic that he's made a centerpiece of his case against Rubio. 
Rubio has stoked the fight throughout, pointing to Cruz's introduction of an amendment in 2013 that would have removed the path to citizenship from Rubio's own Gang of Eight immigration bill, but left in place a path to legal status and work permits.
Cruz repeated to the press on Friday that the amendment was a ploy to show that Democrats only wanted citizenship in order to add new voters and pointed to support for the measure from conservatives like Sen. Jeff Sessions and radio host Rush Limbaugh at the time. But in multiple speeches and interviews from the time, Cruz described his amendment as an earnest effort to craft an acceptable compromise bill that could attract conservative votes, undercutting his claim that he never entertained allowing undocumented immigrants to remain in the country. And he's yet to explain why he took so long to clarify his current position on legalization until just this week, when he finally appeared to rule the idea out.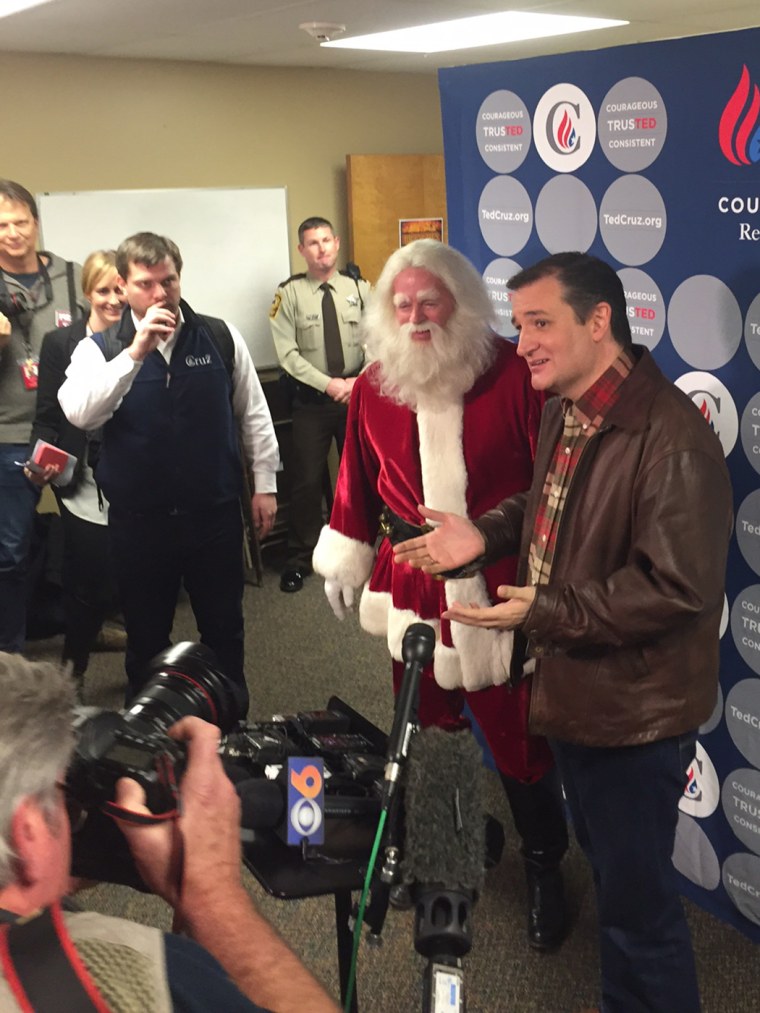 Nonetheless, Cruz's explanation was good enough for some in the audience, who made clear in interviews they were watching the debate closely. 
"I really think it's been blown out of proportion," Carter Cobb, 56, a retired Navy veteran with a gelled head of spiky grey hair, told MSNBC. "What Cruz was offering was a poison pill amendment, he just didn't call it that."
On Friday, Cruz tried once again to refocus the debate on the bigger picture: Rubio's enthusiastic participation in crafting and passing the immigration bill, which he has since disavowed in favor of an incremental approach, versus Cruz's consistent opposition to the same legislation. 
"I oppose amnesty; Marco Rubio supports amnesty. I oppose citizenship; Marco Rubio supports citizenship. I oppose legalization; Marco Rubio supports legalization," Cruz told the press. "I led the fight to defeat the Gang of Eight bill; Marco Rubio authored and led the unsuccessful fight to pass the Gang of Eight Bill."
But even as he tried to put the matter to bed, new clouds gathered. On Tuesday, Cruz's campaign chair Chad Sweet told reporters from several outlets, including MSNBC, that while the senator was "unequivocally" against legalizing undocumented immigrants, he would "save and expand" legal immigration. 
RELATED: The super-complicated Rubio-Cruz immigration fight explained
That raised eyebrows given that Cruz, who previously called for a major expansion in H1B worker visas and green cards, has since changed his position and endorsed a freeze on immigration levels until the economy improves. Confronted with Sweet's quote by radio host Laura Ingraham on Friday, Cruz sounded caught off guard and said that the position was "wrong." 
The ongoing confusion over Cruz's immigration record may not have done much damage with his base, and talk radio largely has sided with him, but it is a threat to the image he's tried to cultivate as the most trustworthy candidate. Several members in the audience who talked to MSNBC cited his reliability as one of the most important parts of his appeal. 
"The single biggest difference between me and the other very, very fine men and women standing on that debate stage is that with me, when I tell you I'm going to do something, I'm going to do exactly what I said I'm going to do," Cruz said to applause on Friday.