Last Wednesday, former Pennsylvania Sen. Rick Santorum announced he was running for president again. His campaign, however, was slow to share the big moment with his friends and supporters on social media. It took the Santorum team almost 48 hours to upload a video of his speech and pictures of the event on Facebook — longer than any other 2016 candidate to date. 
RELATED: Santorum launches second presidential run with a populist pitch
The video post of Santorum's speech has earned 1,288 "likes" and 202 shares on Facebook so far, while photos of the event have received fewer than 1,000 likes and 77 shares, suggesting that few people on Facebook saw the content when it was posted. And as it turns out, data from Facebook shows that fewer potential voters (18-and-older) viewed Santorum's announcement posts than a post by Republican candidate Sen. Ted Cruz (R-Texas) about the online game Candy Crush. A self-declared lifelong gamer, Cruz earned 3.9 times the number of Facebook engagements on his post than Santorum did with his announcement video.
The popularity gap between the two candidates on Facebook is striking, especially since Santorum has been a key public figure for the Republican Party. He had big wins in 2012 before conceding to Mitt Romney, who became the party's presidential nominee. Santorum won the 2012 Iowa caucus, finishing 34 votes ahead of Romney. Moreover, Santorum had the opportunity to remain relevant and build his online presence: He spoke at the 2012 Republican National Convention in primetime and served as a Fox News contributor.
However Santorum's past success hasn't translated into large followings on Facebook, Twitter and Instagram, and that could be one reason why his bid announcement video didn't get much buzz online. In the 24 hours following Santorum's speech, only 169,000 people in the U.S. took an action on Facebook related to his announcement. That means, after former New York Gov. George Pataki, Santorum has had the lowest performance of Republican and Democratic candidates who've launched campaigns before today.  
It seems that the lackluster reaction online to Santorum's announcement has had a lot to do with his generally low level of engagement on Facebook compared to that of other 2016 GOP primary candidates, like Cruz; and data from Facebook Insights supports this. Fewer than 10,000 people on average per day were in engaged in conversation about Santorum in the three months prior to his announcement. Cruz, on the other hand, had an average of 70,000 people per day talking about him in the three months prior to his campaign launch. 
Cruz's team has spent years building a supporter base on social networking platforms like Facebook. As a result, Cruz's campaign has been able to connect and engage with a broader, younger audience online as well as have another channel for fundraising.
RELATED: Ted Cruz continues grassroots fundraising haul: $2 million
In addition, Cruz has been able to remain relevant on Facebook by actively posting images, memes, and videos every day — one reason why the Texas senator has been the most-mentioned GOP candidate on social media to date, with 2.1 million people talking about his presidential launch on Facebook in the 24 hour period that followed his bid announcement.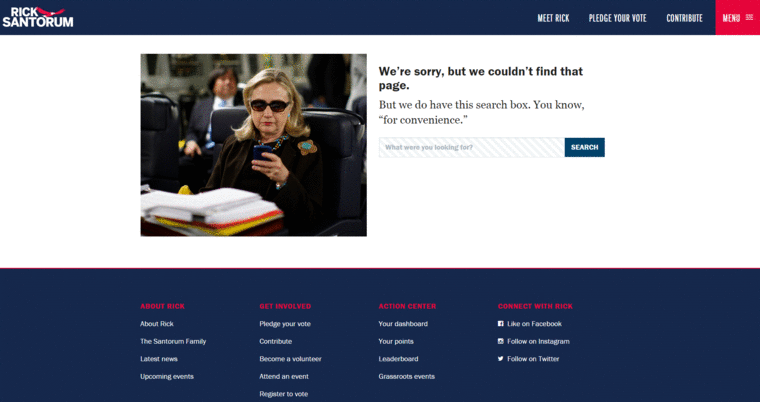 The challenge facing Santorum's campaign online this election cycle has become even more evident following the news around his campaign's 404 error webpage, which pokes fun at Hillary Clinton. According to Google, this was one of the stories that had the most buzz online. 
Visitors who landed on a wrong URL on Santorum's campaign website found the iconic image of the former secretary of state wearing black sunglasses and using a BlackBerry — the same image that sparked the creation of a Tumbr called "Texts From Hillary" in 2012. Next to the image of Clinton the text reads, "We're sorry, but we couldn't find that page. But we do have this search box. You know, 'for convenience.'"
Clinton, in comparison, is a powerhouse on social media. The Democratic front-runner has dominated the conversation, generating about twice the volume of searches on Google compared to Santorum.  So it's not surprising that this story has been a popular one on the Internet.
If anything, this could be a teachable moment for other soon-to-announce presidential candidates who haven't considered how the new age of digital will affect politics. It's going to be a tough challenge to win the hearts, minds and ultimately votes of people online, not to mention a younger audience, for candidates who can't breakthrough the clutter to be noticed — especially on the day of his or her presidential campaign launch. 
This seems to be particularly true right now when 2016 contenders like Ted Cruz and Hillary Clinton have launched campaigns that have been focused on building their potential grassroots networks using, among other digital tactics, social media. At least during the primary season, as Republican candidates try to prove how far they've come in the use of digital in politics since 2012, it seems that Santorum could learn a thing or two this time around from Ted Cruz about winning the online election game.
The Santorum campaign did not respond to msnbc's requests for comment on this story.