Want to know what the NBC News Embeds saw? Follow their daily journey to the inside of the 2016 presidential campaign here:
Rotten tomatoes in Iowa
DES MOINES, Iowa -- Finally, an excuse to use that tomato emoji for your political coverage.
During Tuesday night's Donald Trump rally in Iowa City, an attendee threw two tomatoes at the GOP front runner while he was speaking on stage. University of Iowa police confirmed in a statement to NBC News that the man, 28-year-old Andrew Joseph Alemano, threw the tomatoes but did not hit the candidate.
According to a University of Iowa spokesperson, Alemano was arrested for disorderly conduct, taken into Secret Service custody and later transported to the Johnson County Jail.
Disorderly conduct is a simple misdemeanor punishable by a fine up to $625 and/or imprisonment up to 30 days.
After the event, remnants of the tomatoes stained the stage behind where Trump had finished speaking a mere half hour before.
This was not the only outburst to pause the Trump event that night. Other protesters used whistles to interrupt Trump's remarks. At one point Trump asked if he or someone else could "rip that whistle out" of their mouths.
-- Ali Vitali covering the Trump campaign
A caucus reunion
DES MOINES, Iowa -- The countdown is on to the Iowa Caucus which means, among other things, a reunion for NBC News campaign embeds.
The eight of us haven't been in the same place at the same time since we left New York in August so to get five of us in one room was a welcome treat.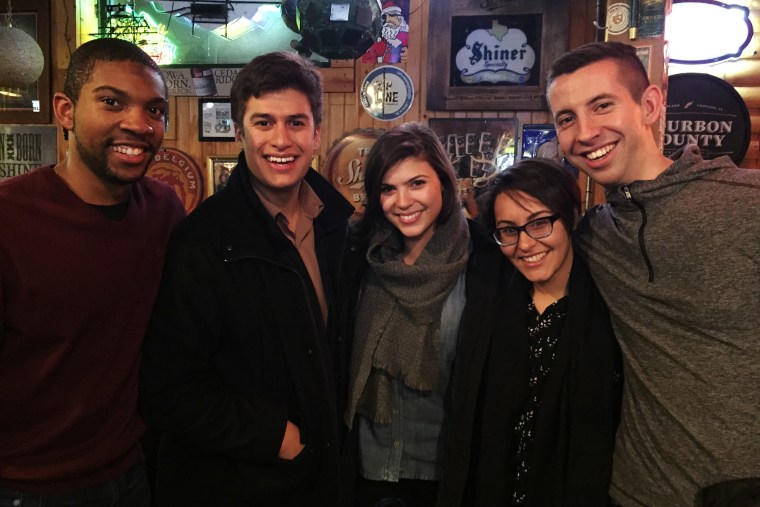 The other unique thing about this gathering is it included a mix of embeds who cover Republicans, Democrats and even one based in a state -- it's a combination only the caucus could bring together.
With all of the embeds in Iowa, we've taken over the NBC News Snapchat account as we fan out across the state to cover the candidates. Follow our relay Snapchat coverage by following nbcnews.
-- Jordan Frasier covering the Bush campaign
With all eyes on Iowa, one candidate has New Hampshire to himself
AMHERST, N.H. - As the political world descends on Iowa, one presidential hopeful is buckling down in New Hampshire with the state all to himself.
The satellite trucks, the spectacle, the other candidates, and the crush of attention have left the Granite State for a few days, but Ohio Gov. John Kasich is quietly navigating New Hampshire's snow-lined roads and dominating attention from the local media (and the voters) who stay here.
Kasich, who has long staked his success on a strong showing in the nation's first primary, is returning to Iowa for the Republican debate and two town halls this week, before returning right back to New Hampshire this weekend, where he will stay until primary day on February 9. He will be campaigning in New Hampshire on February t, the day of the Iowa caucuses.
"There's only so much of me to go around," he told reporters Tuesday after a town hall at Molly's Tavern and Restaurant in New Boston, a town with a population of just over 5,000. "My wife is very thankful that there's only one of me and you know, look, I just did a tele-town hall in Iowa."
"I only got in in July," Kasich continued. "There's only so many resources and in no way are my efforts disrespecting Iowa, but in New Hampshire it's like running for Congress. You can get all over the state, and we have, and it's more manageable. But I feel that this is a place that can give me the launch I need so that people in the country can hear my message. I think they'll like it because I think people want to live on the sunny side of the street."
On the trail, Kasich often likes to compare New Hampshire to the much warmer destination of Cape Canaveral, Florida, since they both serve as "launchpads."
"If I get snuffed out in New Hampshire," he told the New Boston gathering, "ballgame over."
-- Kailani Koenig covering the New Hampshire primary