While the percentage of Americans who support the National Security Agency's surveillance programs has remained relatively constant over the past eight years, who supports them has shifted considerably, according to a survey by the Pew Research Center and the Washington Post.
Now that Barack Obama is president, a majority of Democrats support NSA surveillance programs and far more Republicans oppose them, almost the reverse of where things stood in 2006, when President George W. Bush's NSA warrantless spying program was revealed. Here are the numbers: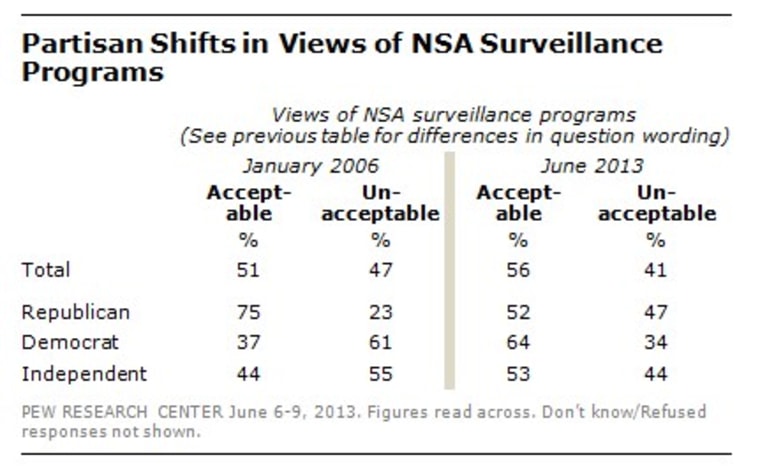 There are notable differences between the situation in 2006 and now. Bush's warrantless surveillance program was pursued unilaterally and in secret, without authorization from Congress or oversight by the courts. Since then, Congress has authorized vast surveillance powers and there has been some oversight from the Foreign Intelligence Surveillance court, whose proceedings are conducted in secret. The court has almost never denied a request from the government however, approving them 99.97% of the time, and members of Congress who voted to reauthorize expansive surveillance powers are often ill-informed about how broad they actually are.
Despite the discrepancies, however, the obvious variable here appears to be partisanship. As long as their guy is in charge, Democrats and Republicans seem to feel they have less to fear from government snooping. And even when the parties switch sides, there's still just enough support in the center to provide a majority that favors a powerful, secret surveillance state.