Despite dramatic upticks in overall student achievement in recent years, the achievement gap between white and minority high school students remains wide and steady.
The academic performance of the nation's 12th graders in math and reading has not changed since 2009, according to the National Assessment of Educational Progress, which on Wednesday released The Nation's Report Card on America's high school seniors. But the white-black gap in math and reading scores in 2013 was 30 points, the latter of which grew five points since 1992.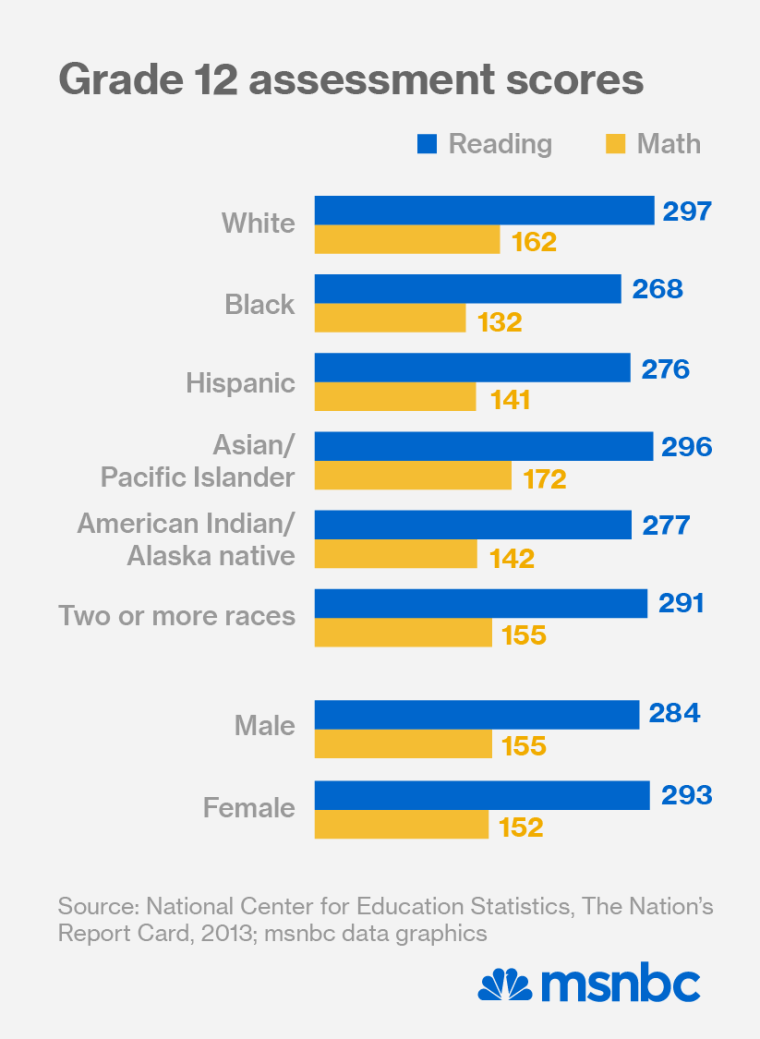 The white-Hispanic gap was 21 points in math and 22 points in reading.
For more than a decade a slew of state and federal policies have attempted to narrow the achievement gap, but the gulf between whites and their black and Hispanic counterparts has remained steady and in some instances, widened. Calls to chip away at the achievement gap have grown louder as recent reports show that many minority students are not college ready when they graduate from high school. But the stagnant achievement growth among high school students in general speaks to a broader population of young people largely unprepared for secondary education, the clearest path to high-paying, high-quality employment.
The NAEP report card, administered by the federal government every four years to high school students and every two years to 4th and 8th graders, is a key barometer the government uses to gauge student academic achievement.
The new data comes as the nation's racial minorities have seen huge gains in high school graduation and college enrollment rates and as high school dropout rates among these groups remain high but show signs of decline. Overall the country's high school graduation rate is at an all-time high of 80%, and academic achievement for elementary and middle school students have climbed steadily.
Since 2006, the national high school graduation rate has averaged an uptick of 1.3% a year, with major gains by black and Hispanic students. Over that same time period the Hispanic graduation rate has grown by 15% to 68%. The black rate has grown by 9% since 2006 to 68% overall. The rate for whites is 85%.
Education Secretary Arne Duncan said that the persistent racial gap in high school achievement is troubling and undermines gains made with younger students.
"We project that our nation's public schools will become majority-minority this fall – making it even more urgent to put renewed attention into the academic rigor and equity of course offerings and into efforts to redesign high schools," Duncan said in a statement. "We must reject educational stagnation in our high schools, and as nation, we must do better for all students, especially for African-American and Latino students."
While black and Hispanic students showed gains in the percentage of students scoring at or above basic and at or above proficient between 2009 and 2013, those gains did nothing to slim the broader achievement gap between them and their white peers.
For black and white students was unchanged compared to data gathered in the 2005 and 2009 national reports.
The report on the nation's 12th graders comes on the heels of another staggering report released by the Department of Education that included civil rights data from each of the nation's 97,000 public schools, representing 49 million students.
The report revealed among other things the pervasive and disparate impact that harsh zero-tolerance school discipline policies have had on black, Hispanic and special education students. It also highlighted deep disparities in the number of high-level courses offered to minority students and their lack of high-quality, experienced teachers. Educators in predominately black and Latino schools were paid less than their counterparts in majority white schools and black students were found to be nearly four times more likely than their white counterparts to attend a school where less than 80% of their school's teachers are certified. Latinos are twice as likely as whites to attend such schools.
"We must reject educational stagnation in our high schools, and as nation, we must do better for all students, especially for African-American and Latino students."'
But the disparities go deeper. Across the country only half of all high schools offer calculus and just about 63% offer physics. Next-level math and science courses like geometry and biology are limited.
Fewer than half of American Indian students attend a school that offers a full complement of math and science classes, compared to 81% of Asian-American students and 71% of white students.
Wednesday's report, included data from about 92,000 students from 13 states and an aggregate of test scores and proficiency rates. In the collective, the report highlights a steady yet abysmal state of achievement for near-college age students.
Just about a quarter of high school seniors were proficient or above in math and 37% in reading.
And among all reported student groups, English language learners was the only group to show a statistical change over the past four years, with lower math scores between 2009 and 2013.
David Driscoll, chairman of the National Assessment Governing Board, which sets policy for NAEP, called the academic stagnation "unacceptable."
"Achievement at this very critical point in a student's life must be improved to ensure success after high school," Driscoll said. "Many factors inside and outside the classroom contribute to student performance, and it is incumbent upon everyone in the education community to find ways to foster academic improvement in the years to come."