Tatyana Fazlalizadeh, 29, is a prolific artist from Oklahoma City. Fazlalizadeh is best known for her life-like oil paintings of people from the late Michael Brown to rapper Lil Kim'. Her project "Stop Telling Women to Smile," which began in New York in 2012, grew out of her endless experiences enduring street harassment. Fazlalizadeh sketches massive black and white portraits of women with a direct captioned message to the offender and pastes them in public spaces.
In September, she took the project to Mexico City after receiving several emails from women who were fed up with harassment and wanted to share their stories around the city. Fazlalizadeh recently chatted with msnbc about the first time she picked up a pen and her dedication to keep women's issues central to her work. This interview has been lightly edited for length and clarity.
Do you remember when you were conscious of gender dynamics or a moment when you realized that you, as a woman, may be disadvantaged or discriminated against?
In college, I was always usually the only black woman in my class. I was surrounded by mostly white men and I was always good, really good. My talent was doubted not just as a woman but as a black woman. Specific to the artist field, when I've been on the receiving end of comments about me being a woman. Growing up, I was being sexualized all the time. My value was put on me in the context of my appearance. I don't' know if that was something I was aware of when I was younger.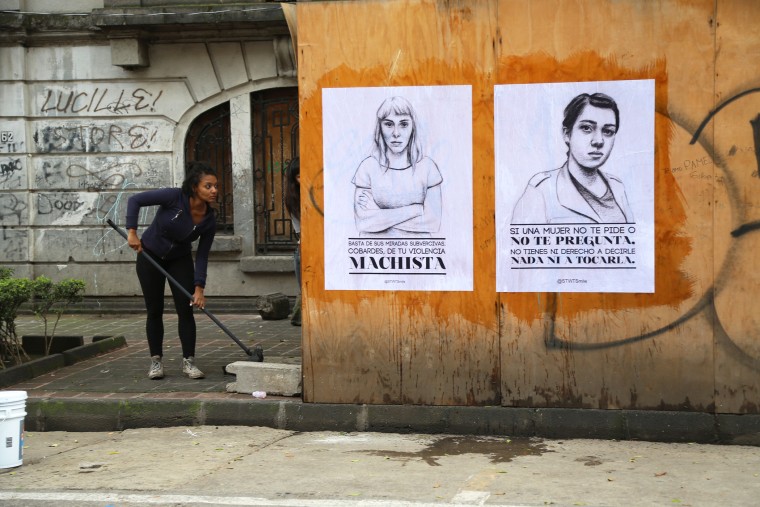 What was that "a-ha" moment when you realized art was your calling?
I was never one of those kids who grew up drawing and making art. I didn't pick up a pen or pencil until I was a junior [in high school] which was strange because my mother was an artist, but she never pushed me to do it. I saw a black and white picture of a young girl and I rendered it very well, it was detailed. I took it to my mother and she took it to my art teacher. She moved me from Art 1 to AP Art and let me do what I wanted to do. [The art teacher told me to] "Explore art, you're really good. Draw what you want."
That's when I decided I want to explore this further and it influenced me to go to art school.
Who are your influences?
I'm not just influenced by painters, I'm influenced by photographers and musicians: folks from Gordon Parks to Kara Walker to Bradford Young to Drake to Nicki Minaj. I'm influenced by my peers. Frida [Kahlo] was a great storyteller in her work.
Do you have a specific memory that comes to mind that motivated you to start the "Stop Telling Women to Smile" campaign?
I don't have a specific thing that happened to me as far as street harassment. I have a specific moment with street art that pushed me to do this project, as I'm harassed on the street almost daily. I was working on a mural in Philadelphia and was already thinking about using the concept of public art and street art and how you can use the environment as a medium, a canvass.
I had come to the work of JR, a huge street artist. He's been doing these huge photographs all around the world and  his work really showed me how large you can use this medium. His work really showed me how large you can use this medium. That's what started me thinking about how my work can translate to wheat paste. [Editor's note: Wheat paste is used as a binder to adhere posters to surfaces like walls.]
Related: Art installation beings Ellis Island back to life
What was different about bringing the installation to Mexico City?
The process was the same. Myself and Fusion Digital, the crew that I went with who created the interactive website for the project. We meet women, talk to them, have a very open and candid discussion about street harassment. And then for me to photograph them and ask them specifically, "What do want to say to people who harass you in the street?" From there, I draw their portraits and create the pieces, and we go out and we wheat paste them.
I don't speak Spanish, so we did have to have a translator, so the language barrier was different. But even with the barrier, the women were so eager to talk to me about their experiences. There was this real sense of urgency to do something about it. Because [sexual harassment] is so intense, and it's every day, and so extreme what they are going through, and I really felt that. They were so open and candid with me even though they didn't know me. It was emotional. We were there for six days, I would've liked to have been there longer. It's important that the work is ongoing.
What is the immediate impact of the campaign and what are you hoping are the long-term impacts?
That's the thing I'm figuring out with these cities. I go there, I do work, and then I leave. I don't want it to feel like there's no real impact. The work is temporary. That's the nature of the work, it can stay up for two days or two months, you would never know. When it's in a city I don't live in, I can't monitor it. So it's important for me that I'm creating a team, a community involved, who can continue to monitor the reaction people are having. I can't be everywhere, but I want the work to be everywhere.
You went to Mexico City because sexual violence in Mexico is high and you received emails from women requesting you to go there. What community is most in need of the installation next?
Based on emails that I've gotten, there's a lot of interest in South Africa, Johannesburg, Cape Town, telling me that the work is really needed there. Brazil also. India. There's folks reaching out to me from all over. I'm figuring out where I can physically go in terms of an international city. I also look at in the lens of my research, where are the highest rates of street harassment in really extreme and really violent ways?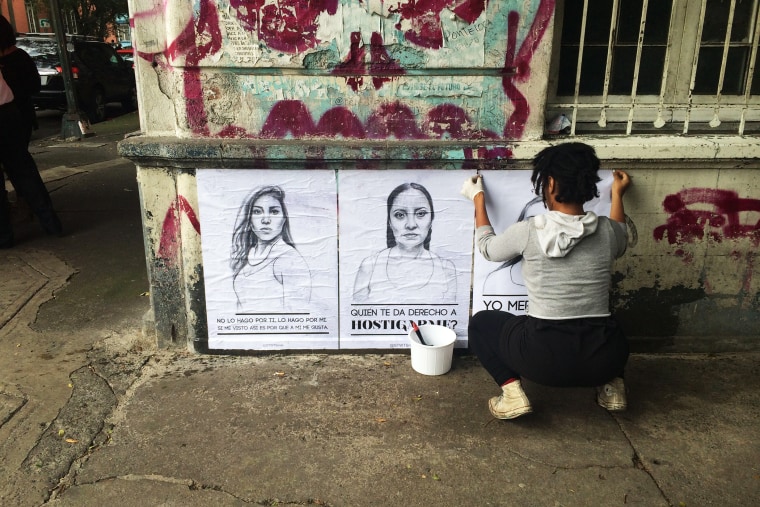 How has your work engaged trans men and gay men? How do you think your work may or may not engage them?
For the queer community, for the trans community, specifically talking about women, this work is just as much for them as it is any type of woman. I'm working on my next piece [which] is a trans woman. We really sat down and had a really long and open conversation about what she goes through. It's huge, it's complicated, and extreme compared to the other stories I've heard. When she walks outside the house, she's not just open to street harassment from men but anyone.
It's a huge and an important narrative in this project that hasn't been included and it should've been included a long time ago. I've included a few queer women in the project so far. Sexuality is a huge factor when it comes to street harassment. For a lot of women, street harassment isn't just sexism: it's experiencing sexism interlaced with homophobia interlaced with transphobia, all happening at the same time. I know gay men experience street harassment. But it's important to keep the focus on how women's bodies are up for consumption. There are still a lot of women who I haven't included yet. Maybe in the future.
Related: 11 reasons to celebrate black history every day
If women could have any superpower what would it be?
A shield to block out all the stuff that comes to her and has nothing to do with who she is as an individual. We are fine the way we are right now. We aren't perfect, we aren't saints; we're human beings, just like men.
How do you think art can communicate differently than, let's say, a politician or a demonstration? What's unique about it in expressing awareness or social woes?
Art has a huge advantage in that it is visual and creates an immediacy: you immediately see it and immediately get it. When I think of my art, specifically street harassment and these other books, blogs, things, around street harassment, art creates a community because anyone can be involved in it. It's simple. My art is an in-your-face, on-the-nose type of art. It's not something you need to think about. It's direct. That has a huge place when you get people wrapped around a movement. Not a lot of words, or talking, it's just right there. Political artists have always been able to do that. It just takes an idea and illustrates it in one simple image that people can see and understand. One image can go everywhere. 
Why don't you smile more? Why shouldn't women smile more?
[Laughs] I smile a lot. Smiling is a very natural thing. I don't think anyone needs to be told to smile. When it comes to street harassment, [telling a woman to smile] has nothing to do with a man making a woman feel better, it has more to do with power and control which is what street harassment is all about. It's about making her look more lady-like for [him]. I don't smile when a man tells me to smile, I don't have time for that. That's why I don't smile. It comes down to men having women look like what they please. [Women] should smile when they feel like it.
Keep up with Tatyana and her project on Twitter: @fazlalizadeh, @STWTSmile.