One of the most iconic costumes in the "Star Wars" canon may be getting put out to pasture.
The revealing "slave girl" bikini worn by Princess Leia in 1983's "Return of the Jedi" is rumored to be getting phased out by LucasFilm and their parent company Disney, according to Entertainment Weekly. The outfit, which has spawned endless teen fantasies and many Comic Con imitators, has been a source of considerable controversy, with some arguing its sexually suggestive nature is "inappropriate" for children and others saying that the costume is a sexist low point in the original trilogy.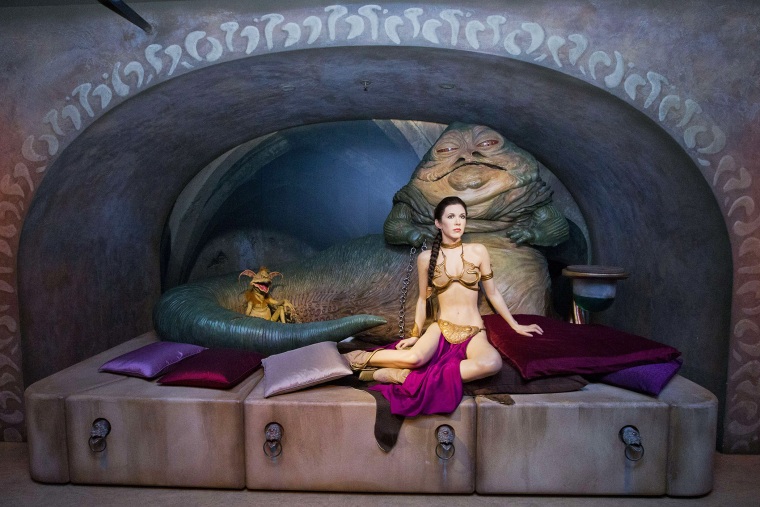 Marvel comic book artist J. Scott Campbell, who has contributed to "Star Wars" titles in the past, wrote on Facebook: "Disney is already well on it's [sic] way to wiping out the 'slave' outfit from any future products period. You will NOT see and [sic] future merchandising featuring the slave outfit ever again. Trust me." 
"I've heard it from two sources. We can't even draw Leia in a sexy pose at Marvel, let alone in that outfit! We also had a 3-D SL statue killed at a major manufacturer because there will no longer be any SL merchandise," he added.
Campbell later tweeted that he didn't make this statement with any "authority" but that this simply appears to be the direction Disney is going. He also lamented being linked to the story. "I'm actually super bummed out for being named as 'a source.' I'm the 'Edward Snowden of Slave Leia' apparently," he tweeted, adding that the corporate stance on the slave girl costume was "common knowledge amongst many of us artists for some time."
MSNBC reached out to LucasFilm and Disney for comment on the fate of the costume, but has not heard back at this time.
RELATED: Theater chain to 'Star Wars' fans: Leave Vader mask at home
Actress Carrie Fisher, who famously wore the bikini, expressed ambivalence about it when "Return of the Jedi" was released over 30 years ago. "In 'Return of the Jedi,' [Princess Leia] gets to be more feminine, more supportive, more affectionate. But let's not forget that these movies are basically boys' fantasies. So the other way they made her more female in this one was to have her take off her clothes," she deadpanned in a 1983 interview with Rolling Stone magazine.
Earlier this year, Fisher told her 23-year-old "The Force Awakens" co-star, "Don't be a slave like I was … You keep fighting against that slave outfit," in a joint conversation in Interview magazine. Meanwhile, the original costume sold for $96,000 at auction last month.