Despite widespread support for Caitlyn Jenner's debut on the cover of Vanity Fair this past week, there has been some ugly invective spewed about her on social media.
Rapper Snoop Dogg has been in hot water with fans for comparing Jenner to a "science project" this week in an Instagram post. The hip-hop star argued that charitable activity in Africa by singer Akon was getting overshadowed by coverage of the transgender reality TV star.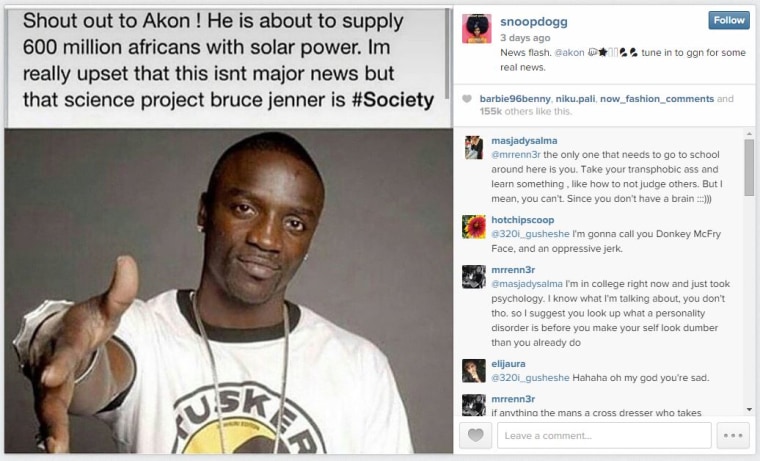 Still, despite intense criticism other celebrities have shared Snoop Dogg's post, including Cleveland Cavaliers star J.R. Smith. Even controversial R&B singer Chris Brown, a friend of Jenner's daughters, re-posted and then deleted the meme, drawing condemnation from Kylie Jenner. "State what you want about the world without bashing others. Leave a positive impact," she tweeted on Friday. Talk show host Wendy Williams also recently made fun of Jenner's cover story. Meanwhile, Tom Cruise's son Connor was indignant about news that Jenner would receive an Arthur Ashe courage award at this year's EPSYs.
"Really?? Winning the AA award for courage?? Ashton is gonna come out and yell PUNK'D," Cruise wrote Wednesday in a post that was later deleted. "Don't get me wrong. Do what you feel like doing and don't let anyone stop you. But everyone is taking this way too seriously…There are so many more important things that should be talked about…And SO MANY MORE IMPORTANT PEOPLE that actually deserve an award."
And then there's singer Drake Bell who tweeted, "Sorry ... still calling you Bruce," in reaction to the Jenner story. 
Bell later apologized for his comments -- which were similar to those made by hip-hop producer Timbaland -- but Snoop Dogg appears to be unaffected by the backlash. He recently posted another insensitive picture Friday on Instagram, mocking the members of the transgender community who aren't as wealthy as Jenner.
These comments failed to acknowledge the disproportionate amount of bullying, violence and discrimination the trans community faces and the positive impact Jenner's revelations may have. "Forty-one percent of trans people have at least made a suicide attempt," wrote a Snoop Dogg fan in response to his tweet. "Seeing Caitlyn do what she's done can be inspiring, especially since mainstream media doesn't cover issues like this in a positive light a majority of the time. That is why she matters."