Polling sites in Pennsylvania are requiring voters to show ID, even though a judge last month blocked voter ID requirements from taking effect this year.
Last month a Pennsylvania judge delayed a law that would have required voter ID in today's election, saying the law did not give voters enough time to procure photo ID. The state had spent$5 million on an advertising campaign promoting the new law. But the judge also ruled that poll workers could ask voters for ID, though voters not voting for the first time could still vote without showing it. (Voters new to the district are required to show ID, as well.) In future elections, photo ID will be required by all voters.
But polling officials and posted information have wrongly told voters that voter ID is mandatory in today's election, voters tell msnbc—something the state itself has confirmed.
Silas Wonderling voted in Rose Township, Pa. this afternoon. He told msnbc he declined to show ID and was able to vote without it. But he said there were posted signs, as pictured here, saying it was required (see photo, at right).
Ron Ruman, a spokesman for the Pennsylvania Secretary of State, told msnbc that seven violations had been reported in which election administrators had wrongly told voters they needed ID. Those occurred in Allentown, Abington, Haverford Township, Springfield, Hatfield, and two in Wayne.
Bucks County's Andrew Gatto went to vote this morning at Quakertown United Methodist Church with his wife. He told msnbc they were pushed by poll workers multiple times for ID, though they were able to vote without showing it.
"They told us they were required by law to give these voter ID flyers out and they wouldn't let us sign the signature book until we took it. They're  doing everything they can to keep people from voting," Gatto said, calling the voter ID law a "policy of aggravation."
The Bucks County Board of Elections director did not immediately respond to a request for comment from msnbc. The flyers given to Gatto at the polls are shown below. Ruman said distributing information on future identification was indeed part of the ruling.
In Crawford County, NBC News confirmed that the sign pictured below was posted at a polling place: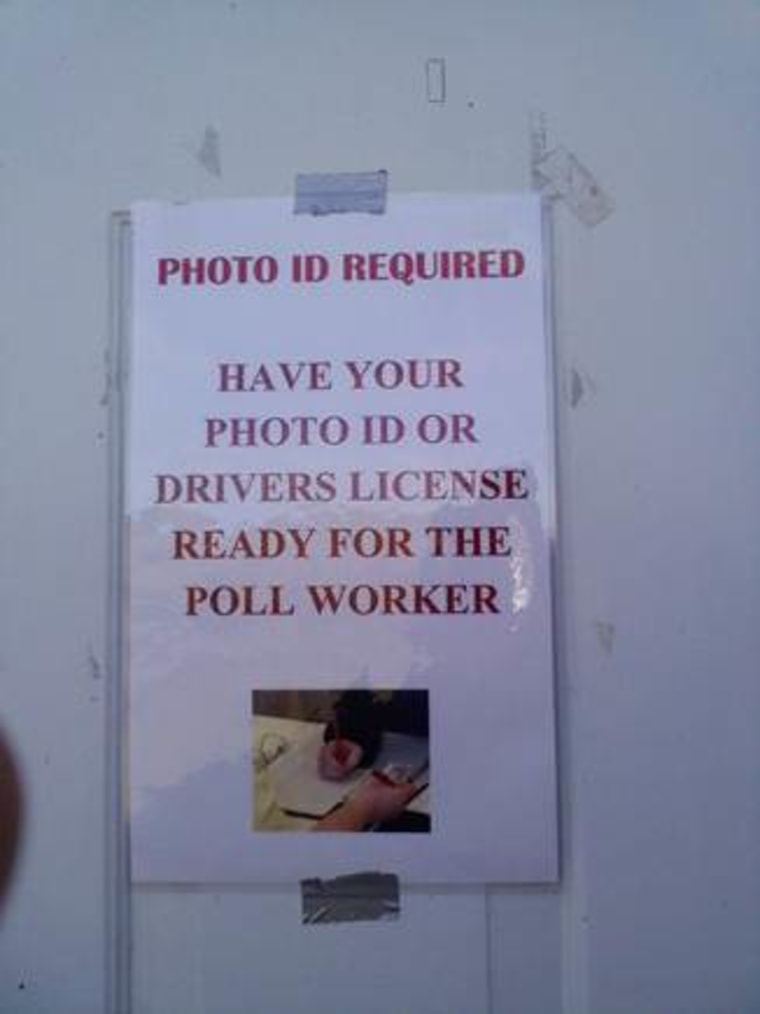 Earlier this morning, a judge in Allegheny County ordered a halt to electioneering outside a polling site in Homestead, Penn. after reports that Republican officials were stopping voters and asking for ID.
The order, from Judge Guido A. DeAngelis, reads: "Individuals outside the polls are prohibited from questioning, obstructing, interrogating or asking about any form of identification and/demanding any form of identification from any prospective voter," Triblive.com reported.
It adds that such actions by partisans "could have a chilling effect" on voting.
Elsewhere in Allegheny County, Julie Stolzer went to vote this morning in her hometown of Upper Sinclair, Pa., near Pittsburgh. She said a "pre-screener" told voters that ID, like a driver's license or a utility bill, was mandatory. When Stolzer told the polling official she did not want to give it, in hopes of testing the confusing ruling, she was told she could not vote without it. As a new voter in the district, Stolzer is indeed required to show identification under law, but said that the pre-screener has not seen her name or registration and was telling all voters the same thing. Stolzer used a driver's license to vote.
In Erie, Pa., Tracey Lucas said ID was requested and given by everyone at her polling station.
Other voters report accurate and clear information posted and communicated by polling officials, particularly in Philadelphia.
Yevgeniy Levich and his family voted in northeast Pennsylvania this morning. While Levich said his younger sister, a first time voter, was asked for identification, Levich and his parents were not. Other voters in Philadelphia also told msnbc that they were not asked for identification.