As he has done nearly every July 4 since taking office, President Obama kicked off the holiday weekend by honoring the contributions of foreign-born members of the military at a naturalization ceremony held at the White House Friday morning. The president took the opportunity to reiterate his commitment to revamping America's immigration policy at a time when the issue is proving particularly divisive — and pressing.
In celebration of Independence Day, the president hosted 15 active-duty service members representing the Army, Navy, Air Force, and Marines, as well as one reservist, one veteran, and seven spouses of service members, as they took their oath of allegiance. The newly naturalized American citizens hail from 15 countries, including Guatemala, China, and Jamaica. Deputy Secretary of Homeland Security Alejandro Mayorkas led the group in reciting the oath.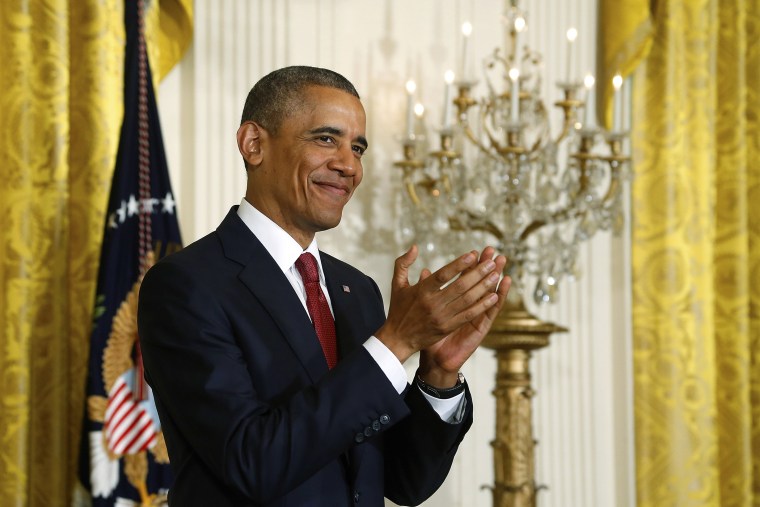 "The basic idea of welcoming immigrants to our shores is central to our way of life," Obama said. "It is in our DNA. We believe our diversity, our differences, makes us stronger by a common set of ideals." He also expressed admiration for the service members' commitment to serve a country to which, at the time, they did not yet fully belong.
The ceremony comes at a particularly tense time for immigration issues in America. In recent months, ten of thousands of undocumented immigrants — including more than 52,000 unaccompanied children — have crossed into the country illegally. Many are fleeing from increased violence and poverty in Central American countries.
"We shouldn't be making it harder for the best and the brightest to come here and create jobs here and grow our economy here," Obama said at the naturalization ceremony. "We should be making it easier."
Today's event comes after Obama's announcement on Monday that he would enact immigration reform without the help of Congress to the extent that his office is able. During that speech, the president referred the humanitarian crisis currently occurring at the nation's borders and laid heavy blame on House Republicans for blocking a vote on immigration reform. 
"Our country and our economy would be stronger today if House Republicans had allowed a simple yes-or-no vote on this bill or, for that matter, any bill," Obama said in Monday's remarks. "They'd be following the will of the majority of the American people who support reform."
Nonetheless, Obama has been clear in recent weeks that immigrant children who arrive in the country illegally will be deported. The president urged parents not to send their children on such a dangerous journey. In a speech on June 15, he emphasized the importance of border security, adding that there are now fewer illegal crossings than at anytime in the past four decades.  
Despite the president's statement, Texas Governor Rick Perry said on Thursday that "the border between the U.S. and Mexico is less secure than it has ever been." He pledged to commit $1.3 million per week to the state's Department of Public Safety for border patrols. Perry also focused on the danger the potentially fatal journey presents to the families and forcefully stated they they should not be allowed to remain in the United States.
On Tuesday, protesters in Murrieta, Calif., blocked three buses of undocumented families from entering an border patrol station. The immigrants were redirected to a Border Patrol facility in San Diego instead. 
In contrast, immigrants' rights groups and activists have focused on the levels of violence and poverty that exist in the immigrants' home countries. They note that sending the families back also puts them in peril and believe that some should be allowed to reunite with family members in the U.S.
"These children are not perpetrators or criminals – they are, in many cases, victims," stated Texas Rep. Sheila Jackson Lee. 
Obama is scheduled to attend Democratic fundraising events in Texas next week, but he has declined to visit the border, despite mounting pressure from Republicans.
Earlier Friday, the president commemorated Independence Day in his weekly address from the White House with a special nod to service members, the Founding Fathers, and U.S. men's soccer team. The president mentioned that there is a petition circulating to make goalie Tim Howard the next Secretary of Defense.
Obama also cited the America's strong democracy, military, and middle class as examples of the nation's continuing success. This past month, the economy added 288,000 jobs, according to a report from the Bureau of Labor Statistics. That figure was stronger than analysts expected. In addition, the unemployment rate fell to 6.3% in June, the lowest it has been since September 2008.