Frank waited with the others for dinner from a van -- meatball soup, oranges, milk, some stale bread. He wore no hat, no jacket and plastic bags for shoes. It was 27 degrees out in New York City.
Irritated about the bread, Frank shuffled east on 40th street toward 9th Ave., away from the second stop on the Coalition for the Homeless' uptown feeding route. Paul Fitzgerald, 26, who was driving the van full of food that night, said he'd known Frank since he started as a volunteer with Coalition for the Homeless four years ago. In that time, Fitzgerald, now a program assistant with the organization, has never been able to convince Frank to wear shoes. But he was happy about one thing -- Frank did take a pair of donated socks with his meal.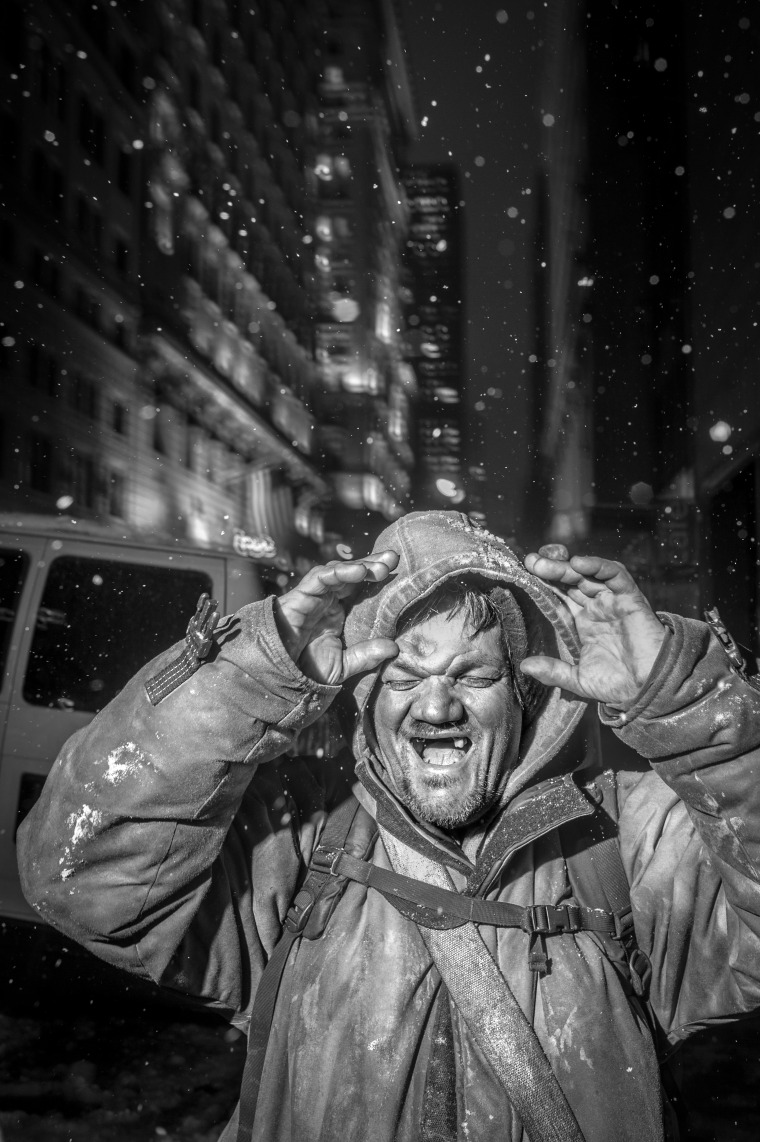 With hours to go before the belly of the the blizzard arrived, the van drove on.
Few New Yorkers were out on the street Monday evening, most already hunkered down in their homes as instructed by city officials. But for thousands without homes, it was just another night. And so Coalition for the Homeless, a privately funded advocacy and direct service organization, went about its business as usual -- beginning with its Grand Central Food Program operated at St. Bartholomew's Church from 5:30 to 7 p.m., and followed by three delivery routes around Manhattan and the Bronx.
"The 7-9 pm route is every day, even in bad weather," Fitzgerald said. "There's never been a night I've driven where there haven't been at least a couple of people out."
Other service providers were doing things differently.
"We're using every square inch of this building," Craig Mayes, CEO of New York City Rescue Mission -- a homeless shelter -- told msnbc. Normally, the shelter determines who stays for the night based on a lottery and the number of beds. Homeless people come in for a meal, shower, and night's sleep, before leaving in the morning. But the blizzard threw all structure out the window, transforming New York City Rescue Mission into a daytime shelter as well, with many people expected to sleep up against the wall.
"This is life-threatening weather, so to tell someone, 'Sorry we did the lottery, you don't have a bed and have to go outside,' -- that's sentencing them to death," Mayes said. "Just being inside the building, even if you can't get a bed, is going to be a better option than going outside. We won't turn anyone away. We'll make space for them."
New York City's homeless population has skyrocketed in the last decade, with approximately 60,000 people living in shelters on any given night, according to Coalition for the Homeless. Although Mayor Bill de Blasio campaigned on a pledge to reverse this trend, the number of people living in shelters has increased by 15% since he took office. Furthermore, the number of unsheltered people living in public spaces grew by 6% since 2013, city data shows.
Monday was supposed to be the annual census of New York City's homeless population, known as the "Hope Count." But due to the blizzard, the event was postponed until Feb. 9. Muzzy Rosenblatt, executive director at Bowery Residents' Committee (BRC), said the decision to suspend the count -- something that was last done in 2005 -- was the right call.
"The point of doing it is to get information for a typical evening. This is not typical," Rosenblatt told msnbc. "There are a lot of people coming in because of the weather who wouldn't normally be coming in … and it's not safe for volunteers [who conduct the Hope Count] to be out in this weather looking for homeless people."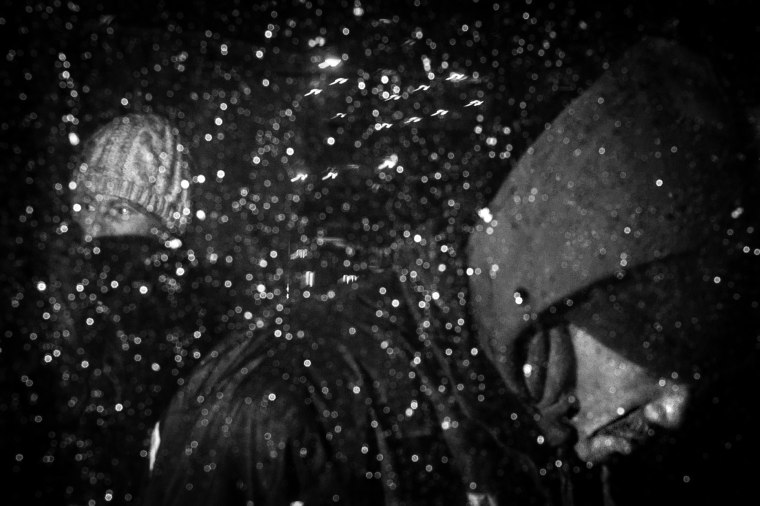 Rosenblatt said he was expecting all of BRC's seven residencies to be full for the next few days. To prepare, staff members were kept on overtime and food deliveries were shipped early to each location.
Additionally, the city's Department of Homeless Services (DHS) enhanced its street outreach operations to transport any unsheltered individuals indoors. DHS said it would double the number of vans on the street from 5 to 11 over the next two nights, with an additional 10 vans working along the subway system.
"A large majority of unsheltered people are living with serious mental illness," said Patrick Markee, deputy executive director for advocacy at Coalition for the Homeless. "A night like this can be a matter of life and death."
When temperatures fall below 32 degrees Fahrenheit, the city activates its "Code Blue" policy, which requires drop-in centers to take in as many clients as possible. Anyone in need can enter a single adult or family shelter without going first to an intake facility and undergoing certain eligibility procedures. New York City is unique in that its homeless men, women, and children have a legal right to shelter under the 1979 lawsuit Callahan v. Carey.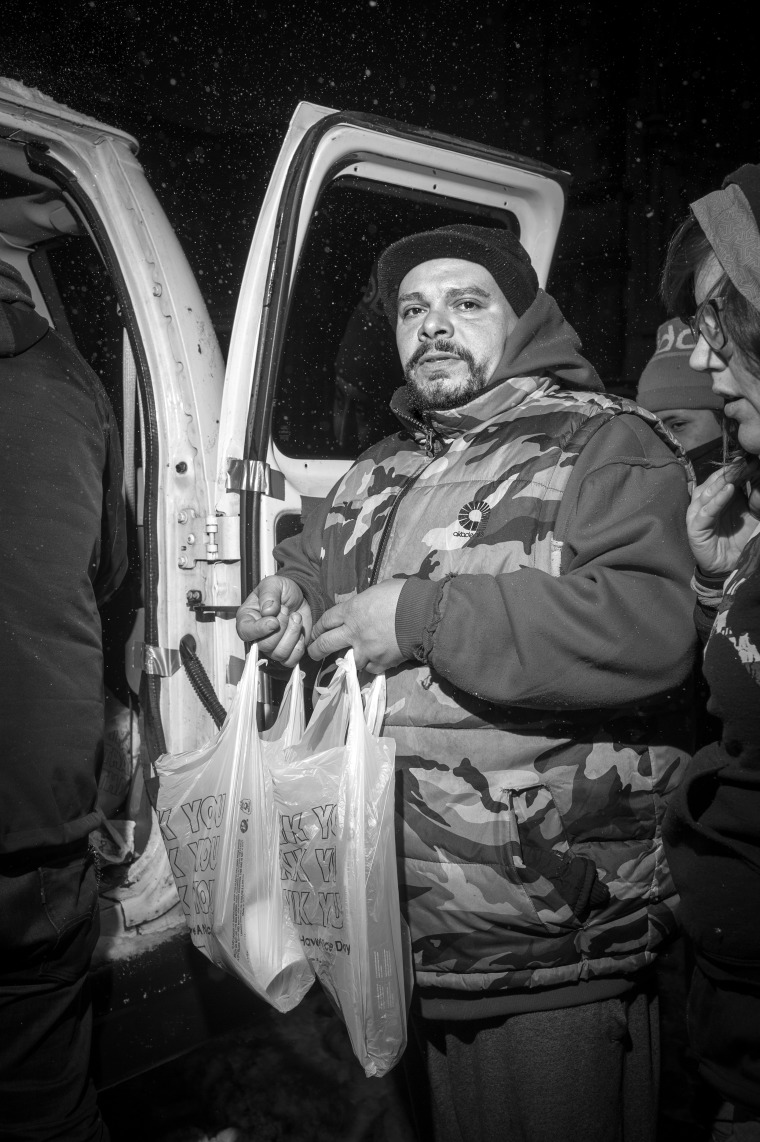 But while many shelters were undoubtedly bursting at the seams Monday night, and the number of people along Coalition for the Homeless' nightly route was nearly cut in half, there were still dozens of homeless people on the streets who either didn't know that they could go to a shelter without jumping through hoops, or flat out didn't want to. 
"I can't deal with shelters," said William Dagnino, a homeless man with a glass eye and few teeth, on 55th and Madison -- the 8th and last stop on the Coalition's uptown route. "Social workers give you medication, they won't leave you alone. They take our rights away."
Another man waiting for food and a blanket said shelters were for people who were "slow." At the stop outside Harlem Hospital, a man named Michael said shelters involved "too much paperwork," and that he preferred to sleep on the train -- something that would become impossible later in the night once the city subway system shut down.
"There's definitely a stigma associated with the shelter," said Fitzgerald. "The most common thing we hear is people saying, 'I stayed in a shelter, had a bad experience, and I'm not going back.' There's a lot of hatred for the system."
So much hatred -- or perhaps, unawareness -- that people are willing to risk their lives. On 87th and West End, the third stop of the night, a 61-year-old woman who did not want to give her name gushed over the food and blankets Fitzgerald handed her.
"I'm so grateful for these," she said, "Amen!"
When asked if she was heading indoors for the night, she pointed to her purple snowsuit and shook her head. "I'm good," she said. "Just staying out."