Six predominately black churches have gone up in flames in the last ten days -- some likely due to arson, others accidents -- in a rash of fires coming at a time when the country is already on edge over the safety and vulnerability of its places of worship.
A fire at the Mount Zion African Methodist Episcopal Church in Greeleyvillle, South Carolina ravaged out of control for two and a half hours Tuesday night, its roof collapsed and inside gutted by the time the Claredon County Fire Department was able to stamp out the flames shortly before midnight. On Wednesday, Gov. Nikki Haley said the fire was the result of at least four lightning strikes and that no arson was suspected.
Still, the Greeleyville fire is only the latest in a string of fires that began in Tennessee last Sunday, when bales of hay sitting outside a predominately black church were set on fire. Two days later, a Georgia church was in flames and ruled as arson, local TV station WMGT reported. The next day a Baptist church in North Carolina was ablaze, believed to have been set by vandals. Another fire in South Carolina is currently under investigation, though a federal law enforcement official told the Associated Press that it did not appear that the fire was intentionally set. Two more incidents in Tennessee and Florida possibly began as electrical fires.
RELATED: Who is burning black churches?
Authorities are still investigating the cause of Tuesday night's fire. According to Gov. Haley, severe weather sparked the blaze. But for a tight-knit southern community where residents refer to one another by first name, local officials said the sight of flames engulfing the church brought flashbacks to nearly 20 earlier, when two members of the Ku Klux Klan burned Mount Zion to the ground.
"To see the church inflamed again, it just gives you an ill feeling," Greeleyville Mayor Jesse Parker said during a press conference Wednesday.
Many city officials were there when President Bill Clinton visited the church site in 1996 to condemn the hatred embodied in the flames that razed a church founded nearly a century earlier.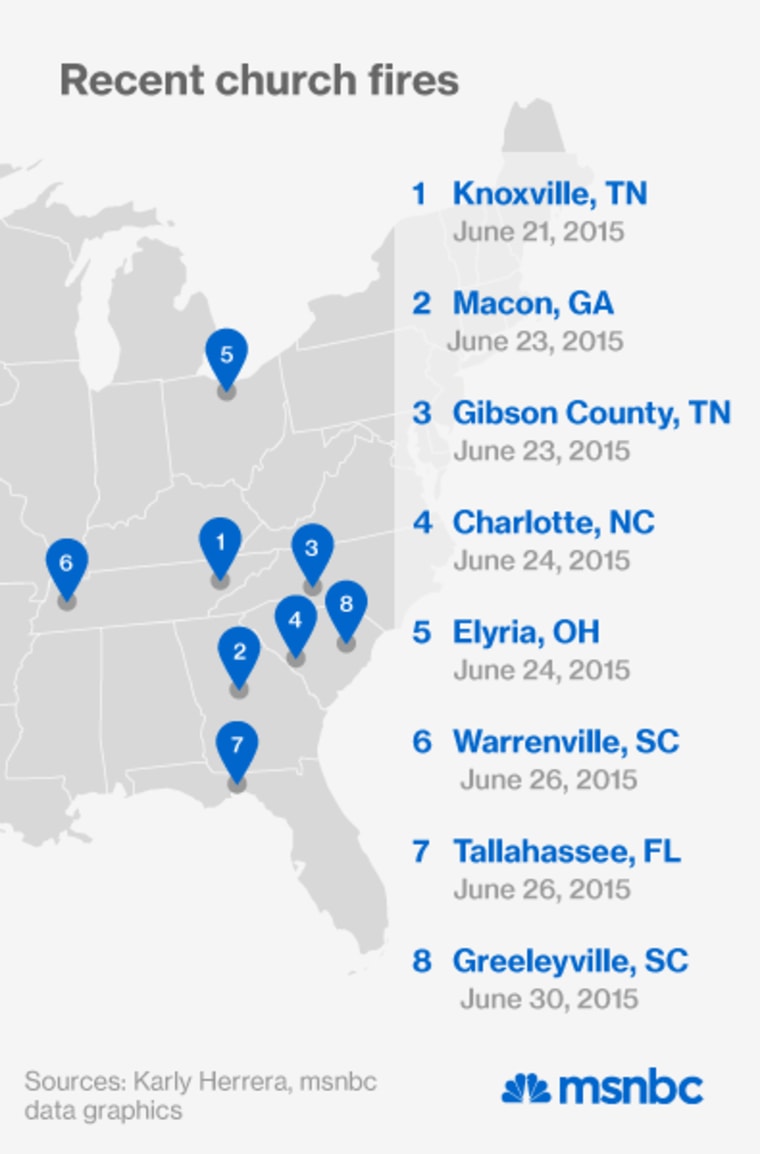 "It was the church that saved the people until the civil rights revolution came along," Clinton said in his speech, adding he felt it was "doubly troubling to people ... to see our native South engulfed in a rash of church burnings over the last year and a half."
The Washington Post reported at the time that there were at least 28 arson attacks on black churches across the south over a 17-month period. The spike in intentional fires became such a problem in the mid-1990's that Clinton created the National Church Action Task Force to squash out fires before they happened. A number of the task force's recommendations relied on church congregants to play an active role in warding off the risk of arson, encouraging them to drive by the property during off-hours and raise a watchful eye for suspicious activity. 
As with the string of attacks in the mid-1990's, investigators have found no evidence that the fires are a national conspiracy to see places of worship for the black community burn in flames. But even today, intentional fires on religious ground are not all that uncommon. Arson accounted for 16% of all fires set at places of worship between 2004 and 2008, tying with heating equipment as the second leading cause of structure fires on religious property, according to a 2013 report by the National Fire Protection Association.
The near daily fires at places of worship for blacks strikes a particularly painful chord for many in light of the massacre earlier this month at the "Mother Emmanuel" church in Charleston, South Carolina. Dylann Storm Roof, a 21-year-old man who espoused white supremacist rhetoric, brutally gunned down nine people, including the church's beloved pastor.
RELATED: Ku Klux Klan to rally in July over Confederate flag
"The fact that this took place in a black church obviously also raises questions about a dark part of our history," President Obama said in Charleston last week, delivering a heart-felt eulogy for Rev. Clementa Pinckney. "This is not the first time that black churches have been attacked."
Because of this dark history, church fires are often associated with the violent hatred and explicit racism that may have motivated Roof to open fire and desecrate a place so deeply rooted within the African-American community. In the last several weeks the massacre in Charleston has been compared to the 16th Street Baptist Church bombing in 1963, taking the lives of four young black girls at the height of the Civil Rights Movement. Even if the recent rash of fires are found to not be racially charged, the frequency of fires has only amplified the association to America's violent past, a symbolic reminder of the terror those flames can stoke.
"The church is pretty much the cornerstone of all the different communities over here," Mayor Parker told NBC News. "Everything revolves around the church. This is a Christian community, So to sit and watch this happening is really devastating."