Five people were rescued from a campground as tornadoes swept across the Midwest overnight, with almost 50 million more Americans under the threat of further damaging thunderstorms on Tuesday.
Winds of 122mph were recorded in South Dakota and baseball-sized hail fell in Indiana as the severe storms ripped up trees and power lines.
In total, 13 tornadoes were reported across four states, the Weather Channel reported. In Illinois, where at least one twister was confirmed by the National Weather Service, more than 15,000 customers were without power.
Related: Calif. wildfires threaten hundreds of homes
The storm system was moving swiftly towards the Northeast Tuesday, forecasters said, with the risk of destructive wind gusts and even tornadoes stretching all the way from New England back to the Ohio Valley.
"Lightning strikes are also an issue for people heading out Tuesday," Weather Channel meteorologist Kevin Roth said.
The only good news? The storms lowered the temperatures that have baked much of the nation in a record-setting heatwave.
On Monday, the cold front responsible for the outbreak caused a derecho — a line of especially powerful winds that caused damage for at least 240 miles.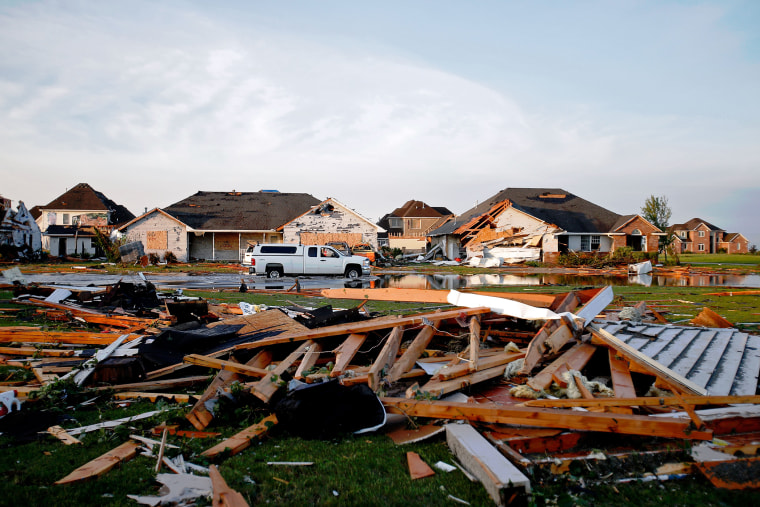 "Unfortunately we've had a few storms already this year, but we don't usually have storms that devastate such a large area," Lee County Sheriff John Simonton told NBC News.
He said five people had to be rescued at a camping resort in Woodhaven Lakes, near Sublette, Illinois, after becoming trapped in homes destroyed by a tornado.
Most suffered bumps, bruises and scratches but one person's injuries were serious enough to warrant being transferred to a hospital, Simonton said.
More than 15 fire departments and technical rescue teams, as well as Illinois State Police, were involved in the rescue and recovery operation. "We are making sure every resident has been checked on," Simonton added.
Particularly hard-hit was Coal City, a community of approximately 5,000 residents about 60 miles southwest of Chicago, where the National Weather Service confirmed a twister touched down.
Sgt. Thomas Logan of the Coal City Police Department, said there were no initial reports of fatalities but there was widespread damage and flooding from heavy rains.
The storm took a "devastating path unfortunately it went through the heart of our village," he said.
Recovery efforts were hampered by fallen trees.
In Millington, Michigan, at least two homes were destroyed when a twister reportedly touched down.
"I don't think if we weren't in the basement we wouldn't have made it," resident Jessica Clark told WEYI.
This story originally appeared on NBCNews.com