Just as Congress moves forward on historic, bipartisan action to whittle down the mandatory minimum drug sentences that have led to an explosion in the U.S. prison population, the Senate is looking to do just the opposite -- this time for undocumented immigrants.
The stiff penalties are tucked inside a bill up for a procedural vote Tuesday that targets so-called sanctuary cities. The essence of the legislation strips funding and grants to local law enforcement jurisdictions that no longer team up with the feds to deport undocumented immigrants in their communities.
But the bill, introduced by Louisiana Republican Sen. David Vitter, takes the punitive measures a step further, criminalizing illegal immigration unlike anything seen before.
Advocacy groups estimate, conservatively, that the sentencing structure would cost $3.7 billion over the next decade for people with prior aggravated felony convictions alone.'
A measure inside the bill would impose mandatory 5-year prison sentences for two types of undocumented immigrants: those with aggravated felony convictions, and those who have three strikes for attempting to enter the U.S. illegally. The structure more than doubles the average sentence for aggravated felons seen in 2013. And rather than put foreign nationals with criminal records on the fast-track to deportation, it would add an extra layer of punishment through prison time -- all with the U.S. footing the bill.
"It's quite fair to say that the mandatory minimums are extremely illogical and a waste of taxpayer dollars," said Ruthie Epstein, legislative policy analyst at the ACLU. "It is really just an extra, self-indulgent, punitive add-on to the whole scheme of prosecuting people for unauthorized entries."
Advocacy groups from the ACLU to the Center for American Progress say the judicial system is not set up to absorb a new class of criminalized people. They estimate, conservatively, that the sentencing structure would cost $3.7 billion over the next decade for people with prior aggravated felony convictions alone, and would require building 12 new federal prisons to hold them.
It's tough to present a complete picture of the bill's impact because the U.S. doesn't readily track the people who have been caught multiple times trying to enter the U.S. illegally. The Department of Homeland Security's Office of the Inspector General issued a report in May concluding that Border Patrol could not produce the data to prove that prison time is an effective tool against illegal immigration.
The drive for tougher enforcement comes after a tragic shooting in San Francisco this summer became a flashpoint in the immigration debate. Thirty-two-year-old Kate Steinle was shot and killed while walking with her family along a crowded, tourist-packed pier in July. Police later arrested and charged an undocumented immigrant immigrant in the shooting, Francisco Sanchez, who had previously been deported five times and convicted of seven felonies.
Lawmakers were outraged to learn that Sanchez had been in police custody just months before the fatal shooting, but was released before federal immigration officials were able to deport him. Within days of the shooting, and with Steinle's family still in grief, members of Congress drafted a solution in her name to send undocumented immigrants like her assailant behind bars.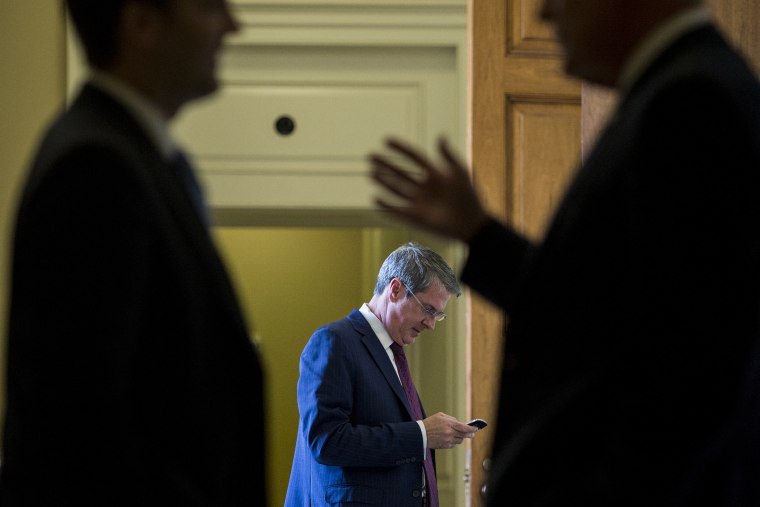 FOX News host Bill O'Reilly has become an unreserved advocate for what is known as Kate's Law. He frequently makes Steinle a centerpiece of his daily cable show, flashing her picture on the screen to show the young beauty with long blonde hair and a radiant smile. He upped the ante earlier this month by urging his 2.5 million nightly viewers to call the offices of Senate Majority Leader Mitch McConnell and senior Democratic Sen. Dianne Feinstein to bring Kate's Law up for a vote as a stand-alone bill rather than tie the measure to legislation aimed at defunding sanctuary cities.
"Any politician opposing strict penalties for foreign felons who defy deportation is unfit to hold office," O'Reilly said on his show earlier this month.
Donald Trump made the San Francisco shooting a major campaign issue in the Republican race. Texas Sen. Ted Cruz jumped onboard, introducing a carbon copy of Kate's Law that had already gained significant support. Even Florida Sen. Marco Rubio, one of the chief architects of the comprehensive immigration reform bills that passed the Senate in 2013, has signed on as a co-sponsor to Vitter's legislation.
Still, the Senate's anti-sanctuary city bill -- and the Kate's Law provision inside it -- faces major opposition, and not just from Democrats, some of whom have crafted their own bill to undermine the more than 300 cities with laws welcoming toward immigrants.
Top Republicans, too, have said publicly that they could oppose the plan. Sens. Mike Lee of Utah and Jeff Flake of Arizona have expressed unease with imposing new mandatory minimum sentences with one hand while the Senate works to erase them with another.
"I won't vote for it unless there is some adjustment on the mandatory minimums," Flake told Politico earlier this month.