PLAINFIELD, Iowa – "I'm proud to have grown up as a Midwesterner spending my time both in Iowa and Wisconsin," Wisconsin Governor Scott Walker told the crowd at a Davenport baseball stadium in front of a giant Iowa flag, the first stop of an 11-county Iowa tour.
Thus went Walker's jaunt through Iowa, the first leg of a plan to visit all 99 counties before the state's first-in-the-nation caucus. More than any other top tier candidate, Walker's presidential ambitions rely on a strong performance in Iowa, where he's banking on a combination of Hawkeye roots and hard line conservatism to propel him to victory.
RELATED: Scott Walker: 'I don't know' if being gay is a choice
At appearance after appearance, Walker produced a grainy old photo of himself and his brother David posing triumphantly with an Iowa flag. He recalled how the two went door-to-door collecting change to purchase it while living in Plainfield, Iowa, after they decided their local town hall needed one. Walker was born in Colorado but lived in Iowa until age 10, when his family moved to Wisconsin.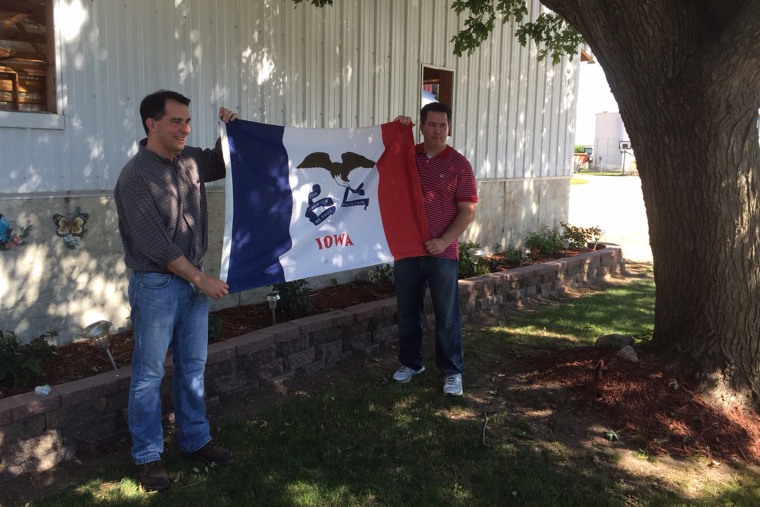 In Cedar Falls, Walker recounted how Iowa Republican Sen. Chuck Grassley had once been his state representative, but was really "just the farmer down the way." In Ames, Walker mentioned that he had included Iowa State in his Final Four bracket. It all culminated in a picture perfect visit to Plainfield, where Walker wandered past cornfields and cow pens while waving hello to elementary school teachers and remembering Cub Scout meetings down the street.
"We're going to be back often," Walker told a crowd in Plainfield. "I firmly believe that next Republican president that's going to be elected is going to come through the Midwest." 
The governor's pitch was clear as he toured the state: I'm a Midwesterner like you, I'm as conservative as the tea party 2016 contenders, I'm as electable as the mainstream ones, and I've left a paper trail of legislation advancing every major conservative fight of the Obama era. And did I mention I'm a Midwesterner? 
These arguments were meant to complement each other. Walker made the case that his quiet demeanor, frequently mocked as boring, belied a willingness to ram through conservative priorities like declawing unions, restricting abortion, expanding access to guns, and making it harder to vote.
"We don't make a big stink about it, we don't relish having to make tough choices, we just do 'em and then we get back to work," Walker told msnbc when asked to define the Midwestern approach. "I hope people have seen that throughout all that, throughout all the abuse and attacks and grief and everything else that was directed at me and my family that supported me, we didn't respond in kind. We didn't lash out, we stayed calm."
Walker offered a demonstration of his philosophy in action moments later as he walked over to talk with Jose Flores, an undocumented immigrant. Flores drove to Plainfield from Waukesha, Wisconsin, with his young son and daughter and a small group of activists to ask Walker, their governor, why he opposed President Obama's efforts to protect them from deportation via executive action.
It was a tense scene. Tears ran down 13-year-old Leslie Flores' face as she told Walker to explain why their family should be broken up. Walker took his time, repeating the same talking points he delivered to conservative audiences in Iowa, never getting flustered even in the face of two young American citizens weeping over the prospect of losing their parents. 
"In America nobody's above the law," Walker told the young girl. "The president can't just make the law."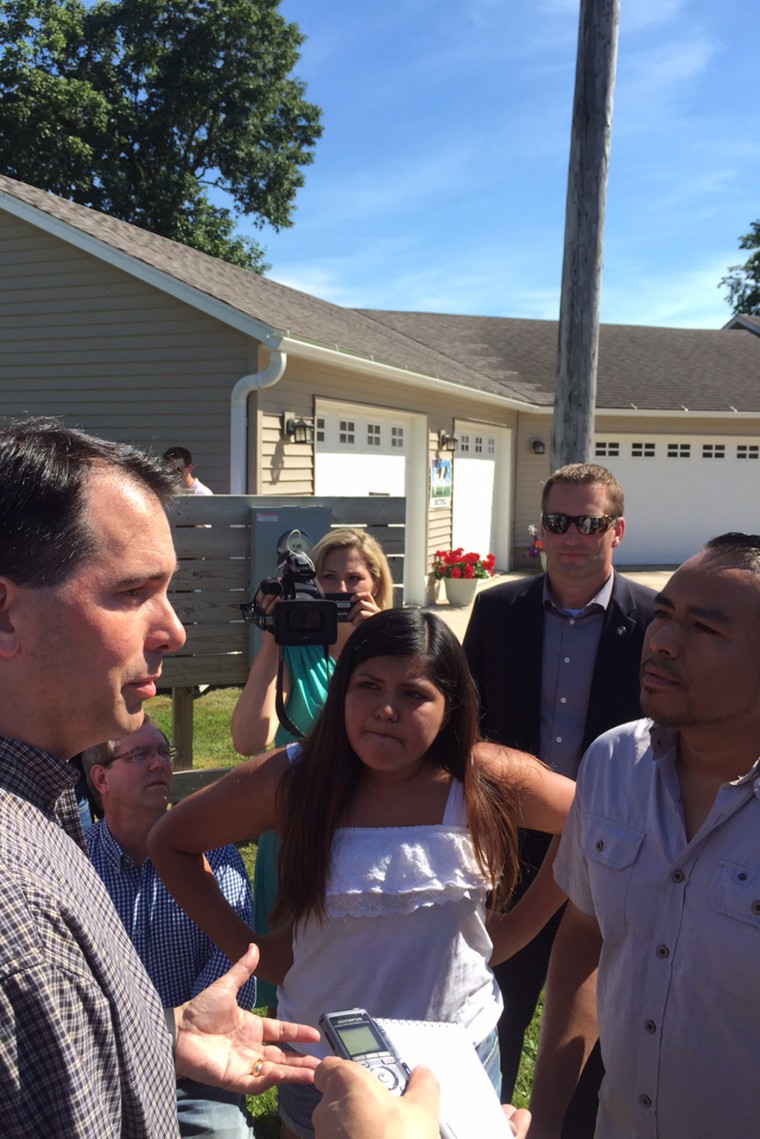 Charlie Dietz, 74, an old family friend who hosted the event at his farm (and confirmed Walker's ubiquitous flag anecdote), said the governor's personality reflected his background.
"He reminds me of his dad," Dietz said. "It's that easygoing style. He doesn't get riled up if something doesn't go right."
Walker's Iowa strategy is strong enough on paper that when he appeared at the conservative Family Leadership Summit in Ames, host Frank Luntz forthrightly addressed him as "the frontrunner" onstage. But that status is mostly speculative: There are 17 credible Republican candidates in the race, and the audience members at Walker's events who talked to msnbc said they were still weighing their options.
Polls show Walker leading the field, but with an average of just 18% of the vote and plenty of competition from conservative rabble rousers like Mike Huckabee, who won the state in 2008; Texas Sen. Ted Cruz; tea party hero Ben Carson; and – most recently -- Donald Trump.
Walker has been careful to keep his right flank protected from insurgent rivals and quick to seize on new opportunities to press more mainstream rivals like Jeb Bush and Marco Rubio from the right.
The strategy was on full display in Iowa this week.
After keeping quiet on Trump's weeks-long crusade against Mexican "rapists" coming across the border, a position praised by a number of Iowa voters at his events, Walker "unequivocally" denounced the billionaire for saying that John McCain was "not a war hero." Unlike immigrants, there's no wing of the party opposed to POWs.
In his own appearance at the Family Leader conference where Trump made the controversial comments, Walker told the audience how he had changed his mind on a path to citizenship for undocumented immigrants, which he now considered an unacceptable "amnesty."
Walker's conversion may not win him Latino voters, but it sure helps with Iowans like Norma Doenecke, a volunteer at Walker's Urbandale rally. Doenecke, who emigrated from Britain in the early 1960s, said she decided to support Walker after personally grilling him on illegal immigration when he visited the state earlier this year.
"I think these people are just walking across the border with a view to taking our welfare," she said.
On foreign policy, an area where Walker lacks experience, he nonetheless dinged Bush for having the temerity to suggest that as president he would first consult with his cabinet and America's allies rather than undo Obama's Iran deal on "day one."
"I believe that a president shouldn't wait to act until they've put a cabinet together," Walker told reporters. "I believe they should be prepared to act on the very first day they take office. It's very possible, God forbid if this would happen, it's very possible a president to the United States... could be called to take aggressive actions including military actions on the very first day of office and I don't want a president who's not prepared to act on day one." 
RELATED: Scott Walker signs 20-week abortion ban
The same day, he pressed lawmakers to overturn the Supreme Court's decision last month legalizing same sex marriage nationally – a position Bush and Rubio do not endorse and that some Republicans fear will alienate young voters.
"I think we should support a Constitutional amendment to allow states to define marriage as being whatever they see fit," Walker said.
Positions like these make party leaders uneasy for the general election. Walker's argument is that his three successful gubernatorial campaigns in Wisconsin show he can win in blue states without asking the base to moderate their demands. None of these wins were in presidential years and two took place in massive GOP waves, but many Iowa Republicans told msnbc the argument resonated with them.
"Electability is important," said Wayne Von Heuvelen, a financial advisor who told msnbc he was close to backing Walker. "He survived a recall in a Democratic state, which is highly impressive."
Whatever trouble it may create down the line, it's primary season now and Walker sees little upside in messing with the formula that's gotten him this far: Dull Midwestern demeanor, deeply conservative policies. 
"If we can make those reforms work in a blue state like Wisconsin, there's no doubt we can do it anywhere in America," he said in Davenport.