Out of the 209 people who were arrested in Baltimore during the immediate hours after violence erupted in the city on Monday afternoon, 101 were released this evening without charges as they reached the 48-hour constitutional limit for being detained.
Baltimore Police Capt. Eric Kowalczyk added during a late afternoon briefing that the police department would release to the state attorney's office on Friday all of its findings in the death of Freddie Gray, the 25-year-old whose unexplained fatal injuries in police custody sparked the protests. 
"Yesterday's violence felt like a shockwave across the city."'
With public schools reopened on Wednesday after an overnight curfew brought a measure of calm to the city, officers and National Guard troops were stationed in places where students were likely to gather after school. The city had seen days of unrest and a night of violence, but protests on Wednesday appeared mostly peaceful.
Life, however, remains far from normal in Baltimore. In the first-ever Major League Baseball game that was closed to the public, the Orioles won against the Chicago White Sox, 8-2, on Wednesday. Originally scheduled games on Monday and Tuesday had been cancelled and postponed.
RELATED: Ongoing updates from Baltimore
"It was a tough decision," Orioles Vice President Greg Bader told msnbc's Thomas Roberts in an interview Wednesday ahead of the unprecedented game. "Obviously we always would want our fans to be here for games, it's part of Baltimore, it's part of the downtown experience." But city resources would be better used elsewhere, Bader said, arguing that closing the game to the public was "a necessity" for the safety and security of fans.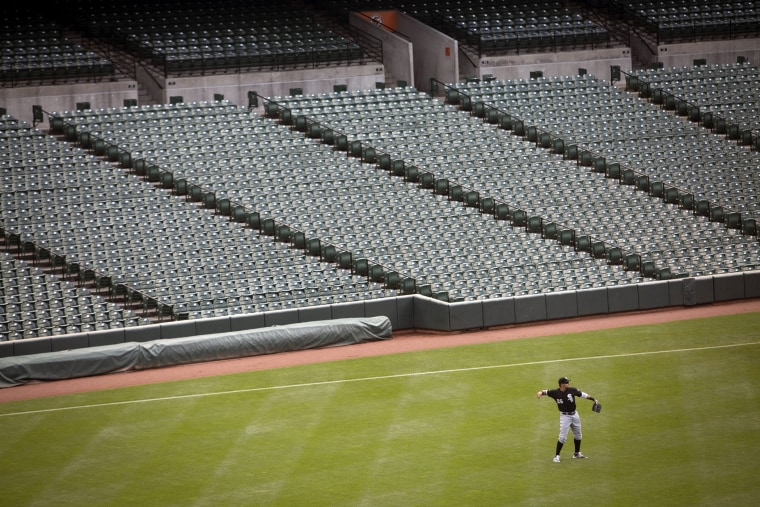 Thirty-five arrests were made as of Wednesday afternoon, with 10 arrests occurring Tuesday night as protesters squared off with the thousands of police officers and National Guard troops deployed to clear the streets after the city's 10 p.m.-to-5 a.m. curfew fell — a marked contrast from the 200 arrests made amid widespread looting and vandalism Monday night.
"Yesterday's violence felt like a shockwave across the city," Baltimore City Public Schools CEO Gregory Thorton said in a statement Wednesday announcing the decision to reopen the schools, which were closed Tuesday in the wake of Monday's turmoil. "But I am writing to tell you that it will not overwhelm us." The "small minority" of students who were involved in rioting would be held accountable, he said.
But while students returned to their regular daily schedules, the unrest in Baltimore remains close to the surface. A citywide curfew is set to continue for at least the rest of the week, and protesters are still demanding answers in the death of Gray, a 25-year-old black man who sustained a fatal spinal injury while in police custody. He died on April 19, seven days after his arrest. A number of demonstrators gathered Wednesday afternoon in front of the state attorney's office, where a group of pastors held a rally and prayer vigil and said they would not stop protesting until someone is indicted. 
RELATED: Protesters disperse after Baltimore officers enforce curfew
For several days, protests had remained peaceful after Gray's death. But tensions boiled over Saturday and then exploded Monday after Gray's funeral, as a number of rioters took to the streets in a night filled with looting, destruction of property, and fires set to 144 vehicles and 15 buildings. In addition to the 200 arrests, 20 officers were injured in the clashes.
Tuesday night was calm by comparison, as a phalanx of National Guard and law enforcement officers worked to clear the streets of crowds that remained after the city's 10 p.m. curfew came and went. The flash point of the night came shortly after the curfew, when about 100 people remained at the major intersection of North Avenue and Pennsylvania Avenue. Some threw bottles and rocks at officers outfitted in riot gear. Police deployed smoke bombs and pepper balls against those who remained, and a group described as "criminals" started a fire outside a library, according to the Baltimore police Twitter feed. By 11 p.m., however, most protesters had dispersed.
"Tonight, I think the biggest thing is that the citizens are safe, the city is stable," Baltimore Police Commissioner Anthony Batts said in a press briefing shortly before midnight, adding that the curfew appeared to have worked.
The situation in Baltimore is the first major test for newly-confirmed Attorney General Loretta Lynch, who replaced Eric Holder this week as the nation's top Justice Department official. "These senseless acts of violence are not only a grave danger to the community ... they are also counterproductive to the ultimate goal here, which is developing a respectful conversation within the Baltimore community and across the nation about the way our law enforcement officers interact with the residents that we are charged to serve and to protect," Lynch said on Wednesday. She added that top officials from the DOJ's civil rights and policing divisions met with an injured officer, as well as faith and community leaders in Baltimore. The department is also pursuing an ongoing civil rights investigation into the death of Gray.
Protests are expected to spread to New York City on Wednesday, where a group called Shut It Down plans to stage a solidarity protest in Union Square, according to the city's local Fox affiliate. Demonstrations against police brutality have become a regular occurrence in cities across the country since last August, when unarmed black teen Michael Brown was shot and killed by a police officer in Ferguson, Missouri. Since then, dozens of similar cases of alleged officer-involved killings of black men have contributed to a growing, nationwide push for law enforcement reforms.
Earlier on Tuesday, President Barack Obama condemned Monday's violence in a press conference at the White House, saying there was "no excuse" for the rioting in Baltimore. At the same time, he pointed to underlying issues that sparked the unrest, such as high unemployment and lack of opportunity, that he said is nothing new for many communities of color. "If we really want to solve the problem, we could. It would just require everybody saying this is important and significant and we don't just pay attention to these communities when a CVS burns, we don't just pay attention when a young man gets shot or has his spine snapped," he added.
Hillary Clinton also weighed in Wednesday on Gray's death, saying in her first speech as a 2016 presidential candidate that there is something profoundly wrong when one out of every three young black men in Baltimore cannot find a job, and when black men across the country are so much more likely to be incarcerated for minor offenses than whites. Tying the past days' protests to the problem of mass incarceration, Clinton said the criminal justice system is stacked against the least powerful and called for an end to mandatory minimum sentences -- a legacy of her husband, former President Bill Clinton's 1994 crime bill.  
RELATED: What is the real Baltimore?
"It shocked a lot of people," Maryland Republican Gov. Larry Hogan said of Monday's violence at a news conference early Tuesday. "What started out as peaceful protests – and 95% of the people were peaceful and simply expressing their frustrations – shifted yesterday afternoon and evening to roving gangs of thugs whose only intent was to bring violence and destruction to the city."
Baltimore Mayor Stephanie Rawlings-Blake, who established the curfew Monday evening after two days of allowing officers to step back and give protesters space, defended her decisions Tuesday morning. "I understand that from the outside, you can't see everything that I see. You don't know all the different moving pieces," she said, adding that "it's a very delicate balancing act when we have to make sure that we're managing, but not increasing or escalating the problem."
The curfew will be in effect for at least the next week. It adds to an existing juvenile curfew put in place in 2014, which requires children younger than 14 be indoors by 9 p.m. on school nights. Adolescents who are between the ages of 14 and 17 can remain outside until 10 p.m. on school nights and 11 p.m. on weekends or when school is not in session. Residents going to and from work, media, and medical emergencies are exempt from the restrictions.
Rawlings-Blake commended the efforts of residents on Tuesday to come out and clean up the city. Since public schools were closed on Tuesday, many children also joined in the efforts. "Today we saw a lot more of what Baltimore is about," the mayor said. "I think this can be our defining moment and not our darkest days, as we saw yesterday."