Rafael Lopez and his family lived for years in a tin house in Las Vegas. The walls and frame weren't out of the ordinary — in almost every sense, it was like any other American home. But the windows stood out, blocked by long shiny strips of aluminum foil lining the sills so no one could look out or in.
Rafael was in middle school at the time, and remembers his family being gripped by a crippling sense of fear and paranoia. His parents refused to open the door to anyone who knocked or stopped by. The house cooked in the hot desert sun as the family hid behind the windows of tin foil.
The Lopez family wasn't always so scared. Rafael's dad once had a decent job working construction, and the family had saved up enough to own their first home. But Rafael can pinpoint the exact date that everything changed: Jan. 18, 2005.
RELATED: Immigration action 2.0: Lessons learned from DACA
Family members had been promised a chance to "fix" their status as undocumented immigrants and become full U.S. citizens. A man who called himself an immigration lawyer stopped by the senior Lopez's work one day, telling him that because he had lived in the U.S. for more than a decade, he qualified for a special program. But that program didn't exist. Instead what he got were final orders of deportation sent in the mail.
Scammed by what turned out to be a fake lawyer and out thousands of dollars, the Lopez family was given an impossible choice: return to Mexico as ordered and be forced to leave behind Rafael's American-born, 10-year-old sister, or remain together as a family but out on the lam.
"Immigration had already come for my uncle. And when my parents found out, they panicked," Rafael recalled. "We were so scared. We thought they were going to come for us, too."
For years the fraudulent attorney — known in the community as a "notario" — strung the Lopez family along with promises of a citizenship fix. "He put in an application for political asylum, but we never would have qualified for that," Rafael said. The family's applications for asylum were, in fact, rejected, putting them on the fast track toward deportation.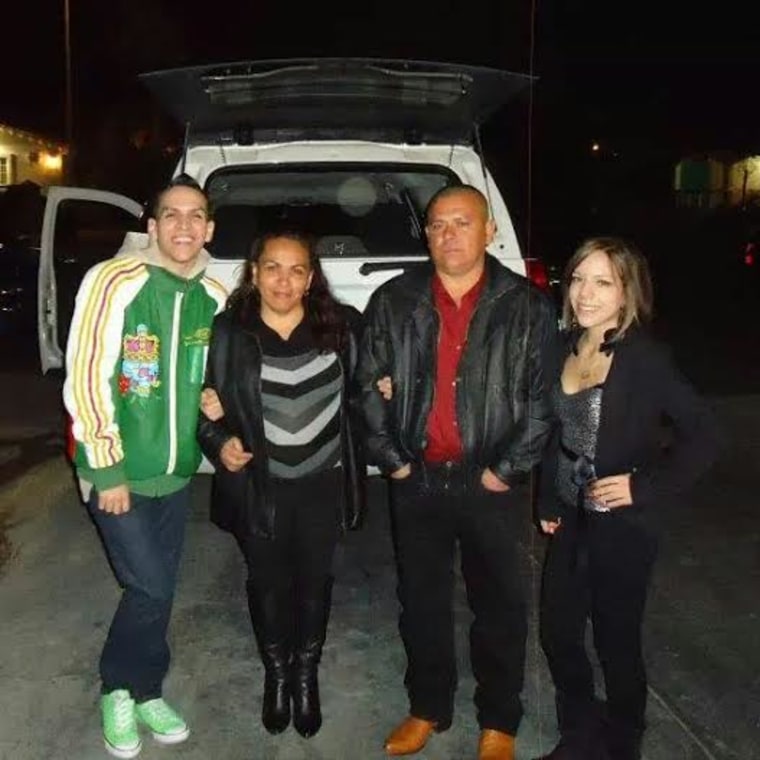 "He scammed us out of thousands of dollars while we went through all of these steps, interviews and immigration court," Lopez added.
The Lopez family is hardly alone in suffering at the hands of fraudulent or incompetent immigration lawyers. For some undocumented immigrants, falling victim to these so-called "notario" scams means losing hundreds, even thousands of dollars. But for others, like the Lopez family, it leads to an order to leave the only home they've ever known.
With the implementation of President Obama's immigration executive action on the horizon, advocacy groups are rushing to issue calls of warning to the immigrant community where "notarios" are likely laying in wait. Families have been taken advantage of before, they say. And with millions potentially eligible to stay in the country legally but unsure of the steps needed to do so, it's bound to happen again.
Lost in translation
In Latin American countries, the meaning of "notario público" is fairly broad, applying to people certified by the government to offer legal advice. Translated literally, it means "public notary" in English, a field typically limited to people licensed to witness the signings of official documents. 
"It's rampant. There's such an opportunity for them to make money."'
The sizable translation gap creates a breeding ground for scammers who prey on undocumented immigrants. Individuals who are not licensed to practice law advertise themselves in immigrant communities as "notarios," often tricking Latinos into believing they are qualified to provide legal advice and services. The scammers reel in new customers with empty promises that they can help full families become legal citizens. They keep their customers on the hook for years, siphoning an entire family's life-savings until there's nothing left.
"It's rampant. There's such an opportunity for them to make money," said Kate Woomer-Deters, an attorney with the Immigrant Rights Project at the North Carolina Justice Center.
The exact scope of how prevalent notarios are remains unknown. Nearly 3,000 cases of scams were reported to the Federal Trade Commission between 2011 and 2013. But those were only the instances where people came forward to report the fraud. Legal experts estimate thousands more cases go unreported across the country. 
"Some of the notarios we see are capitalizing on that there are not many immigration attorneys," Woomer-Deters added. "They fill that niche in the market."
Swindled by empty promises
In North Carolina, Eiblys Guillermo Ochoa had grown notorious. He and his wife, Edna, had three store front offices in the state offering immigration services at a decent cost. Every week he hosted a show on Spanish radio where he doled out legal advice to callers.
But the couple were not licensed attorneys, nor were they accredited by the Board of Immigration Appeals to provide immigration services. They were simply notaries.
According to court documents, a man named Jose Guillen-Mendoza testified that he sought Ochoa's advice in renewing his visa allowing him to legally remain in the U.S. Thanks to faulty guidance, the Guillen-Mendoza's visa ultimately expired. He became undocumented as a result.
Guillen-Mendoza, along with as many as 275 others, came forward alleging the Ochoas had swindled them of hundreds of dollars and at severe costs to their immigration status. Brought by Woomer-Deters of the North Carolina Justice Center, they ultimately sued for unfair and deceptive trade practices. 
In 2012, the class action plaintiffs won a judgement for more than $143,000.
'I did everything right'
The scams aren't limited to Latino immigrants, either. Michaela Graham was 20 when she first moved to the U.S. from Hamburg, Germany. It was the mid-90s, she had a visa and a decent job. But when it came time to renew her visa, Graham said she couldn't do it on her own. She found an attorney in the Yellow Pages.
At first, everything looked on track. Graham's attorney scheduled appointments in his office, even offered to take her to lunch on occasion. But then, she said, he kept drawing out the process longer and longer. For awhile he wouldn't return her calls. Then he stopped responding entirely.
"He kept putting me off and putting me off," she recalled. "There was always something else that needed to be done."
After several months of being strung along, it was finally too late — Graham's visa had expired.
"I was close to pretty much killing myself," she said.
She was a hard worker, an entrepreneur living in Atlanta. She was hailed as an innovator. But her options were thin. Though the attorney she hired was later disbarred over several different infractions, it didn't help her case.
"It was my dream since I was 12 years old to come here and I did everything right," she said. "I have no status. There's nothing you can do. There's nothing you can apply for or change or correct."
False advertisement
Stories of immigration scams are not uncommon and sweep through the community like wildfire. Legal experts suspect that vulnerable immigrant populations have been swindled for decades, starting with President Ronald Reagan's immigration amnesty program in 1986 when thousands rushed for legal help to obtain a permanent status in the U.S.
Each time a new immigration action is in the news, the "notarios" come out strong, immigration groups say. They saw it after the Senate passed comprehensive immigration reform legislation in 2013 — though the bill never cleared Congress, immigrants were duped into believing they had a new path to citizenship. Groups saw it again after President Obama issued deferred action for young immigrants known as DREAMers, allowing them to temporarily live and work legally in the U.S.
Now with the implementation process about to begin for the president's next rounds of executive actions on immigration, groups are bracing the public to steer away from the promises of legal aid that sound too good to be true — because they likely are.
RELATED: Obama gives ultimatum to Republican critics on immigration
Rep. Bill Foster, an Illinois Democrat, plans to re-introduce legislation next year to combat this very problem. The idea was inspired several years ago after long drives when Foster and his staff would listen to the radio between campaign stops at different cities in his district. Back then, it was impossible not to notice the ads on the radio claiming to offer immigration aid to those who want to adjust their status.
Those same ads are cropping up once again, he said.
"We are hearing radio advertisements for things that are clearly false," Foster told msnbc. "It's ridiculous because the actions haven't already been implemented."
Apolonio Morales, political director at the Coalition for Humane Immigrant Rights of Los Angeles, said advocacy groups like his are already seeing advertising on Facebook from "notarios" asking for $500 in return for "saving a spot" in line for executive action. The problem is, there is no spot to save.
"This is before anybody is sure that they qualify for anything," Morales said. "Our major effort is going to be early education to make sure folks understand what executive action is and what it isn't."
Fear dissolved into executive action
It has taken several years, but the Lopez family's fear has slowly subsided. Rafael says his dad no longer keeps the window foiled up and his family no longer spends weekends gathering scrap metal to make ends meet.
Now a college student at the University of Nevada Las Vegas, Rafael is on track to graduate by next summer. Had his family not opted to defy their order of deportation, he wouldn't have been able to pursue a major in psychology and minor in criminal justice.
"My parents didn't want me to leave. They wanted me to continue my education," Rafael said. "I was a good student and I had good grades. They knew that if we went back to Mexico, I wouldn't be in the position I am in now."
And now thanks to DACA — the Deferred Action for Childhood Arrivals — his order of deportation remains frozen while he's still eligible for the program. And since his young sister was born in the U.S., their parents will likely qualify for the latest executive actions to put their deportation orders on hold, at least temporarily.
"It was a huge relief for them," Rafael said of his parents. "Honestly, to this day, even though we left to our new house, they were afraid immigration would find them. Really, it was more psychological than anything." 
Now, things are looking up for the Lopez family. "They feel totally at ease."