Construction crews are set to begin demolition on Friday of the Sandy Hook Elementary School building where 20 students and six educators were killed last December.
Newtown residents earlier this month voted in favor of accepting a $50 million grant from the state of Connecticut to construct a new building at the site of the shooting. The structure closed after the tragedy on Dec. 14. Students completed the 2012-2013 academic year and recently returned in August to Chalk Hill Middle School in nearby Monroe.
Related: Newtown vows to make town 'whole again' with a new school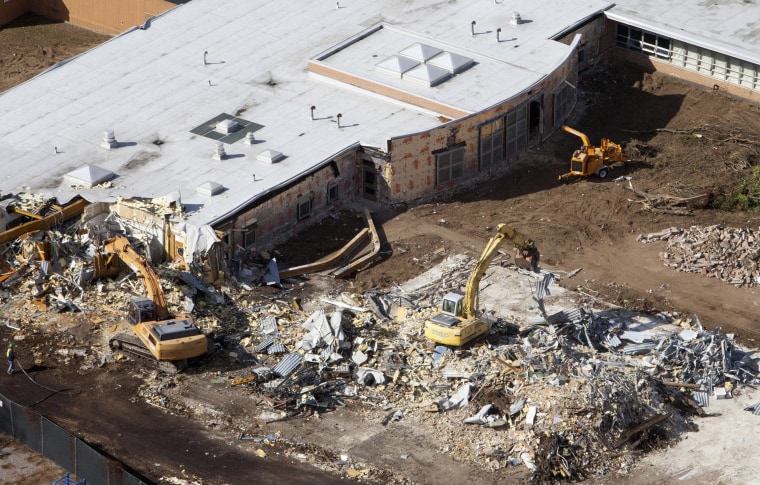 The new school will be constructed on the same site and parts of it will be preserved. The new building is expected to open by December 2016.
Security officers will guard the gated entrance during the demolition to block onlookers and the media from the site. The project is expected to last five to six weeks and end ahead of the shooting's one-year anniversary.
The country remains divided on the gun issue almost a year after the Newtown tragedy. Almost half—49%—of the country thinks the laws should be "more strict" and 13% want "less strict" laws, according to a new Gallup poll released Friday. Public support for stricter gun laws was at 58% immediately following the Sandy Hook shooting.
Opposition to banning handgun ownership remains at 74%, a record-high that was the same last year. Just one in four Americans believe the law should limit possession to authorized personnel.
Related: Americans still divided on gun-control legislation
Another teacher died earlier this week protecting his pupils after a student gunman opened fire at a middle school in Sparks, Nev. Additionally, a 24-year-old teacher was killed this week by her 14-year-old student in Danvers, Mass.
A shooter wounded two workers after an argument on Thursday at Millington Navy Base in Tennessee. And a gunman shot and killed 12 people at the Washington Navy Yard last month.
The Obama administration and lawmakers have failed to compromise on gun-control legislation since the president began strongly urging for congressional leaders to address federal gun laws and change current policies. Communities across the country--far from the Connecticut suburbs--continue to grieve people who are killed each day by guns.