Miami — Sen. Ted Cruz smells blood in the water.
A day after rival Sen. Marco Rubio limped through four state contests and six days before Florida's winner-take-all primary, Cruz held a small rally in his rival's hometown of Miami, just blocks from where Rubio announced his campaign in April.
"There is only one campaign that has demonstrated it can beat Donald Trump over and over and over again — and we will beat Donald Trump over and over and over again," Cruz told an enthusiastic crowd of supporters at Miami Dade College.
While Cruz never called out his fellow senator by name, the message was clear: Rubio has to go.
RELATED: Rubio says he's 'not entirely proud' of personal attacks against Trump
Late that day, Rubio assured supporters at a dusk rally in nearby Hialeah that he would not drop out this week. He warned of "rumors" from opponents suggesting otherwise.
"I will be on the ballot on Tuesday," he said. "I will campaign as long and as hard as it takes."
The event, however, did little to dispel the notion that his campaign was on the ropes.
Hialeah is a blue-collar city where Rubio won his first state House race and politicians switch freely between Spanish and English, but the crowd barely filled the end zone of the rally's football stadium venue. Rubio opened his remarks by noting the event's 5 p.m. time made it hard for supporters to leave work early to attend.  
The news leading up to the event was grim. Three polls that day showed Rubio behind Trump in Florida by a roughly two-to-one margin. Shortly before the event, Washington Post blogger Jennifer Rubin —a longtime Rubio booster — called on him to drop out of the race and endorse Cruz. When Fox News host Megyn Kelly joined Rubio onstage for a live interview at his rally, most of the questions were about whether he was preparing to exit the race.
"I think the nominee has to win Florida," Rubio told her. "You can't be the Republican nominee if you don't win Florida and I am going to do everything I can to win this state."
In the short term, Wednesday's Florida face-off between Cruz and Rubio was less about a dispute over philosophy and records, and more about the best way to stop Trump from becoming the nominee.
Led by former GOP presidential candidate Mitt Romney, some Republicans have called on voters to rally behind Rubio in Florida and Kasich in Ohio on Tuesday regardless of their personal preference in the hopes that they'll win both states and force Trump into a contested convention. The more candidates who stay in the race, the easier it should be to deny him a winning majority.
RELATED: Marco Rubio's campaign is on life support
Echoing Romney, Rubio directly appealed to Florida voters on Wednesday to support his campaign on pure strategic grounds — even if he's not their favored candidate.
"If you don't want Donald Trump to be the nominee, even if you're a supporter of Ted Cruz or even if you're a supporter of John Kasich, you vote for Marco Rubio because a vote for anyone other than me is a vote for Donald Trump," he said Wednesday at an MSNBC town hall with Chuck Todd in Miami.
Cruz has a much simpler plan: Just line up behind the guy with the most delegates after Trump — Cruz has 359 to Rubio's 151 — and force the front-runner into a one-on-one contest.
"Donald wants the other candidates to remain in the race because it splinters his opposition," Cruz told reporters. "When the opposition unifies, Donald loses."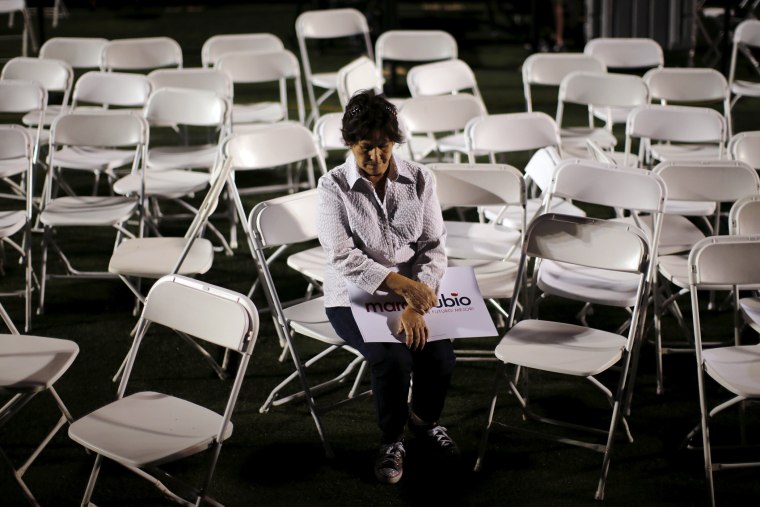 An NBC News/WSJ poll this week found Trump behind Cruz 57 to 40 among Republicans when matched up individually, which could hint at a possible late winning streak if the field narrows. Former Republican presidential rival Carly Fiorina, who endorsed Cruz at his event, told the audience it was "time to unite behind Ted Cruz."
All of this made perfect sense to attendees at Cruz's rally, who said they were furious with Romney's meddling.
"It was the most tone deaf thing I've heard out of Washington yet," Linda Burke, 71, said. 
Several voiced suspicions that the Romney plan was intended to clear the path for an establishment-friendly nominee — perhaps even Romney himself — rather than merely head off Trump.
"I don't think he's being honest about what's driving his strategy," Bruce Zwigard, 67, said. " He's not for Cruz. He didn't say it, but it's implied."
Cruz insists he was targeting Florida with victory in mind, but if his goal is to winnow the field, then knocking out Rubio on Tuesday is the logical play, even if it makes things easier for Trump in the short term.
"We are begging God for Rubio to drop out," Osmani Gonzales, a 44-year-old technician said clasping his hands and looking to the sky in mock prayer.
The Romney/Rubio plan to carve up the nations' delegates might make sense on paper, but the logic starts to fall apart if any of the candidates stop being competitive.
RELATED: Cruz picks up support from Fiorina, but not Republican colleagues
On Tuesday, Rubio won zero delegates across four races, meaning he contributed nothing to help fight Trump in July's convention, while still sucking up votes that might have helped other non-Trump candidates.
Given the results, some voters on Wednesday said they were leaning toward Cruz simply because it was the sounder strategic move in the fight against Trump.
"I'll do anything that will work against Trump," Jorge Lendeborg, a political consultant focused on Hispanic voters, said at Cruz's rally. "Cruz has a better chance and it's time to support him."
"I lean Rubio, but Cruz is leading," Peter Smith, 23, said as he waited in line at Rubio's event. "For the sake of party, he has the best chance of beating Trump."
For months, Rubio benefitted from his appeal to voters as the "electability" candidate who offered the best chance to block Cruz or Trump in the primaries and then defeat Democrats in the general. Now he's experiencing the downside of his broad appeal, as voters who lined up behind him with hopes of victory find little reason to stick with him if he can't promise it any longer.
Cruz survived a string of disappointing losses in numerous key states thanks to a solid base of conservatives who vote for him on ideological grounds regardless of his performance. Rubio, who crashed to 5 percent support in Mississippi on Tuesday, has no such floor of support — maybe not even in his home state.
While Rubio tried to fill the void in recent weeks by redefining himself as an anti-Trump insult comic, the jarring shift in tone rubbed voters the wrong way.
"I don't understand his latest tactic of personal jabs at Trump," Rubio supporter Natasha Davidson, 21, complained at his rally. "You can't trump Trump."
Rubio conceded the mistake on Wednesday, telling Todd his "kids were embarrassed" after he mocked Trump's physical appearance and that he regretted not solely focusing on his substantive critique of Trump's record.
"It's not what we want from our next president, and if I had to do it again I would have done that part differently," he said.
For the candidate who appeals to the party's sense of pragmatism, there's little to offer voters when the pragmatic move is to walk away.