The good news: The U.S. housing market is finally reaping the benefits of the increasingly robust economy. The bad news: Persistent wage stagnation means many Americans don't earn enough to keep up with climbing housing prices.
According to a new report published by RealtyTrac, home prices in 76% of U.S. housing markets are outpacing wages. Prices in those markets are up 17%, while median weekly wages have risen only 1.3% in the last two years.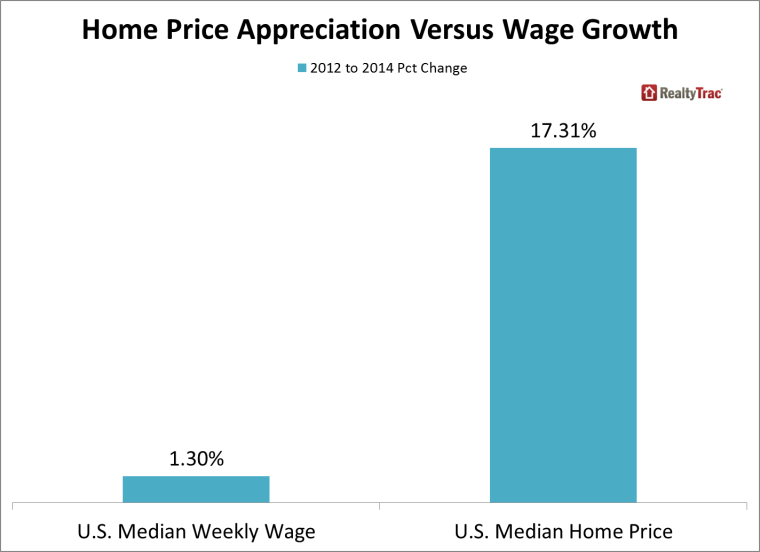 Daren Blomquist, vice president of RealtyTrac, said that while affordable homes are still available in many parts of the country, the rise in prices could pose a problem for more and more buyers in the future.
"Most markets are still affordable, but we're getting to a point where if that trend continues the markets may be in danger," Blomquist said.
The collapse of the housing market in 2008 played a large role in the historic economic downturn -- home prices hit bottom, helping to drive the economy into a deep recession. More than one millions Americans lost their homes as a result of bad loans, plunging credit scores, and record high bankruptcy filings.
That era is now largely in the rearview mirror, but persistent wage stagnation is still hurting many people's ability to rent or buy a home and make the purchases that go along with it. Home formation, as economists call it, is a significant driving force of economic recovery.
The housing market typically accounts for 1% to 2% of annual gross domestic product. But two years after the economic recovery, "residential investment made no contribution to GDP growth, and has only recent [sic] begun supplying a small lift," the Federal Reserve Bank of Atlanta reports.
Economists suggest the post-recession home ownership surge has been primarily driven by cash buyers and investors largely unaffected by the downturn. Consumers harder hit by the slowdown and who have seen their buying power reduced will have a more difficult time returning to the market, the RealtyTrac report found – but it's those buyers who are needed to stabilize the housing market over the long term.
"... if that trend continues the markets may be in danger."'
"The low- to middle-income Americans could be in danger" if the trends continue, said Ralph McLanglin, a housing economist for the realty website Trulia.
McLanglin said that while many Americans are still under water from the last housing bust, there's a bright side ahead.
"Going into the remainder of the year, if we see an increase of new household formation, new job growth, and wage growth we don't expect affordability to decrease," said McLanglin. "We're still expecting prices to outgrow wages, but not in the same way it has in the last two years."