State Department investigators last fall issued a subpoena to the Clinton Foundation seeking documents about the charity's projects that may have required approval from the federal government during Hillary Clinton's term as secretary of state, according to a report published Thursday on The Washington Post's website.
The full scope and status of the inquiry, conducted by the State Department's inspector general, were not clear from the material correspondence reviewed by The Post, the paper said.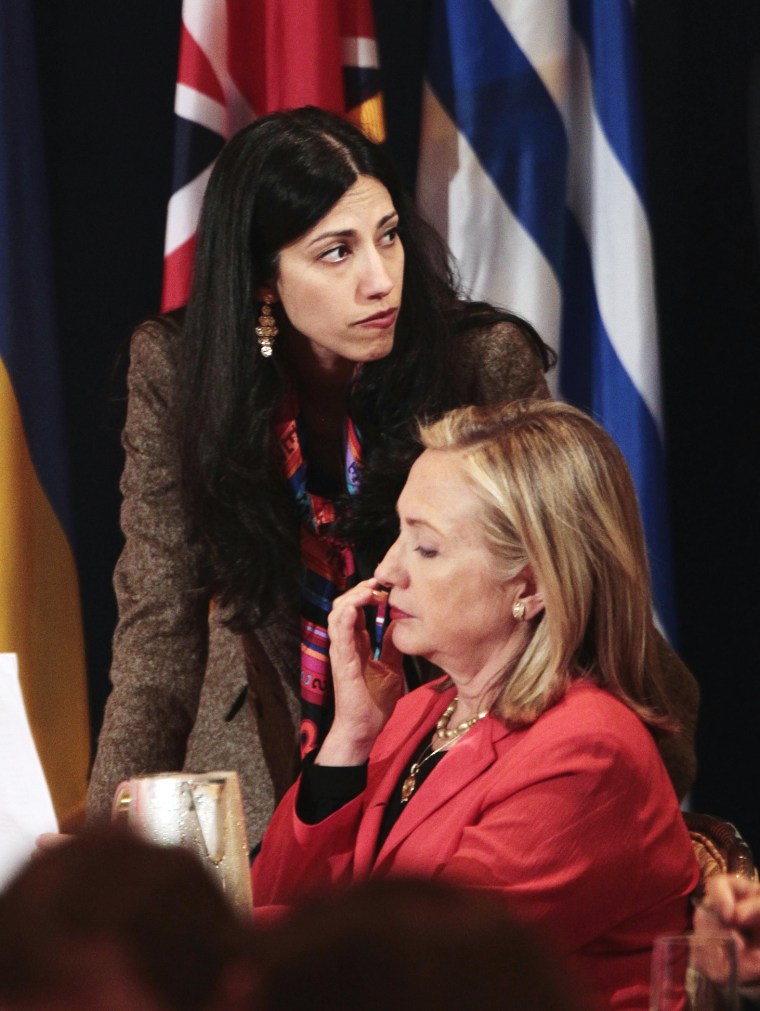 The Post, citing people familiar with the subpoena and written correspondence about it, also said the subpoena asked for records related to Hillary Clinton's closest aide, Huma Abedin. It reported that for six months in 2012, she was "employed simultaneously by the State Department, the foundation, Clinton's personal office, and a private consulting firm with ties to the Clintons."
There is no indication that the State Department watchdog is investigating Clinton herself, according to The Post. But because she is campaigning for president in part by promoting her leadership of the State Department, "an inquiry involving a top aide and the relationship between her agency and her family's charity could further complicate her campaign," The Post said.
The Post report raises intriguing questions as to who, or what entity, might be under scrutiny by the State Department's Office of Inspector General, which operates independently of the State Department itself and conducts a wide range of audits, inspections, evaluations, and investigations.
"OIG has no comment on this matter," Douglas Welty, director of public affairs for the State OIG, told NBC News in response to requests for information about whether the subpoena might be in relation to persons linked to or employed by the foundation, or relationships between those persons and Clinton, Abedin or others at the State Department.
The disclosure comes on the heels of months of reports about Clinton's controversial use of a private email server, which has resulted in a separate investigation by the same State Department OIG. On Monday, the FBI disclosed in a federal court filing that it was looking into Clinton's use of a private email server, but a bureau lawyer said it has not "publicly acknowledged the specific focus, scope or potential targets of any such proceedings."
The FBI's general counsel, James Baker, ended the letter by saying that the FBI cannot say more "without adversely affecting on-going law enforcement efforts."
The Bill, Hillary and Chelsea Clinton Foundation, as the foundation is formally known, had no immediate comment for NBC News about the published story. But a foundation representative, speaking on the condition of anonymity, told The Post that the initial document request had been narrowed in scope by the State Department investigators, and that the foundation is not the focus of the probe.
Representatives for Hillary Clinton's presidential campaign and Abedin also declined comment to The Post. They did not respond immediately to requests for comment from NBC News.
But Clinton campaign spokesman Brian Fallon said via Twitter Thursday that leaks of information were timed to come out around events like primaries and Thursday night's debate between Clinton and Bernie Sanders on PBS. And in an interview with Wolf Blitzer on CNN's Situation Room Thursday, Fallon said the IG's office was engaged in "fishing expeditions" and suggested the probe was politically motivated.
"There are serious questions that need to be asked about the independence of that office," Fallon added, saying that one top OIG employee worked for eight years for a Republican senator opposed to Clinton's election, and another "conducted a failed prosecution" of a Clinton campaign aide when she was running for the Senate.
Asked about the report at a media briefing, State Department Deputy Spokesperson Mark Toner also had no comment, directing inquiries to the State Department's Office of Inspector General.
"That's an inspector general inquiry and so I'd have to refer you to them," said Toner. "As you know, they are an autonomous part of the State Department. And so, you know, we can't speak to what their investigations or inquiries are about."
The deputy spokesperson also said he was unaware of the details surrounding the State IG's authority to subpoena non-governmental organizations.
"I don't know the answer to that," said Toner. "I just don't. Maybe we can look into it, but you might ask them. I would ask them directly."
Last month, Fox News reported that the FBI had expanded its probe to include ties between the State Department and the foundation. Clinton joined its board in February 2013 after leaving office, and helped run it until last April, when she formally launched her presidential bid.
Clinton vehemently denied that report, calling it "an unsourced, irresponsible" claim without basis.
While Clinton was serving in the Obama administration, the foundation was run by her husband, former president Bill Clinton.
Over the years, the foundation has grown into an influential entity with global reach, raising as much as $2 billion to support its mission of improving health care and other issues such as environmental protection and education. It has also become a target of Republicans, who contend that foreign officials and others have donated to the foundation as a way of gaining support from Clinton for projects that required assistance, approval or funding from the State Department.
"The Clinton Foundation collected millions from companies that had business before Hillary Clinton's State Department, posing a clear conflict of interest in many instances, and this investigation is just another example of why Hillary Clinton can't be trusted with the White House," Raj Shah, research director and deputy communications director for the Republican National Committee, said on Thursday in response to The Post story.
-- Monica Alba contributed to this report.
This article first appeared on NBCNews.com.