With voters set to go to the polls next week — and many already having done so — a new report offers yet another reason to fear that racial minorities may face extra barriers.
Released Wednesday by the liberal Center for American Progress (CAP), the report finds that in 16 states — including key swing states Ohio, Pennsylvania, and North Carolina — minorities were forced to cast provisional ballots at a significantly higher rate than whites in 2012. That's a problem, because nearly a third of provisional ballots aren't counted.
RELATED: The state of voting in 2014 
It also found that the use of provisional ballots is on the rise — from 2.1 million in 2008 to 2.7 million in 2012, which accounts for nearly 2.1% of all nationwide ballots cast.
There are no records on the race of voters who cast provisional ballots. But in 16 states, voters in counties with a larger share of minorities cast provisional ballots at higher rates than counties with fewer minorities, to a statistically significant degree, CAP found. Those 16 states are Arizona, California, Colorado, Kansas, Maryland, Montana, North Carolina, Nebraska, New Jersey, New Mexico, New York, Ohio, Oklahoma, Pennsylvania, South Dakota, and Utah.
Several key Senate races, including Georgia, North Carolina, and Arkansas, could hinge on minority turnout.
The report singled out Ohio, the nation's ultimate swing state, for what it called a "strong relationship" between minority population and provisional ballots. In Cuyahoga County, 28% of eligible voters are black, and nearly 5% of all voters cast provisional ballots. By contrast, in Delaware County, where only 3.2% of eligible voters are black, just 2.6% were made to vote provisionally. North Carolina showed similar results.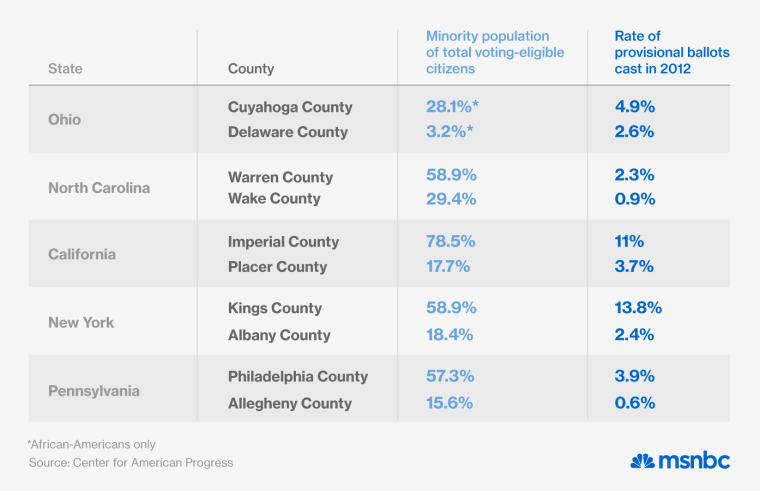 Earlier this year, Ohio Republicans tightened the rules on when provisional ballots can be counted, requiring voters to provide more information and shortening the time that voters have to confirm their identity.
Provisional ballots were created by Congress after the 2000 presidential election fiasco in Florida and serve as a last resort to ensure that voters aren't turned away from the polls. But, racial issues aside, the increase in their use may point to major problems with our antiquated election system — hurdles like poorly maintained rolls and badly trained workers.  
RELATED: Texas woman threatened with jail after applying for voter ID
So fixing the problem means fixing our election system as a whole, said Michele Jawando, vice president for legal progress at CAP. Providing online voter registration, implementing same-day registration, expanding early voting — all would help cut down on provisional ballots, she said. Those measures were also recommended by a presidential commission that offered ideas this year on how to fix the voting process.
"If we're able to digitize everything in our lives from online banking, paying your mortgage paying for school, why in the world are we still using paper registration forms?" Jawando asked.
And of course, this isn't happening in a vacuum. The racial imbalance over provisional ballots exacerbates the problems of racial bias in the wave of restrictive Republican-backed voting laws. Voter ID laws, which affect minorities more than whites, are almost certainly adding to the number of people forced to vote provisionally, since they typically force those without ID to cast a provisional ballot. They're also likely to reduce the share of provisional ballots that are counted, because voter must return with the proper ID to "cure" their ballots — something most are unable to do.